Passing Jordan
Passing Michael Jordan on the all-time scoring list, Kobe Bryant comes full circle with the man he insists he was never chasing
Passing Jordan
Passing Michael Jordan on the all-time scoring list, Kobe Bryant comes full circle with the man he insists he was never chasing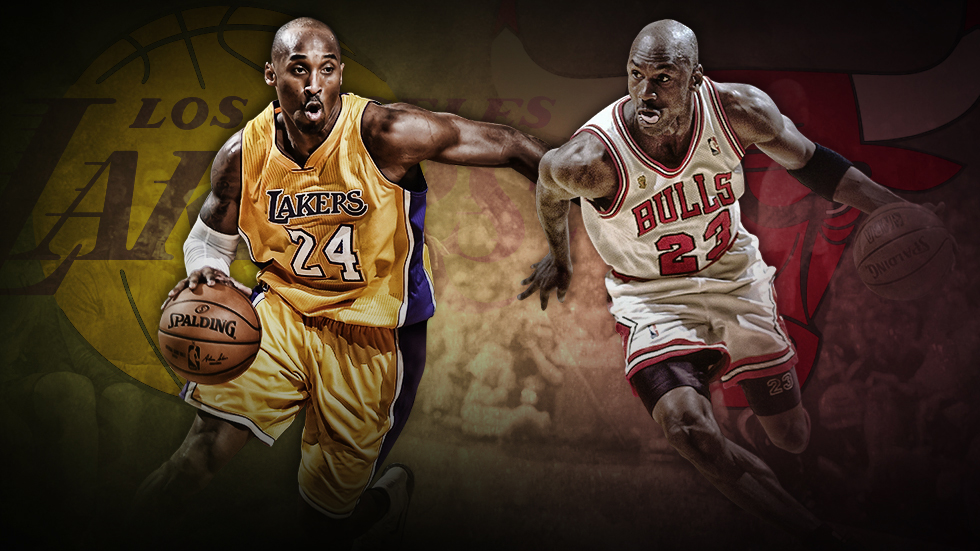 On Dec. 17, 1996, a cocky kid with an Afro fresh out of high school suited up for his first game against his idol, his muse.
Kobe Bryant rode the bench for all but five minutes of a 129-123 Lakers loss to Michael Jordan's Chicago Bulls at the United Center. Bryant scored five points. Jordan had 30.
"I remember the spin move he made in the corner and blew right by me," Bryant told CBSSports.com. "I knew he was going to do that. I was like, 'I remember seeing this on TV. It's a lot faster in person.'
"I've used it a few times in my career since."
At 36, in his 19th season, Bryant passed Jordan for third on the NBA's career scoring list Sunday night in Minnesota, eclipsing Jordan's 32,292 points with two free throws in the second quarter. It's a momentous achievement, one that once again intersects Bryant's career arc with Jordan's and underscores all the similarities in their games -- not to mention the unique role Bryant has played in connecting past with present.
And future.
"I think a lot of people saw the highlights of him, the dunks or the fancy layups. But as a kid, I saw more than that. I saw how he got there," Bryant told CBSSports.com. "I saw footwork. I saw spacing. I saw how to use screens. That's what I saw. That's what's different from a lot of kids who came up during my era. They saw the highlights, but I saw how he got to those highlights."
It has taken him more years, games and minutes, which is perhaps why Bryant has been so publicly nonchalant about it, shrugging it off as merely an inevitable result of his longevity.
"I appreciate the journey," he said. "That's the beauty of it, the building. My rookie year from not playing much to coming off the bench to earning my starting position -- all of that stuff I had to earn, man. It wasn't given to me. I appreciate that."
In Bryant's twilight, this has become his reality: to talk himself into the notion that it has never been about one conquest. Perhaps by painting it all -- passing Jordan included -- with the broad brush of his body of work, the stain of this final, sad, losing chapter is obscured.
That the fiercest competitor of his generation, the fiercest since Jordan, can believe that it was never about surpassing Jordan in anything, championships or otherwise -- well, that might be his greatest accomplishment.
NBA All-Time Leading Scorers
Player
Seasons
Points
1. Kareem Abdul-Jabbar
20
38,387
2. Karl Malone
19
36,928
3. Kobe Bryant
18
32,310
4. Michael Jordan
15
32,292
5. Wilt Chamberlain
15
31,419
"I think people who say that don't really understand me, and don't listen," he said. "It's a myth."
Phil Jackson, who coached Jordan to his six titles and Bryant to his five, must not understand either one. Jackson has said on many occasions that Bryant modeled his game after Jordan and was fueled by the individual chase to eclipse his greatness. He wrote extensively on the topic in his book, "Eleven Rings."
"Phil likes to say things sometimes that make good content and create good stories, as most of you guys do," Bryant said. "But the reality is, I've always taken pride in the building of my game. If I really paid attention to numbers, if I really was hell-bent on passing records, I would've gone to college and put up big numbers there and not sat on the bench for three years."
Jackson declined to be interviewed on the occasion of Bryant passing Jordan, as did Jordan, now owner of the Charlotte Hornets.
"We've had different career paths completely," Bryant continued about Jordan. "But I feel a great sense of accomplishment having carried kind of the two-guard legacy – from Jerry [West] to Michael and to myself. I feel great about that."
Now, the great Bryant is stuck dragging a glorified D-League team disguised in the Lakers' purple and gold through what has been -- and will be -- a dismal season. Bryant has returned from Achilles and knee injuries with an astonishing store of his arsenal and artistry intact. Second to James Harden in scoring, he is delighting crowds from coast to coast with his usual assortment of spin moves, shimmies, step-backs and double-clutches -- all borrowed from his tongue-wagging idol.
Bryant's appearance in a road arena inflates ticket prices on the secondary market by an average of 42 percent, second only to LeBron James, who doubles road ticket prices, according to ScoreBig, an online ticket marketplace.
But would Bryant himself pay to see this? He seethed silently during stints on the bench last Friday night as the Lakers got cruelly run off the floor at TD Garden against the Celtics, a regrettable episode in a rivalry that is dear to Bryant's basketball heart. Having hoisted trophies with Shaquille O'Neal and Pau Gasol -- having lived the Lakers-Celtics championship battles that transfixed him as a child -- Bryant now fires laser-like passes to the likes of Robert Sacre, who barely redirects them toward the rim. (Sacre was 1-for-10 Friday night in the Lakers' 113-96 loss in Boston, misfiring on numerous point-blank opportunities delivered by Bryant, who said sullenly afterward, "If the guy's open, you gotta hit him.")
"I feel a great sense of accomplishment having carried the two-guard legacy –- from Jerry [West] to Michael and to myself."
If Bryant now privately wishes he could double-clutch and regather his decision to sign a two-year, $48.5 million extension with the Lakers last season, relegating him to this morass, his public dialogue says otherwise.
"People hear what they want to hear and people write what they want to write," he told CBSSports.com. "They have an agenda and they decide to frame it that way instead of listening to exactly what I'm saying. It's funny because I say what I mean. A lot of times I think people are used to athletes saying what they don't mean and so they have to try to think deeper into what they're not saying and trying to look for it. Nah, I say what I mean.
"And when I say that it's really been about the journey, then it really has been about the journey," he said. "When I say I don't know what those points are, how many points Michael had or Kareem [Abdul-Jabbar] had, I really don't. I know how many championships they had, but I think people are trying to look too deep. All you've got to do is look at the responses that I give and know that I am not afraid to tell you exactly what is on my mind."
Bryant was always cocky and headstrong, even before he held a televised news conference as a 17-year-old from Lower Merion (Pa.) High School and said, "I've decided to skip college and take my talents to the NBA."
By the time he reached his first All-Star weekend, famously dueling Allen Iverson in the 1997 rookie challenge in Cleveland, it was clear that Bryant was going to leave an indelible mark on the game.
Tale of the tape

Michael
Jordan

Kobe
Bryant
32,292
Career points
32,310
15
Seasons
18
30.1
PPG
25.5
12,192
FG Made
11,261
49.7
FG Pct.
45.2
581
3 Point FG
1,675
32.7
3 Point FG Pct.
33.4
7,327
FT Made
8,113
83.5
FT Pct.
83.7
10
Scoring titles
2
6
Championships
5
5
MVP Awards
1
But with Bryant fading now, the lineage of modern basketball greatness -- from Larry Bird and Magic Johnson to Jordan, from Jordan to Bryant, and now from Bryant to James and his contemporaries -- may never be the same.
"To see Kobe closing in on [passing Jordan], I think it just shows the type of basketball player that he's been over his career," James told CBSSports.com. "I think it's great. Obviously, I know he doesn't care too much about it. He'd much rather win games than worry about scoring or passing anybody, but I think it's just great for history any time you can witness it. I had an opportunity to grow up watching Michael Jordan, I had an opportunity to compete against Kobe Bryant, two of the greatest to ever play this game."
Michael, Kobe and LeBron are on a first-name basis with history, though not necessarily with each other. Tellingly, while James and Bryant have shared a significant chunk of the post-Jordan era, they don't share the friendship or "big brother" relationship that Bryant said last week he had with Jordan. When James speaks about Bryant, it is as though he is speaking more about a concept or an idea than about a friend, rival or contemporary.
The long-held tradition of new stars seeking approval from their elders -- as with Bird and Magic with Julius Erving, Jordan with Bird and Magic, and Bryant with Jordan -- may have reached the end of the line. Having never met in the NBA Finals or played the same position, Bryant and James have never been rivals in the truest sense. Each in his own way has been far more burdened by comparisons to Jordan than to each other.
"Me and Kobe are really good friends," James said. "I respect everything that he's done. I'm a big fan of his and I've always wanted him to succeed -- obviously not against me -- but I'm a huge Bean fan."
But James never enjoyed a mentoring relationship with Jordan, against whom he never played, or with Bryant, against whom he has -- for 12 years. James' brotherhood has consisted of his contemporaries, the friends and rivals with whom he came up through the AAU circuit -- Carmelo Anthony, Dwyane Wade, Amar'e Stoudemire and Chris Paul.
"For me and D-Wade and Melo and CP," James said, "we've been having a brotherhood."
Culturally, it's as though Bryant and James played in different eras, even though they've shared basketball's global stage for a dozen of Bryant's 19 seasons. By comparison, Jordan and Bryant intersected for only four of Jordan's 15 seasons, yet somehow have more of a connection.
"They grew up right when AAU basketball really took off, so they wound up playing so much and being around each other so much that they just wound up becoming like brothers," Bryant said. "Whereas for Michael and myself, we were competitors. If Tim Thomas was ranked No. 1 ahead of me, I wanted to kill him. I wanted to go after him. It wasn't like a buddy-buddy type situation."
It was a very different NBA when Bryant burst onto the scene as an 18-year-old, burdened by the widespread belief that this new generation would prove unworthy of the legacy that Jordan, Charles Barkley, Clyde Drexler, Hakeem Olajuwon, Patrick Ewing, John Stockton, Karl Malone and others were handing them. He's spent the past 19 years proving that premise wrong.
His coming-out party was that rookie game at All-Star weekend in Cleveland, where Bryant scored 31 points but lost to the East -- with the corn-rowed Iverson earning MVP honors and a building full of boos. Eras collided that weekend, with the NBA unveiling its 50 Greatest players, several of whom were current All-Stars. Iverson's East rookies, including Ray Allen and Marcus Camby, were coached by Red Auerbach. Red Holzman coached Bryant's West team, which included Steve Nash and Derek Fisher.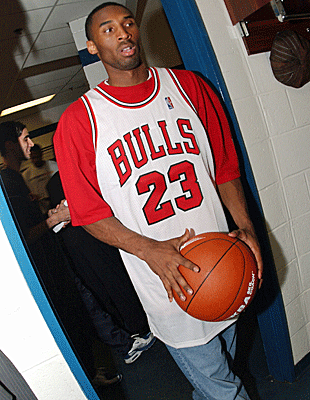 There's no denying how much Kobe has patterned his game after Jordan. (Getty Images)
"Whatever they say, all those guys, there were no wise guys and nobody that couldn't pay attention," the late, great Auerbach said at the time. "I lost my voice, and they all moved in closer to me so they could hear."
In fact, the most disrespectful gesture of the weekend came from the elders, Jordan and Barkley, who skipped the official unveiling of the 50 Greatest to play golf in Las Vegas. As for the kids, they turned out to be all right.
Now Bryant is the last one of those kids standing, and 19 years of artistry comes full circle when he moves one point, if never one championship, ahead of Jordan. When he passes arguably the greatest player in NBA history in the most fundamental premise of the sport -- putting the ball in the basket -- it will be more than just a statistical milestone. It will be a reminder of his unique role in connecting the eras.
"He's getting ready to make history almost every time he steps on the court," said Lakers coach Byron Scott, who 19 years ago served as a coach on the floor for an 18-year-old Bryant -- a role that Bryant, in his twilight, now plays.
With every record, with every spin move and shimmy he has left, Bryant takes a step closer to Jordan while pushing the mythology of His Airness farther away from the kids who have next -- and the kids after that. When he's gone, the lineage of greatness will have changed forever, but doesn't have to end.
"It's funny," Bryant said. "You look at some of the West Coast kids, the kids that grew up in LA, and they all have a chip on their shoulder. And it's probably from watching a stubborn kid with an Afro playing in their backyard. [Russell] Westbrook and Harden kind of have that chip on their shoulder."
Nineteen years and five championships later, Bryant still has his. And it's no mystery where he got it.