Golden Warriors
Steph Curry and the Warriors have taken the NBA by storm, but now the hard part begins.
Golden Warriors
Steph Curry and the Warriors have taken the NBA by storm, but now the hard part begins.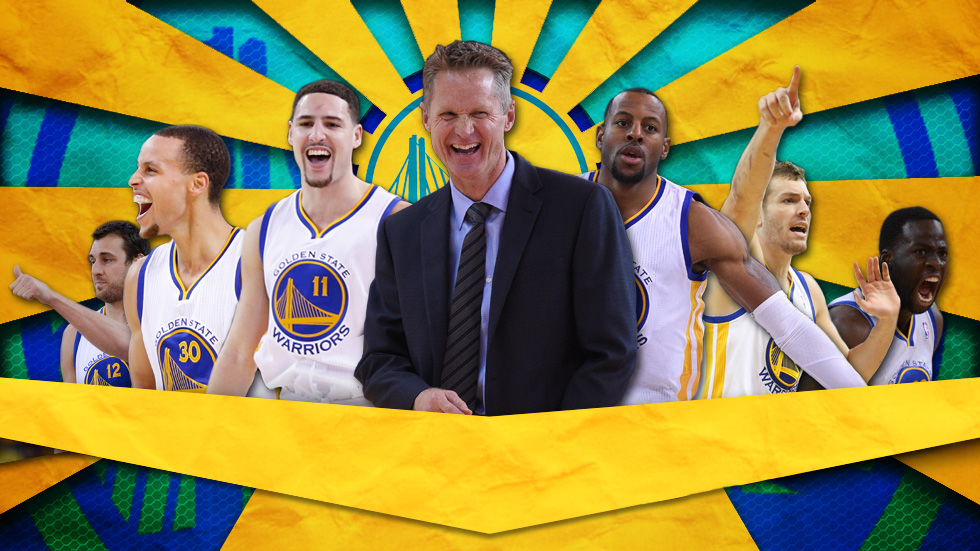 Oakland, Calif. -- Across the vast parking lot, as the sun begins to slip out of view on the other side of the 880 freeway, a crowd forms outside the tunnel leading to the underground caves of Oracle Arena.
Police helicopters hover in place high above, whirring and chopping through the crisp northern California air. The overwhelming whiff of marijuana, like the stench of a skunk, pollutes the oxygen below.
A car engine purrs, and out of the tunnel ascends a black Porsche. A crowd of fans clutching papers and placards and iPhones stirs to life. The chanting begins.
"M-V-P! M-V-P! M-V-P!"
Stephen Curry is behind the wheel. He smiles and offers a peace sign to his adoring fans, maybe 100 of them, after another thoroughly enjoyable day at the office. The Golden State Warriors, the best team in the NBA, have just eviscerated the Denver Nuggets by 43 points on Martin Luther King Jr. Day.
The Warriors are so good, it's a mockery. Alvin Gentry, who serves as head coach Steve Kerr's offensive coordinator, jokes that his job is "like playing NBA2K." On both ends of the floor, Kerr's team is as finely tuned as Curry's Porsche. In the locker room, they're as close-knit, devoted and complicated as a family.
It's been some ride so far, a road trip with the top down and the music blaring and plenty of room for the whole gang to pile in.
"I knew we'd be good," Kerr told CBSSports.com last week. "I didn't know how good."
Join the club.
A team that hasn't won a championship in 40 years, and has been as far as the conference finals only once since then, is dominating the NBA at the dawn of what could be a golden era for the sport -- and for them. Led by the most potent backcourt in the league, Curry and Klay Thompson, the Warriors are third in the NBA in offensive efficiency and first in defensive efficiency, field goal percentage, field goal percentage allowed, assists and three-point percentage (tied with Atlanta).
"The holy grail in this league is, you want to be great at both ends," Kerr said.
It helps to be first in fun, too.
"My 14-year-old son tells me, 'Dad, Steph and Klay shoot in the games like they shoot in my video game,'" Gentry said.
"He's our version of Tim Duncan. A short Tim Duncan."
Oh, they have their flaws. The feel-good atmosphere took a hit Tuesday night when the Warriors lost on their home floor for the first time in 20 games, 113-111 in overtime to the Bulls -- the first Eastern Conference team to topple them at Oracle this season. It was only their second loss of any kind since Christmas; the other coming at Oklahoma City on Jan. 16, after which Kerr chewed his team out for forgetting to box out Russell Westbrook following a free throw attempt. This kind of nitpicking and accountability is not unique in the aftermath of Golden State's rare losses; it happens after wins, too.
"The players weren't used to that," one person familiar with the team's dynamics said. "Putting up 20-point victories and being told all the things they did wrong."
The story of their transformation -- from upset darlings three years ago to the team everyone is gunning for in a loaded Western Conference -- cuts much deeper than their 36-7 record, the best start in franchise history. It's more human than an ownership change, more textured than firing one coach and hiring a new one, more visceral than a series of fateful transactions made and not made.
"You never know how a roster's going to grow and come together," said GM Bob Myers, who went from benchwarmer on UCLA's 1995 NCAA title team to powerful sports agent to architect of the deepest, most feared roster in basketball. "Some of it's guesswork, really."
Life is good when you guess right -- and when you can come to work, put on a pair of knee sleeves and play full-court one-on-one with one of your scouts. And when, at the same time, your head coach is locked in a fierce free throw-shooting contest on the adjacent court with your best player and MVP candidate.
Curry has won 12 out of 13, even though Kerr only missed one attempt in the first 12 contests; extra points are awarded for swishes. When Curry emerged victorious again last Tuesday, he veered euphorically around the practice floor with his arms extended, like Jason Terry showboating after a clutch basket. Kerr stood there at the elbow, hands on his hips and head down. Smiling.
"I think they just really like each other," Gentry said.
The relationship between head coach and star player is the most important and delicate in basketball. And if conventional wisdom had held up, this one never would've happened.
Curry was fiercely loyal to former Warriors coach Mark Jackson, who delivered the franchise from years of dysfunction and led it to back-to-back playoff appearances with his fiery sermons, as if from a preacher's pulpit. More than anything, Jackson worshipped at the feet of Curry and Thompson, famously branding them as "the greatest shooting backcourt in the history of the game." Jackson's hyperbole was greeted with sneers and eye-rolls, but who's laughing now?
Making a State-ment
Category
2014-15 (Rank)
2013-14 (Rank)
Winning pct.
.837 (1st)
.622 (8th)
PPG
111.1 (1st)
104.3 (10th)
Opponent PPG
99.6 (16th)
99.5 (11th)
FG Pct.
48.4% (1st)
46.2% (9th)
Opponent FG Pct.
42.2% (1st)
43.6% (4th)
Offensive Rating
109.9 (3rd)
107.5 (12th)
Defensive rating
97.2 (1st)
102.6 (4th)
Assists per game
27.3 (1st)
23.3 (7th)
"Mark did a lot for me personally, on and off the court," Curry told CBSSports.com. "He kind of gave me a platform to expand my game. He embodied what winning was here for me. … I wasn't in agreement with coach Jackson [being fired], but I knew that if they let him go, they had to make the right hire. And obviously they've done that with coach Kerr, and I'm on board with what he brings."
Where does this happen? In what NBA universe does an organization go against its star player's wishes when it comes to hiring and firing coaches? And in turn, where on Earth does the star player then accept the new guy and embrace him just the same? (Well, almost the same. As Curry spoke with me last week, he was standing in front of his locker, where a Mark Jackson bobblehead doll was prominently displayed.)
"He's our version of Tim Duncan; a short Tim Duncan," was the way Kerr described Curry to CBSSports.com. "It doesn't get any better in terms of a combination of character, leadership, humility, confidence and skill. Like, those things don't often blend together. But he has all that, and it's incredibly powerful, because it leads to a great atmosphere every day. He doesn't say a whole lot, but his presence, his work ethic, his willingness to accept criticism, it all reminds me exactly of Tim Duncan, only in a different package.
"Look at the history of the league," Kerr said. "That's what wins."
Kerr would know, having played on five championship teams in Chicago and San Antonio, where he was mentored by two of the greatest coaches in basketball history. He also understands something about winning that eluded Jackson: the importance of making the team about the whole team, not just the select few stars or favorites.
"Everyone stays in rhythm," said Andre Iguodala, a former All-Star who started every game he played for the previous 10 seasons in Philadelphia, Denver and Golden State, but now comes off the bench. "Everyone stays invested in this thing."
The Warriors often go 11 or 12 deep, and their top reserves -- Iguodala, David Lee (another former starter and two-time All-Star), Shaun Livingston, Justin Holiday and Marreese Speights -- pick up right where the starters leave off and feel just as important.
"I relate to the bench guys; I was in that role my whole career," Kerr said. "But I've been on teams where the last five guys were basically forgotten about, and it affects the atmosphere and the environment. So I know first hand how powerful it is when guys 7-12 are engaged and active and feel part of the process. I just try to make sure that everybody knows they're important and they contribute."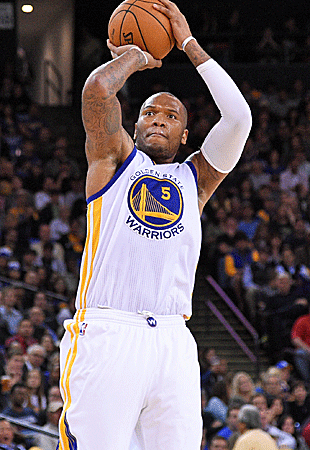 Marreese Speights is a legit candidate for sixth man of the year. (USATSI)
My window into this living, breathing basketball bonanza -- the NBA's version of the Partridge Family -- actually began about 70 miles south of Oakland, in the quaint seaside town of Santa Cruz. In "Surf City," the living is easy. The locals were out at the beach and skateboarding around town on a January weekend with temperatures hovering around 70 and worries fluttering around zero.
The D-League Showcase was in town at Kaiser Permanente Arena, the latter term being used loosely. The structure that houses Golden State's D-League affiliate, the Santa Cruz Warriors, is more like a youth tennis bubble with a basketball court and some bleachers and concession stands crammed inside. The doors are open during the day, letting in the refreshing sea breeze and letting out the sound of squeaking sneakers, thudding basketballs and rapid-fire beats of the in-game musical entertainment.
On a Sunday afternoon, through those doors walked Curry and teammate Draymond Green, taking their courtside seats across from the benches. They weren't there to shake hands or sign autographs, though they did that, too. They were there to watch Curry's brother, Seth, play for the Eerie BayHawks as he tries to carve out a chance to join his famous brother in the NBA.
They do this a lot, Curry and Green; they've become like brothers. A week earlier, Green had accompanied Curry to Seattle to watch the point guard's beloved Carolina Panthers play the Seahawks. When fans started heckling Curry and his family toward the end of Seattle's 31-17 victory, Green pelted them with grapes.
"He's always going to have your back," Seth Curry said of his brother's keeper. "He's always going to protect you."
Here in Santa Cruz, Curry and Green sat quietly and watched the younger Curry score 25 points in a 110-100 victory over Iowa. Big Brother's appearance stole the show, but not as much as his 2 1/2 year-old daughter, Riley, did. After the game, she stood guard while Green and her dad conducted an interview at the broadcast table. During warmups, she'd evoked a chorus of "awwwws" from the several hundred in attendance when she toddled out onto the floor and gave Uncle Seth a big hug.
"Just to get away sometimes and chill," Green said, "it's always good."
As best Steph Curry can remember -- because the best friendships never really begin, they just are -- his lock-step relationship with Green was brokered by Lee. When Green arrived as a rookie from Michigan State in 2012, having competed in two straight NCAA Final Fours and won Big Ten player of the year honors, some of Curry's former teammates from Davidson College used to hang around the team and watch the games. Lee sized them up one day and gave them a name, like a band.
"He called us 'Steph Curry and the Screen Setters,'" Curry recalled.
Green liked it, and decided that he and Lee should steal it for themselves.
"He doesn't look at himself as any bigger than anybody else on the team," Green said of Curry. "How can you not respect a guy like that?"
Green, in his third season, has commanded respect well beyond his years. He is the Warriors' Mr. Everything – the "heart and soul of the team," Kerr says. He isn't just a legitimate candidate for defensive player of the year and most improved, but also loudest trash talker and most vigilant bodyguard. Pregame pep talks are also one of his specialties. Any kind of talking, really.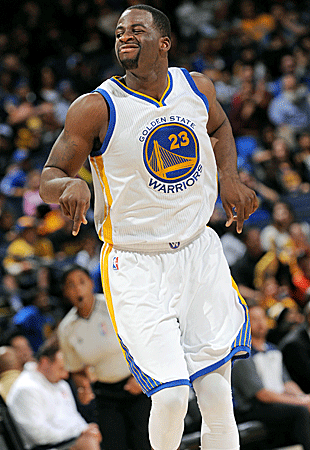 Draymond Green fills all the gaps for the Warriors, and has become a reliable 3-point option. (Getty Images)
"Draymond loves to talk," Thompson said.
Three years ago, in Green's rookie season, the Warriors emerged from nearly two decades of turmoil with a first-round playoff upset of George Karl's 57-win Denver team. Fueled by Curry's freewheeling brilliance and Jackson's braggadocio, Golden State advanced to the conference semifinals for only the second time since the "Run TMC" era of Tim Hardaway, Mitch Richmond and Chris Mullin. Their seemingly overnight success story under Kerr can actually be traced to this awakening -- and to the subtle yet effective changes he's made.
"They were already really good," Kerr said. "So we wanted to come in and acknowledge to them, 'You guys already have this thing rolling. Let's keep it going.'"
Yet as rambunctious and lovable as they were in that breakout moment, the biggest challenge always comes in sustaining it. Just ask Don Nelson's 2006-07 "We Believe" Warriors, who toppled the 67-win Mavericks in the first round and didn't see the playoffs again for six years.
And so, in the third year of this evolution, the Warriors' runaway start under Kerr has complicated things. Their 36-7 record has established impossible expectations, building their mythology up for the inevitable fall. The social media peanut gallery couldn't wait to start the overrated chant Tuesday night after the loss to the Bulls -- even though Chicago needed 53 minutes, the absence of Andrew Bogut due to illness, a fluke Curry turnover at the end of regulation and a clutch game-winner from Derrick Rose to pull it off.
This is the next job for Kerr, who will be the first rookie head coach to work the sideline in an All-Star Game since Larry Bird in 1998: Prepare his players for suddenly massive expectations, and for the adversity that will strike at some point with a vengeance. In the locker room, they know it's coming.
"I'm never backing down from a battle or a challenge," a defiant Green told CBSSports.com.
The new battle plan that Kerr and his staff envisioned, particularly on the offensive end -- more purposeful ball movement, faster pace, quicker decisions -- was on full display during Golden State's 19-game home winning streak. In an epic week that included blowout victories over the Nuggets and Rockets, not to mention a dizzying 52-point performance -- including an NBA record 37 in the third quarter -- from Thompson against the Kings, what stood out more than anything was a private pregame moment on the Warriors' bench.
Ninety minutes before tipoff against Denver, there was Green chatting up a lanky kid wearing warmups and a deer-in-the-headlights expression. It was James Michael McAdoo, freshly called up from the Santa Cruz D-League affiliate on a 10-day contract. He'd taken the same, circuitous route through the mountains on Highway 17 that Green and Curry had traveled a day earlier, except McAdoo knew that at some point, he'd be going back.
"If they're going to give you these minutes," Green told him, "go out there and show them why you deserve them."
The night before, McAdoo had been a dinner guest at the home of Holiday, who traveled the same road from Santa Cruz to Oakland before joining one of the NBA's most effective bench units. Knowing how isolating it can be at the Oakland Marriott, attached to the Warriors' practice facility, Holiday asked his wife, Shekinah, to make her best, down-home Louisiana specialties -- fried pork chops, macaroni and cheese, cabbage and homemade lemonade -- for the new guy.
"He and his wife just came up and probably didn't have friends, so I said, 'Come over with us and have a good meal,'" Holiday said. "So I was bragging about the meal being the reason why he played so well."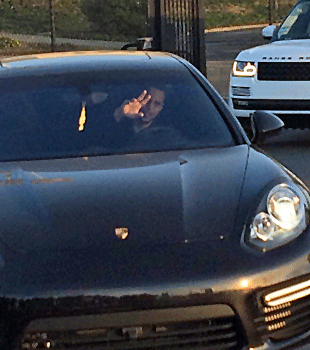 Life is good for MVP candidate Steph Curry and the Warriors. (Photo by Andrew Robertson)
As the Warriors went up by 20, and then 30, and then 40 against the pitiful Nuggets, the minutes Green warned McAdoo to be ready for came, after all -- 13 of them. After almost air-balling his first free throw, McAdoo took Green's advice to heart, hitting four of his five attempts from the field, scoring 11 points and pulling down five rebounds. Curry, Thompson and the rest of the starters celebrated wildly on the bench, waving towels and carrying on like a college team.
"This team has always been super close since I've been here," Green said.
In the NBA, roster stability breeds the kind of closeness that wins.
There have been some watershed moments for the Warriors in constructing this organic superteam -- the ownership change from the reviled Chris Cohan to Joe Lacob and Peter Guber, and the acquisitions of Bogut, Lee and Iguodala, to name a few. But the transaction that pushed them into another stratosphere -- into video game territory -- was the one they didn't make.
With Golden State coming off a 51-win season and first-round playoff loss to the Clippers, Myers had been seriously engaged in trade talks with Minnesota for All-Star forward Kevin Love around last summer's draft. The talks resumed during Las Vegas Summer League in July, but never advanced past a central sticking point: Minnesota's Flip Saunders wouldn't do the deal without Thompson being included, and Myers refused to include him.
"Ultimately," Myers said, "the price to do the deal, we felt, was too high."
It was astronomical, in ways that Myers couldn't have known at the time. Had he acquired Love, Green would not have cracked Kerr's starting lineup and instead would have been spewing his epic trash talk from the bench. Harrison Barnes, who has improved in every key area, would be in Minneapolis. So would Lee, whose acceptance of a bench role has helped forge the professional, unselfish environment in which the Warriors are thriving.
Plus, without a long-term max commitment to Love, the Warriors can now pay Green what he's worth in restricted free agency this summer, dipping into the luxury tax for only one year before Lee's contract comes off the books in 2016 -- when a huge infusion of cash from the NBA's new TV deal will give them added flexibility.
"I don't care to discuss speculative things," Kerr said. "But one thing I will say is that our whole staff, our front office, we all knew -- we saw that this was a really good team a year ago. We knew what we had. In the NBA, when you know what you have, it's pretty dangerous to go away from it. And ultimately that's what our organization decided: Let's stick with continuity and let's stick with what we have. Obviously, it was the right thing."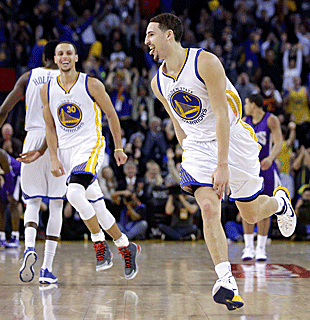 Klay Thompson has leapfrogged Steph Curry as the Warriors' leading scorer. (Getty Images)
The 24-year-old Green, it turned out, was a better fit at the stretch-four position for Curry and Thompson than Love would've been. (In addition to becoming a reliable 3-point threat, Green is currently 10th in the league in plus/minus and third in defensive plus/minus.) His knack for moving the ball and setting well-timed, rock-solid screens has also allowed Kerr and Gentry to incorporate a wide variety of offensive actions, as opposed to the iso sets Jackson had a taste for -- from Mike D'Antoni's pace-and-space formula to Jerry Sloan's Utah Jazz pick-and-rolls to some of the triangle concepts Kerr learned under Phil Jackson's thumb in Chicago.
Defensively, Green's superior versatility has allowed assistant Ron Adams to draw up schemes that allow Green to switch onto any opponent, point guard through center, and handle the assignment.
"He can impact the game having made one basket; he can impact the game making eight baskets," Gentry said. "He's just one of those guys. I don't know, I wish I could verbalize exactly what he is. He's just everything."
Then, there are the intangibles.
"He always picks us up," Thompson said. "Whenever we're out there and kind of scattered and not playing that good, he always brings us in and tells us how we can get it back. He takes great pride in his game, too; that's probably why he talks so much. He doesn't ever let anyone get over on him out there. You want to go to battle with someone like that."
And Green with them. When Rockets agitators Patrick Beverley and Trevor Ariza tried to rattle Curry with some cheap shots in Golden State's win over Houston last week, it was Green who stepped in to keep Curry from earning an ejection.
"You can tell he's just a natural leader," Thompson said "He's been that way since he came here as a rookie, and he doesn't know how to do anything else."
Thompson, on the other hand, is the quiet, quirky one – living in his own world.
"He'll come down on a 1-on-3, and if you don't know him, the first few times you see it, it's like, 'What the hell is he doing?'" Iguodala said. "Now, 40 games into the season, he's coming down 1-on-3 and we're standing up on the bench like, 'It's going up.' And it's probably going in."
Take last Friday night against Sacramento, when Thompson almost broke Gentry's video game with that 37-point, third-quarter barrage -- as devastating a display of shot-making and swagger as the league had ever seen.
"When he gets to talking," Iguodala said, "you know he's locked in."
Everyone is talking about the Warriors now, as if they just landed at Oracle Arena from another planet. In reality, it's been a much longer, more nuanced journey than that -- from owner to GM to coach, from the superstar to the last guy on the bench.
"The one thing I had confidence in was that I wouldn't screw it up," Kerr said. "It'd be really hard to screw this up."
That remains to be seen. Within this perfect storm of characters, culture and talent swirls a vortex of curiosity and expectation about what happens next. Wherever the Warriors go from here, they're in good hands.