The night Vinsanity was born
Vince Carter's 2000 dunk contest performance was almost mythical. Fifteen years later, he walks us through the magic.
The night Vinsanity was born
Vince Carter's 2000 dunk contest performance was almost mythical. Fifteen years later, he walks us through the magic.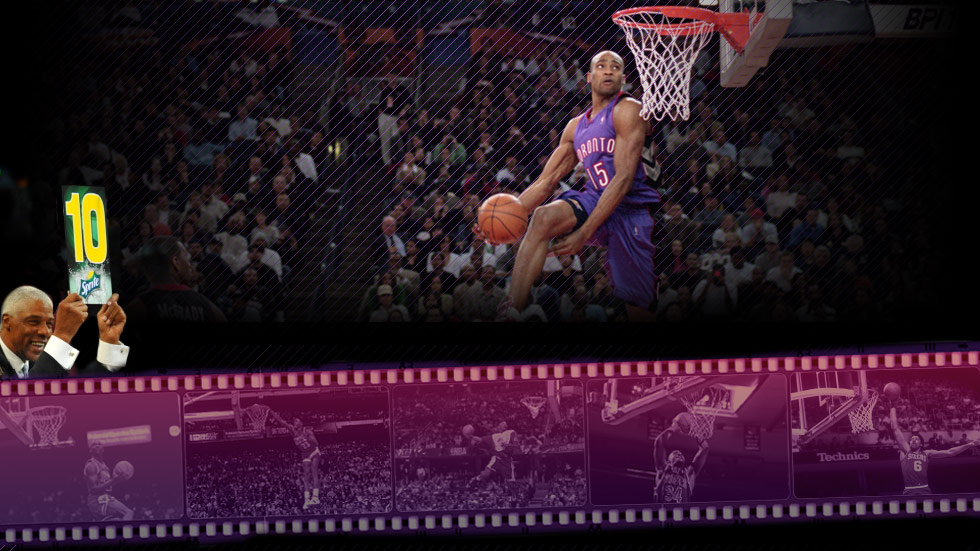 "Where's the car?"
Imagine your coronation into NBA superstardom is scheduled for a few hours from now and you assumed your chariot would be waiting for you. For a year and a half, there has been nothing but buildup to this moment. Your highlights, your hype, and your presence gracing every highlight reel and top 10 list have been building expectations beyond comprehension. But the car isn't there.
You, your cousin, and a couple of friends are set to make a 17-mile drive from downtown San Francisco to Oracle Arena in Oakland, which will take about 30 minutes with light traffic. Any bit of resistance on the freeway and you're looking at an hour to two hours to cross the Bay.
Leaving at the right time is imperative to getting there without an ounce of stress in you, and yet your car isn't there.
There isn't Uber to get you a quick car, and a normal taxi isn't going to help you get your entire group over there. You're 6'6" and your cousin is 6'8". Your two friends run between 280 and 300 pounds each. This is not your normal size carpool. The coronation wouldn't dare start without you, but you've still got to get there with enough time to prepare yourself mentally while warming up your body physically.
This was Vince Carter and his cousin Tracy McGrady trying to get to All-Star Saturday night in Oakland on February 12, 2000.
"We're panicking like, 'Bruh, we're not going to get there. What's going on?' Carter tells me over the phone, 15 years after the night that launched him from an exciting young NBA player to something of a basketball superhero. "We're trying to jump in with anybody who can give us a ride."
"Vinsanity" was about to hit levels of hype and stardom we hadn't seen in the internet era -- a time that was just beginning to become a major part of the lives of millions upon millions of sports fans around the world.
This wasn't just an event for the All-Star weekend. This was supposed to be a moment in NBA history in one of the most celebrated and highly scrutinized competitions in all of sports.
"I think it was the last great dunk contest. He was the Last of the Mohicans."
Elitist perspectives and turning your nose up at the athletically spectacular is a common theme in judging the NBA Dunk Contest, mostly because we can become easily bored with what we've seen before. It doesn't matter how rare that act is. If we've seen it, we want something better and new. That's the cross to bear for athleticism in the age of technological booms.
We watched Harold Miner throw down with a two-handed windmill or double-pump, and yet wondered if it could stand the test of time against Dominique Wilkins doing such an act years earlier. We watched Kobe Bryant throw down through his legs, but didn't feel it was the same as when we first saw Isaiah "J.R." Rider unveil the "East Bay Funk Dunk." Brent Barry dunked from the free throw line, but it wasn't the same as Michael Jordan or Julius Erving doing it.
All eyes were on Carter to not only match the efforts and performances of previous dunk contests, but to be better than any and all of them. Winning the contest wasn't going to be enough for Vince. He had to make the contest his own and make it a fool's errand for anybody else to want to perform in it. It was something that Toronto Raptors teammate and cousin Tracy McGrady didn't want any part of that year.
Carter would try to push McGrady and motivate him to not only want to do it, but to want to beat Vince. He begged his younger cousin to join him, only to be rebuked with "I'm good, man. I don't want to do it."
"'Man, just do it,'" Vince prodded McGrady. "'If you beat me, who cares? Let's show the world what we can do.'"
McGrady finally relented. He was in. For Vince, it had always been a no-brainer. Growing up, he was a big fan of the dunk contest like any of us watching it. He studied the contest, not just to marvel at the acrobatic feats being performed under one of the brightest spotlights in sports, but to study the dunks and figure out how to someday make them a part of a dream he'd realize.
"As a young kid, I always watched the dunk contest more than anything," Carter remembered. "I watched the All-Star Game, of course, but I would tape the dunk contest like I was studying it.
For me I was breaking it down like, 'OK, this such and such guy, he did whatever dunk. Why did he do it?' I was into it like that. I wanted to know everything about it. Try to figure out what guys are thinking so when my moment came, I was ready to really live that dream."
The buzz in Oracle arena was remarkable. Carter, McGrady and their friends eventually grabbed a sedan to squeeze into. It was hardly the proper environment for comfort, let alone having your muscles loose and ready to spring into action by the time it was their turn to dunk. They arrived while the 3-point contest was going on.
They watched Jeff Hornacek take down future legends like Ray Allen, Dirk Nowitzki and Allen Iverson. The anticipation was building, something Carter felt when they were asked to go warm up in the back and stretch out whatever remaining kinks and tightness they felt in their legs and core.
The competition was fierce for Carter. He knew what McGrady could do. He'd seen up close his cousin's impressive athletic exploits, which had occasionally peeked around the corner during his first couple years in the league but would eventually be unloaded on a nightly NBA audience when he'd sign with the Orlando Magic six months later. Houston Rockets' star Steve Francis was only in his rookie season, but was having an unreal campaign and becoming a fan favorite. Plus, as a little guy, he gets the David vs. Goliath advantage aesthetically.
Rounding out the competition was a trio of in-game dunkers: Larry Hughes of the Philadelphia 76ers, Jerry Stackhouse of the Detroit Pistons, and Ricky Davis of the Charlotte Hornets. Stackhouse and Davis had the misfortune of going after Carter in dunking order, which would leave their moments entirely forgettable.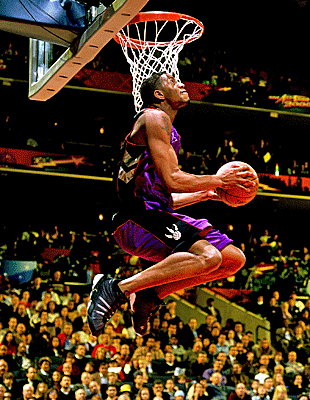 Tracy McGrady had to be talked into competing in the 2000 dunk contest. (Getty Images)
Carter's coronation wasn't going to be automatic or come easy with Francis and McGrady competing. Their dunk efforts would have won most contests in other years. The moment finally hit him when they were warming up in layup lines, honing the rhythm of jumping off one or two feet. It was in that layup line that Carter began to pump himself up for the dream that had become a reality.
As his adrenaline started to rise, so did the pressure he was putting on himself. Everything he had been working on was thrown out of his mind. Those dunks wouldn't satiate the moment at hand.
What was Carter thinking of doing?
"I couldn't even tell you now," Carter admits. "It wasn't going to work. Maybe it would have, and to the next man, if I told them, 'you do it,' they would do it and maybe get high scores.
"But in my mind, for the effect and the wow-ness that I wanted to present, because of the anticipation and because of the excitement that I had, it wasn't good enough."
What would be good enough? Carter was essentially freestyling; drawing on images he had seen in his past. The dunk contests he had picked apart, studied from a technical and psychological standpoint, were now racing through his head. Dunks he had practiced in his free time, even though he wasn't allowed to dunk much in practice, were all in play, but the previous plan had been eliminated. Only one thought was completely clear.
"I want to strike fear into the next guy."
***
It's a relatively empty gym and Vince is a little tired from practice and the grind of his second NBA season.
This schedule is more balanced and less chaotic than the lockout-truncated season he endured as a rookie, when the NBA crammed 50 games into three months. There wasn't a dunk contest that year because there wasn't even an All-Star break. Fighting over chunks of the pie and maximums on contracts had rendered the 1998-99 season incomplete of sorts.
In Carter's second season, he wasn't dealing with the hectic travel of the lockout season but he was also adjusting to playing a full 82-game schedule for the first time. It was new and exhausting.
Carter would approach the rim from the left side of the lane, swoop under, jump into the air, twist his body in the unconventional 360-degree direction, and windmill the ball home. The dunks were going in, but they were "squeeze dunks." It was a great motion aesthetically, but the power wasn't there. The explosion wasn't there. It was a difficult looking dunk that looked difficult to pull off. That's not the effect Carter was going for.
"The honest truth is the week prior to that, I could barely make that dunk," Vince recalls. "Maybe it was just after practice, tired, no motivation, I don't know."
In Oakland, with the basketball world watching, a squeeze dunk wasn't going to cut it. Carter wasn't there to be the show that night; he was there to stop the show. He was there to do something so visually powerful that people needed to take a timeout to figure out what they had just seen.
"Not only did I want the score, but I wanted to wow you," Carter said. "I want to strike fear into the next guy. Just let people know, 'Yeah, you thought this is what I could do but now you're getting to see it live and it's better than expected.' That's what I'm trying to get out of this."
He was fourth in the rotation and the first round had gotten off to a wild start, with Hughes missing an ambitious attempt to imitate a Harold Miner double-pump dunk from the baseline. The building was already electric.
McGrady followed Hughes by raising his left arm in the air, begging the crowd to get hyped for his turn. He validated the pre-dunk cheers by catching the ball off a lob, turning his back to the rim, bringing the ball down below his torso, and ripping home a vicious reverse dunk.
Francis was next and threw a lob to himself high in the air from a step beyond half court. He tracked down the ball on the left side of the rim, jumped off two feet as high as he could, and pounded home a one-handed dunk despite not being able to palm a basketball. Hughes missed, but McGrady and Francis had immediately showed Vince that he couldn't sleepwalk his way through this.
Carter walked around the court in Oracle Arena with roughly 20,000 people in the stands and millions of people watching around the world. He walks off the dunk, teasing the crowd as they try to anticipate what is about to happen. Kenny Smith is naming off possibilities on the broadcast as Carter has decided to go with the one dunk he didn't scratch from his repertoire.
He comes down the left side of the floor as Kevin Garnett and Shaquille O'Neal ready their camcorders. He takes one dribble and squeezes the ball in his canter. He takes another dribble and gathers the ball as he plants both his feet and starts contorting his body.
"I felt like I had rocket boosters in my feet," he recalls.
As he propels his body into the air, the jump has never been easier for him. The possibility of the squeeze dunk was dropped off on the fifth floor as Carter headed to the penthouse level.
"When you do a windmill, you usually face forward or whatever looking directly at the rim," Vince explains, enlightening mere mortals to the technical aspect of being an alien dunker. "I was kind of throwing to the side because I was that high and had so much time."
He dunks the basketball with such authority as he completes the full turn and swings his arm down in a violent motion with the windmill, that it looks like he's dunking on a child's toy hoop. The adrenaline of the moment, seeing his teammates, seeing his friends, and the basketball world holding its collective breath in anticipation gives him the lift he needs for the event.
The wow factor is there. The crowd erupts as Vince lands to the ground and keeps bouncing up and down, as if he were landing on the imaginary trampoline that guided him into the air in the first place. Shaq looks like a kid in a candy store. Kenny starts screaming, "Let's go home!" signaling we have our dunk champion after two-thirds of the first round. Nobody's going home though. You couldn't empty that arena with a raging fire.
Carter's former college teammate at North Carolina, Antawn Jamison – traded for each other on draft night – shook his head at Vince as they locked eyes. Carter looks to McGrady, who promptly asks him, "Man, what the hell are you doing?" Vince describes the moment 15 years later as a Snapchat. He takes a mental picture in his mind and has to move on.
He no longer has a plan. He has two goals: 1) Figure out what his next dunk is going to be because he's scrapped his previous set of dunks. 2) Motivate T-Mac to put on his own show, because Carter had to beg him to do it in the first place and he wanted to show what the two young guys playing in Toronto could do.
"I think after I did that, in my mind I'm thinking, 'Alright, you're up here trying to freestyle and think of this on the fly,'" Vince recalls, "and once I pulled it off and I was jumping that high, I was like, 'Aw man, the playbook is wide-open. The playbook is wide-open.'"
The playbook isn't even written, but it's wide-open. The blank pages are there for him, and only him, to fill.
Stackhouse throws down a "basic" two-handed 360 dunk, but he's simply dunking in Vince's wake. Eddie Jones lobs a high bouncing pass to Ricky Davis for a two-handed, pump reverse dunk.
The first round is over and everybody just wants to know what's next. Vince has the same thought.
"I've got them in the palm of my hand," he recalls thinking. "What next?"
***
Carter had the goal of nothing but 50s for his dunk scores. He wanted to be the first guy with a perfect run through the competition. Already being anointed as arguably the best dunker of all time (and this was before he jumped over seven-foot Frederic Weis in the Olympics that coming summer), Carter wanted perfection.
"That would've been the end of it all right there."
It sounds obvious to have a goal of getting nothing but perfect scores because in theory, it's what you should be striving for each time. However, we've seen time and time again in dunk contests players weighing the risk of going for their best dunk early against simply making sure they connect on those first few. Sometimes advancing and having a safe score is worth a lower ceiling on a dunk's potential.
That wasn't in Vince's mind at all. Be legendary and shut it all down. Have Kenny Smith exclaiming that this competition had been decided after each attempt. The second attempt, however, Vince didn't get 50's across the board. His second dunk only yielded a score of 49. Four of the judges gave him a 10, but one judge was stingy with his score by giving him a 9. Carter took one step from out of bounds under the basket, twisted his body in a familiar way, and delivered another atomic windmill dunk.
"Do you still remember which judge didn't give you a perfect score?" I asked Vince. "Of course," Carter responded immediately. "Of course I do."
Kenny Smith, fellow University of North Carolina alum, was the culprit, offering up that rogue nine in a sea of perfection. Smith's reasoning during the telecast was that Vince "set the precedent with the first one." To many people, it looked exactly like the first dunk Carter had performed. It was a spinning, windmill dunk in which he was flying high above the world and bringing down a thunderous hammer like he was a comic book god. He came from a different angle, but the dunk, to many, looked largely the same.
That's where Carter begs to differ. He understands why people would think that, but this is where the technical dunking mind of a jumping phenom who studied the physical and mental decisions of dunk contests before looks at things differently than the rest of us.
"It was a one-step, 180 windmill," Carter explains. "I see the same dunk that everybody else sees, but different. It was similar in what it looked like but you walk yourself through it, it's not. It's more. I wanted to show height, ability to hang in the air while twisting and turning for the first one. This one I wanted to show height with distance."
Smith explained on the broadcast that "it would have been a 10 any other time but today." Carter looked over at Kenny after the scores were given and couldn't believe he wasn't going to get his perfect night. During his interview with Cheryl Miller, Carter seemed to be dumbfounded at the score. Kenny asked him on air if Vince was still going to attend his basketball camp. Vince would indeed still attend because he wasn't going to break the UNC bond Smith had apparently sullied.
"You're a Carolina guy," he said. "It's not supposed to go this way."
Carter's dunk was giving you a remix to the first one, but showing just how physically impressive it could be with less build-up, generating all the momentum of the movement and leaping ability with just one full step. It was disappointing to Carter, but Vinsanity was not dead just because he couldn't get all 50's.
It was only now getting started.
***
Do you remember East Bay magazine? It didn't go away. It's been around for a couple decades now, and believe it or not, it provided the inspiration for the jaw-dropping dunk Vince was about to unleash. You see, there was an ad for Jumpsole shoes -- a plyometric training apparatus into which you'd slip your shoes to work out calf and other leg muscles. The Jumpsoles weren't for Vince. He didn't need them. He could jump out of the gym with nothing but his insane athletic ability. But the ad made an impression on him.
"I saw a picture in East Bay magazine a week prior to [the dunk contest]," Carter recalled the advertisement for Jumpsoles. "The guy was up in the air with the ball in between his legs. It was a still shot. It wasn't a video or anything like that. I happened to flip to the page, saw it, and looked at it real quick."
He banked that in his subconscious, maybe not knowing he'd try to break the dunk contest forever by doing what he did for his third dunk.
Rules stipulated that the contestants had to use a teammate for at least one dunk in their first round. Carter called on McGrady to help him out, but they hadn't discussed what Vince's third selection was going to be. Carter had just helped T-Mac with a bounce pass that allowed McGrady to take the ball off the bounce and do a full, nasty two-handed windmill.
"Think about the stuff that he did, for a guy that didn't want to be in the dunk contest," Carter said, marveling at his cousin's performance. "That's crazy."
Vince figured out his third dunk on the fly. The mental process of figuring it out was his only practice, and he only did that during Francis' high self-lob jam for which he turned his body and double-pumped with authority.
"As we're walking up there, that's when I explained to [McGrady] what I needed to do," Vince tells me. "So I told him to just bounce it, make sure it goes waist height, about his waist height. He was like, 'Alright.'"
Carter approaches from the left side of the lane. He times his jump with McGrady bouncing the ball aggresively into the hardwood. Carter begins to scissor his legs as he tries to collect the ball with his left hand, but the pass from his cousin is simply too high to corral. He walks back to his starting position, visibly working out the beats of the dunk in his head.
"If you notice, the first time he bounced it, it was way too high," said Carter. "And I'd kill myself if it was that high. I don't know if I can do it or not because I've never practiced it. And so I tell him, 'just a little bit lower.'"
McGrady needed to know what was about to happen.
"He's like, 'Cuz, what the hell are you going to do?'" Vince remembers with fondness and glee in his voice. "I was like, 'Man, just bounce it and step back.'"
Carter approached again. He knew what the timing had to be and McGrady was clear on the height appropriate to fulfill the wishes of what Carter was trying to make up in the moment. As he gets closer and closer to the invisible launching pad on the floor, he says "Now!" to McGrady, who pops the ball off the court. The legs scissor again and the height is perfect for the gather.
Almost in a robotic, slow motion movement, the left hand catches the bounce, guides it through his kicked-out legs, and delivers the rock to his right hand. Carter is in a magazine in mid-air, selling Jumpsoles to thousands of subscribers ready to send off their check and order form while they patiently wait for the package to be delivered in the mail.
His eyes are even with the rim, something that seems to be a theme with his dunking display this night. The transfer from hand-to-hand is clean and immediately he rips the ball through the cylinder and Oracle Arena collectively loses its mind. Carter points to the sky, probably telling the basketball gods that he noticed them when he was up there, but he had his hands full and couldn't say hello in the moment.
It's at this point where Carter is abnormally emotional in his dunking. He had sent his message to the rest of the competition -- fierce competition at that. The message? This contest was over. He swaggers back toward the bench. Cynthia Cooper and Isiah Thomas are two of the judges and they have their hands raised in the air, soaking in the moment.
The camera steps in the way of Carter and is backpedaling to get a reaction from him. He moves his hands close together and then separates them, saying "It's over" into the camera a couple of times. He's right. The contest is over, but it's also right in the middle of a spectacle he's created. And he's not finished.
Isiah Thomas hops over the judges' table and daps Carter, something that hasn't happened in previous contests. Judges are supposed to refrain from picking a favorite, but Carter is rewriting all the rules.
"I've never seen this on any of the film that I've taped," Carter jokes when asked about the judges congratulating him after the third dunk. "Not at all."
You had to feel bad for Jerry Stackhouse the entire night. He was asked to follow Vince and it was a fruitless venture. He had tried jumping over a ducking Grant Hill on his second attempt and missed the dunk. On his third dunk, Stackhouse took off from a step inside the free throw line and completed the dunk, but nobody was really paying much attention.
"Talking to [Stackhouse] later and talking to Grant [Hill], that's one of the things I think they had a conversation about," Vince remembers. "Grant was telling me that we just hate that we had to go after you. He was like, 'We just didn't want to go up there anymore.'"
Hughes, Stackhouse and Davis were all eliminated following the conclusion of the first round. It set up a Carter-McGrady-Francis final round that was one of the best panel of finalists we'd ever seen, and Vince had something else in mind. He'd started out the night wanting the crowd to go crazy.
Now he wanted it to go dead quiet.
***
Any successful dunk contest participant will tell you that working the crowd is the most important aspect of a dunk contest, next to making the actual dunks. Building that anticipation and playing to the crowd's frenzied response can make the moment memorable and help build momentum toward bigger scores. Vince had remarked earlier how he had everybody in his palm. Now what do you do with them?
The goal is to make the dunks and make everybody scream. But how do you make them sit in a stunned silence that is as deafening as the previous roars? Vince was still thinking on the fly and trying to find previous experiences to use as the canvas for his next piece of dunking art.
Cuttino Mobley was assisting Francis during his portion of the contest. Mobley and Carter had played in Gary Payton's charity game the previous summer, and when they were in layup line, Vince was jumping as high as he could and just dropping the ball into the basket. No power; just bounce.
"[It was like] back in the old days when they couldn't dunk," he explained. "It was kind of that idea -- the Wilt Chamberlain stuff."
Carter walked over to Mobley as he was scrambling for ideas. He's walking off steps and thinking as he walks. "Pretending I'm walking off steps for a dunk that I have no clue what the heck I'm doing," as he recalls it. He's just buying time. Then it hits him. He asks Mobley if he remembers the layup line, which Cuttino does. He says he's going to do that.
He starts practicing the dunk in his mind and realizes it's not spectacular enough. Sure, you're showing the height of the jump and the ease with which you get up there. But just dropping it in will be anticlimactic. This isn't a finger roll competition. Carter has to find a way to make this special, even if it's a height of vertical leap that nobody else can replicate.
"'I'll hang up there,'" Vince decides. "But if I don't do it right, I'll either break my arm or fall off -- one of the two. If you look at it, that's why I walked the steps off. I was just trying to go with what feels natural."
He says a quick prayer. He rubs his arm knowing it's going to hurt him. He knows if he hurts himself, Raptors' coach Butch Carter is going to flip. And he tries to figure out what he wants to get out of it.
"I want the arena to be quiet," Vince says. "When I'm hanging up there, I want people's jaws to drop and just be quiet."
He comes from the right side of the hoop toward the middle of the floor. One dribble. Two dribbles. Two gather steps hit the floor and act as spring coils that catapult him into the air. The dunk itself is basic as he delivers a one-handed, tomahawk jam.
However, once the ball is forced through the rim, nothing about the dunk can be recalled as basic. It's a stunning display of simple athleticism that's as complex as rocket science. Who thinks of dunking their entire arm? The "Elbow Dunk" is born. Carter is literally hanging from the rim by his elbow, the rim tucked under his armpit.
He has his balance and isn't going to fall. He swings himself off the rim, removes his arm carefully from the basketball bear trap, and lands safely to the floor. No need for a coach freak-out. Carter ducks his head a bit and closes his eyes as he begins to walk back to the bench. Nobody has any idea how to react.
The crowd needs to process what they've just seen. Kenny asks for a timeout. Marv Albert is desperately searching for words to convey to the audience at home what they have just seen. The camera cuts to the crowd, finding Michael Keaton sitting with a look of utter confusion plastered across his face.
"As I'm walking away, I had my eyes closed a bit like, 'Yeah, it's quiet. We did it.' That's how it was," Carter says. "That's what I wanted to get out of it. And I just remember walking to the bench and my cousin is like, 'Yo, you're crazy.' I said, 'Yeah, sometimes.'"
Once the replays confirmed what the crowd thought they saw -- a human being dunking part of his arm to show off just how high he could truly leap into the air –--they began to find the proper emotions to let out as they celebrated the dunk. Carter got his silence. He stopped the show in a way we had never seen. Once again, the contest was over. All that remained was a final encore.
***
In the final round, Francis had delivered two impressive dunks but only received a combined score of 91. McGrady had a great windmill dunk for his first attempt but missed on his second attempt and finished with a 77. Carter's Elbow Dunk had given him a third 50 out of his first four attempts. But what now?
"The thing about that, at first they said I was done," Carter explains. "The dunk contest was done. They said, 'If you get a 50 on this, it's over.' They were just telling me to do something. I'm drained now. I have nothing left for you."
Vince wanted to join the dunk champions who had put a seal on their victories by soaring from the free throw line. He said he had every intention of walking off the steps he needed to pull off the feat Dr. J had made famous, but at that point, Carter just wanted to make his attempt. Don't do anything to dilute what you've already done.
Take a look at the lay of a basketball court and then remove the free throw line. If you're looking at nothing but the floor, watch someone jump from 14 feet away and soar in with two hands to finish a dunk. You'll be amazed by that feat of athleticism and coordination.
Put a line one foot behind that jumping point and it becomes a bit disappointing.
As Carter went to the other side of the court to get his proper running start, Francis and Mobley laid on the ground right where the free throw line was. Everybody in and out of the contest was trying to get to the free throw line area to have the perfect view of where Carter would jump. Hit the line square with the middle of your foot and it's a success. Mistime it by one extra step and it's a bit deflating.
Carter missed by one step.
Going with two hands instead of the typical one arm stretch for the free throw dunk was new. Erving, Jordan, Brent Barry, they had all gone with the one hand. Vince decided to use two, but it may have cost him that precious step.
He accomplished his goal of making the dunk, officially ending the contest with him as the champion. He received a 48 for his effort with Kenny giving him a 10. Smith probably would have given him a 9, but as he explained to Danny Ainge on the broadcast, he "owed him one."
"It might have disappointed everybody else," Carter admits. "I had a couple of things and I probably should have gone back to the original stuff, something that I was going to do, but whatever."
Carter was correctly anointed the champion of the dunk contest, hoisted the trophy, and never returned to compete. You don't repaint a masterpiece.
***
Make no mistake, Vince Carter had given us the greatest display of dunking anyone had ever seen. It both resurrected the contest and effectively killed it at the same time, because how can anyone match, let alone raise, such a seemingly impossible bar? Even Carter himself could never do that.
"For me, I have to go [back] into the dunk contest to live up to that?" Carter rhetorically asked. "It didn't make sense to me.
"It's different if you're playing in a game and you score 45, and now you're playing in the next game and you can score 46 or you can score 56 or whatever. The dunk contest is a little different. If I won the [first] dunk contest and it wasn't a wow factor and all of these things didn't happen, yeah maybe. Yeah maybe I'll come back. But I accomplished my goal."
Dominique Wilkins didn't feel that way when he won his two dunk contests in 1985 and 1990. He did five of them and deserved to win more than the two he's credited for. But he recognized the special quality of Vince's efforts in the one contest he did.
"I think it was the last great dunk contest," Wilkins said. "It was almost like he was the Last of the Mohicans. That was a nice contest."
With this culture of "back in my day" and "these young guys aren't the same as we were" so pervasive in sports these days, to be able to impress the great ones who came before you says all you need to know about what Carter accomplished. Even the greatest dunkers in history have to give props to Vince's performance.
"He had some really great dunks," Wilkins explained. "That dunk contest that Vince did put me back in the mind of how me and Michael Jordan and Dr. J and Clyde Drexler used to do. That's in the same category. That's the kind of show he put on.
What it was and what he did, it was all about creativity and power. He had a little bit of both. And that's why that dunk contest was so amazing. To be that kind of guy who was a little shorter and have that kind of dunking ability, Vince put on a show. He put on a show, simple as that. And that's what the dunk contest is about, putting on a show."
Carter being the best dunker of all time seems to be a collective agreement amongst the different eras of players and athletes. Older guys revere what he did and the younger guys marvel at it and hope to live up to it.
"I was too young," Minnesota Timberwolves' star rookie Andrew Wiggins answers when asked about Carter's contest when it happened. "I was in elementary school. I could dunk [at a young age] but when I was watching him, I couldn't do the things he had done. It's like when you're a kid and you're innocently watching it. I didn't really know what was going on."
Wiggins just knew that he wanted to be able to do the stuff in games like Carter had shown night in and night out. This weekend, Wiggins' fellow rookie and teammate Zach LaVine will participate in the 15th dunk contest since Vince took the stage, and he knows Carter is the standard he's trying to live up to.
"Vince Carter's the best dunker of all time," LaVine said. "The stuff he did in games is as nasty as he did in the dunk contest. He really opened everybody's eyes because he was doing stuff nobody else had seen before."
LaVine could put on quite the show and become one of the legendary dunkers we've ever seen. He can really fly and is a heavy favorite to take home the title. To hype him as the next Vince Carter borders on blasphemous, but the NBA is definitely desperate to recapture anything close to the magic that happened in Oracle Arena back in 2000.
They added a dunk wheel a couple years later in which you'd spin the wheel and end up with a dunk from the past you had to copy. Vince hated it because it took the dunker out of their comfort when approaching how to execute a big dunk.
"I got the chance to show the people how I kind of think when it comes to that kind of stuff," he explains. "I didn't personally like how they changed it. The wheel was death to any dunker.
The dunk contest is your expression of what you can do."
The wheel was introduced and annexed immediately after. They offered the top dunkers and stars more money to do it, but Vince says, "a lot of us turned it down."
One thing is certain when it comes to this year's dunk contest and the ones that have followed every year since Carter revolutionized what's reasonable to expect from the participants: He won't watch it when it's going on.
"I don't watch it much now," he says. "My Twitter feed blows up a lot, so I hide and chill on All-Star Saturday. I watch the 3-point contest and usually I hit the off button. I'd rather catch the highlights."
Friends will call or text to get the expert's opinion when the contest is going on. He hates when they do that. The last time he liked judging a contest was in Las Vegas in 2007 when he was asked to be a dunk contest judge with Wilkins, Jordan, Dr. J and Kobe. It was one of the best moments of his impressive career, much like the contest he had back in 2000.
"I got lucky as far as being able to pull that stuff off." Vince admits. "Lightning, I didn't know if it would happen again. I wasn't sure. I was like, 'I know I can't do anything better than this.'"
Nobody ever has.