Flip's script
Embodied by Karl-Anthony Towns, guarded by Kevin Garnett, the 20-year vision of the late Flip Saunders remains alive.
Flip's script
Embodied by Karl-Anthony Towns, guarded by Kevin Garnett, the 20-year vision of the late Flip Saunders remains alive.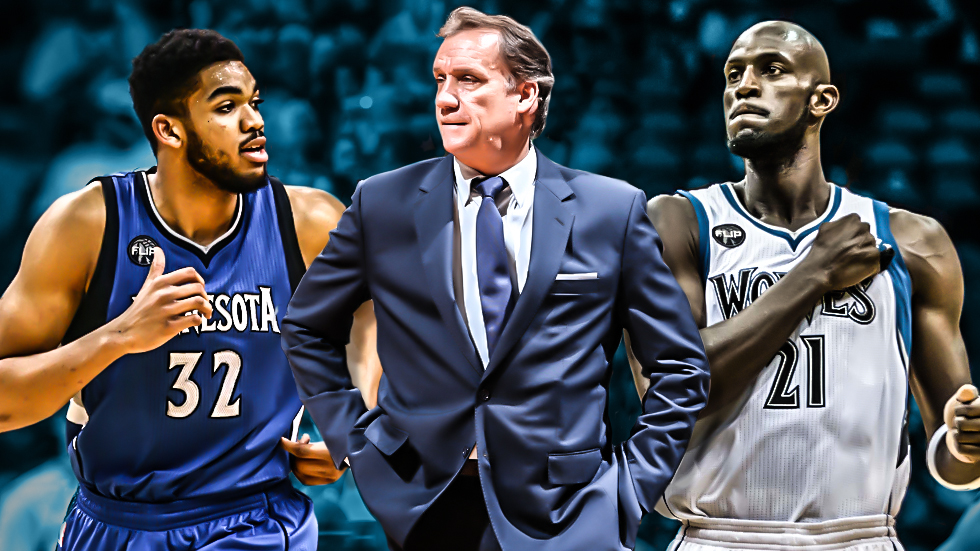 Kevin Garnett was drenched in sweat as he breathed desperately. It was 1995. High school players were again making the jump to the NBA, and as the focused eyes of executives who would decide Garnett's fate gazed upon him, judging his every movement, the entire weight of reopening the history books rested on his shoulders. It was making him a wreck. There was too much adrenaline in his body. Shots were wildly missing and nothing was going according to plan.
Well, at least not KG's plan.
Flip Saunders' plan, however, was right on schedule.
The 1995 draft class was stacked with college stars. Two in particular, North Carolina teammates Rasheed Wallace and Jerry Stackhouse, had the eye of Saunders, whose Timberwolves held the No. 5 pick. Those two weren't likely to fall that far … unless … Saunders could somehow push Garnett up.
Saunders was famous for his ability as an amateur magician, often able to find quarters behind your ear or impossibly show you the card you picked from the middle of the deck. His newest trick was to feign enough interest in Garnett to get people thinking he knew something they didn't. Get one of the teams with a top-four pick to bite on him. It wouldn't be easy. At the time, particularly with all that college talent available, using a top-four pick on a skinny high school kid was something more than risky. It was playing with your job. Maybe your career.
Still, that was the plan. Until, in an instant, it changed.
Before the eyes of Saunders and Wolves GM Kevin McHale and everyone else in that gym, Garnett began to display the freakish ability that would one day turn him into a first-ballot Hall of Famer. He started to find a rhythm with his jumper, showing off a feathery touch that belied his big-man frame. Upon request, he casually jumped and slapped the top of the box above the rim. His feet had hardly touched the ground before he exploded again, this time conjuring images of a spring-loaded action figure as he violently slapped the same spot on the board with two hands.
That got everyone's attention, and suddenly, Flip's plan had turned against him. An hour earlier he'd wanted someone else to take Garnett. Now he and McHale wanted him for themselves. No, they were desperate for him. As desperate as the adrenaline-saturated breath of the young man showing that the doors to high school prospects were more than just wide-open. They'd been kicked off the hinges.
***
In today's NBA, the traditional big man is all but extinct. Some will tell you nobody knows how to operate in the post anymore. Truth be told, you damn near can't operate in the post anymore, the defensive rule changes implemented in 2004-05 -- which allow defenses to zone off an entire side of the floor -- having eradicated most of the necessary space to do so. Now along comes Jahlil Okafor, the Duke freshman phenom out of Chicago's Whitney High School who is supposed to revive the back-to-the-basket big.
It is 2013. Saunders has since returned to Minnesota as part owner and team president, and he's rebuilding the Wolves on the fly. He'll hire Milt Newton as the general manager soon to help out with front office dealings. In a year, he'll become the coach once again. In a 2014 three-team deal, he'll trade Kevin Love to the Cleveland Cavaliers for a package that includes No. 1 pick Andrew Wiggins, who will go on to win Rookie of the Year. On paper, the Timberwolves suddenly have a promising young core. Zach LaVine has more bounce than a trampoline. Shabazz Muhammad is a bully at the wing. Gorgui Dieng could be a double-double machine who protects the rim.
Mired in more than a decade of ineptitude, the Wolves haven't made the playoffs since 2004, when Garnett and Saunders led them to the conference finals. This latest rebuild has to work. This is the reason Saunders and Garnett, now the aging veteran, have returned. To finish what they started.
But they need one more piece to really start bringing it together. Saunders likes Okafor, who is in the process of leading Mike Krzyzewski to a fifth national championship. He compares him to Tim Duncan. Believes he can change a franchise. Make post-play cool again. The Wolves, after a brutal 16-win season, have the best odds to land the No. 1 pick, but given their cursed draft history, that only means they have a 75 percent chance of not landing it.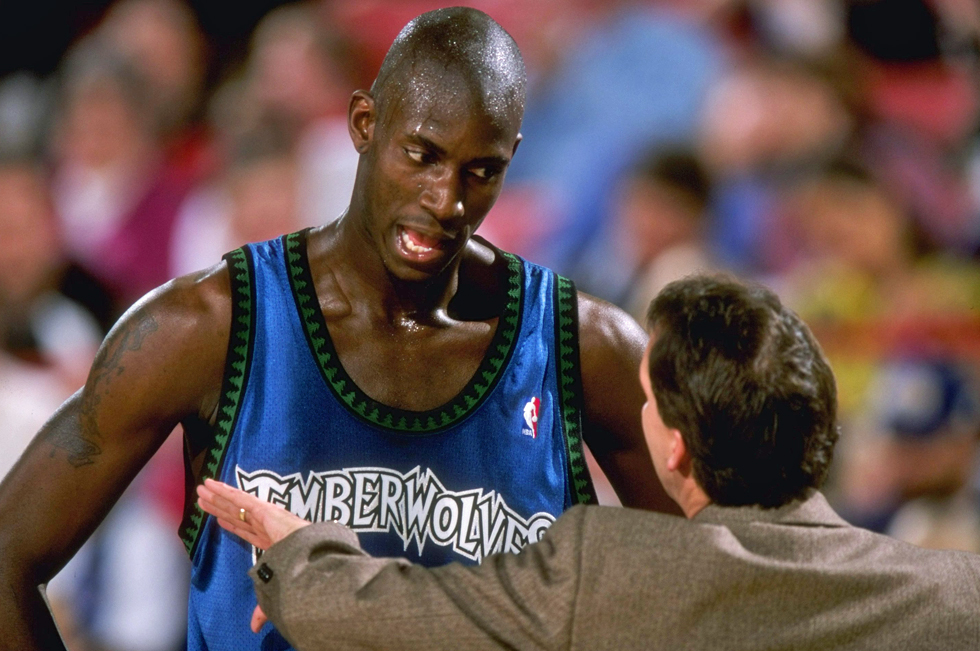 For a long time, the only lottery luck the Wolves ever had was Garnett falling to them in 1995. (Getty)
Flash to May 19, 2015. Glen Taylor and his wife Becky are representing the Wolves at the draft's lottery in New York City. Saunders and his crew are back at the Target Center watching on television, awaiting their fate. The No. 4 pick goes to the New York Knicks. "Give me one more [spot]," Saunders says to the television. "I won't be greedy."
The room cheers as the Philadelphia 76ers are announced as the No. 3 pick.
"Give me one more!" Saunders exclaims. "I'm selfish! I'm selfish right now! Just give me one more!"
Out of the envelope in commissioner Adam Silver's hand emerges ... a Los Angeles Lakers logo. The room completely erupts as reality sets in: the Wolves will have the top pick in the 2015 draft. Everyone is high-fiving and cheering like kids, jumping around with their arms above their heads. "Wow" comes out of nearly every person's mouth. Nobody can believe it. For months Saunders has been unraveling scenarios in his mind, how he could fashion an entire scheme around the kid who will play Lazarus to the post game. Now Okafor is theirs for the taking.
Meanwhile, the hype around another big man, this one out of Kentucky, is starting to heat up.
***
"I guess I'm in search of the perfect game," Karl-Anthony Towns says.
We are sitting in a hotel lobby in Salt Lake City, a light piano tune playing to soothe the weary traveler, and I've asked Towns if he's ever able to take a step back and realize his rookie season puts him in the company of Shaquille O'Neal and Tim Duncan -- and that's it. Nobody else. Towns shrugs off the suggestion. He doesn't celebrate himself. He's been quoted as saying it's hard for him to even admit when he's had a good game. He's never satisfied.
Shaq is part of the long history of the Wolves' poor lottery luck. In 1992 they had the best odds to land the No. 1 spot, something they'd never owned. Securing it would've meant O'Neal. Even the No. 2 pick would have meant Alonzo Mourning, who also would have gone a long way in expediting the growth of a cellar-dwelling franchise just a few years in existence.
They ended up with the third pick. Christian Laettner.
The next year the Wolves had the second-best odds behind the Dallas Mavericks at landing the No. 1 pick. That could have meant Chris Webber or Penny Hardaway. The Wolves ended up with the fifth pick, selecting Isaiah Rider. Even when things have broken their way, as they did in 2009 when they owned both the fifth and sixth picks, they've failed to take advantage. In what will go down as one of the all-time draft blunders, Minnesota used both its picks that year on point guards -- Ricky Rubio and Jonny Flynn -- and in doing so, passed not once, but twice, on Stephen Curry, who went seventh to the Golden State Warriors.
But that one time, in 1995, everything broke right. Garnett fell to them at No. 5, and soon after a string of eight consecutive playoff appearances began. In KG, Saunders and McHale had found that rarest of combinations -- a Hall of Fame talent with a desperate work ethic and an almost psychotic competitive streak. He was obsessed with getting better. Miscues danced in his head far more than the highlights ever could.
"I've lived my whole life with a sense that I wasn't good enough."
In talking to Towns, you might as well be talking to a young KG. The previous time Towns was in Utah to face the
Jazz
, he scored 32 points on 13-of-17 shooting to go with 12 rebounds, and he was ticked. The Wolves had lost by double digits. His frustration boiled over in the locker room after the game as he lamented the way he performed. Reporters that had gathered around him did double takes at their score sheets to make sure they were talking to the right guy.
"I think the people closest to me understand I'm never satisfied," Towns says. "I can have games like I had in Utah and say I honestly felt I didn't play well. It's upsetting sometimes, but I think maybe when my career is over, I can look back and start appreciating a little more what I was able to accomplish and what I was blessed to do."
Looking back at his career when it's over is a long time away. By then, the trophies will have filled a case in his parents' house. He's not concerned with them. He's won Rookie of the Month every single month this year, but he doesn't have any of the awards. He likes that he won the Skills Competition in Toronto at All-Star weekend because he was the first big man to do it, but that's not something he's interested in displaying in his home. In a few weeks he'll be named Rookie of the Year, but he's not making room for that trophy either. Like all the others, that'll go to his family, too.
The only thing Towns cares about is finding a way to win NBA championships. Everyone says this. It's the right thing to say. Towns means it. He's single-minded like that. Obsessed, even. He expected to make the playoffs this year, even with a team that won just 16 games the previous season.
"I came in expecting a lot," Towns admits. "I don't think statistically speaking we're going to be able to reach the goal that I had set for us, but we're making strides."
As he transitions to discussing those strides he and his teammates are making, his eyes get big. Towns is proud of the way the Wolves have moved toward finishing the year, how they've grown together, how they've turned another embarrassing campaign into one of grand optimism for the future. Usually they're in tank mode by this point in the season, but it wasn't long ago that they walked into Oracle Arena and knocked off the Warriors, something only two teams have managed to do this year.
To make that win less of a surprise and more the expectation, Towns knows the work that must be put in. If the Wolves practice at noon, Towns is there by 8:30, 8:45 a.m. at the latest. He eats breakfast, and goes to work, logging up to two workouts before practice starts. LaVine is the opposite -- a night owl working on his game into the wee hours. Between the two of them, the gym lights are practically always on.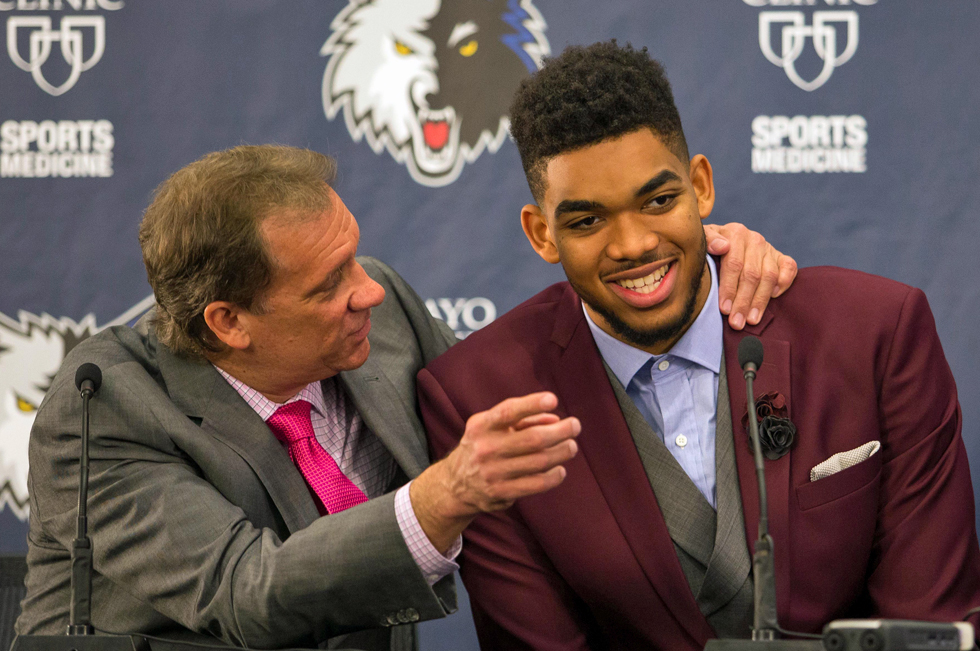 In Towns, Flip saw a new beginning for an old plan. (USATSI)
The standard Towns has established for himself necessitates this maniacal commitment. Per 100 possessions, he's scoring 28.6 points, grabbing 16.5 rebounds and blocking 2.7 shots. Three rookies have done that in NBA history: Towns, Shaq and Duncan. Throw in Towns' 3.1 assists per 100 possessions and Shaq is no longer in this group; it's just Duncan and Towns. Add in Towns' 1.1 steals per 100 possessions, and it's just him all alone since 1973-74, which is as far back as Basketball-Reference goes for this stuff.
If straight per-game numbers are your thing, he's the 26th rookie to average 18 points and 10 rebounds. Filter it with his 54 percent from the field and it's back to just him, Shaq and Duncan. Swap out field goal percentage for true shooting percentage (59.1 percent) and it's just him and David Robinson. It's unfair, admittedly, to compare rookies with names like these. Too soon for expectations like that. But everything about Towns' rookie season forces you to think about greatness.
Yet he sees himself as the guy who has to work his tail off just to stay in the league.
Perhaps the motivation comes from never having been on top. In his 2014 high school class, 247 Sports had Towns ranked second behind Emmanuel Mudiay. Rivals had Towns ranked fifth in his class behind Jahlil Okafor, Mudiay, Stanley Johnson and Cliff Alexander. ESPN had Towns ranked ninth overall and the third best center behind Okafor and Myles Turner.
"I've lived my whole life with a sense that I wasn't good enough," Towns says. "Every day I work out, even today, it feels like there's something I've got to prove to somebody. When I work out and I practice, I work out desperate. If I don't do well in this workout, I won't be playing in the NBA no more. I won't be playing this game of basketball no more."
***
About a week before the draft, Okafor was in Minneapolis for a couple days. He saw the new practice facility, worked out for the team, and met everybody he needed to meet within the organization. When the Wolves found out they were picking No. 1, despite the fact that some in the organization had been scouting Towns pretty extensively and were hoping Saunders might reconsider, most assumed the draft process was a mere formality. For months, Okafor was Saunders' guy.
Something changed a few days later. Ricky Rubio was still in town during the period when the Wolves were working out draft prospects. He saw all the young guys coming through. Saw Towns. All of a sudden, it was pretty obvious to the Spanish point guard.
"When I came here for the draft, and I saw the young guys working out, I only needed like two minutes to see that he was the guy," Rubio said about Towns on media day.
It maybe took Saunders a bit longer to come around, but not much. Much like with KG, before the workout was over, he knew Towns was the guy, too. For a man of his size and athleticism, Towns' skill set and motor were truly special. His attitude was infectious. His addiction to the game was fully evident. In an era of constant prospect comparison, the decision had little to do with anything Okafor may have done wrong in his workout. Towns simply shined brightest.
"[After my workout], I didn't know where I was going to get picked," Towns recalled. "I know [Flip] was impressed with my workout, but you never know how things happen."
Towns may not have known, but Saunders did. And this time he didn't have to trick his way into getting his guy. On June 25, 2015, the Wolves took Towns with the No. 1 overall pick. Garnett would be his mentor, if he could prove to Garnett that he was worth mentoring. And you better believe working with Garnett is a full-time job. Even with the way Towns loves to be in the gym, Garnett is another level of driven.
In a workout in Toronto before a preseason game against the Raptors, KG has Towns in school. He teaches him the sometimes-awkward art of establishing position. How to set up a flash to the middle. How to attack from certain spots on the floor. How to change that attack once you've established a mid-range jumper. He's using Wiggins and coaching intern Gary Trent as obstacles he'll have to navigate.
KG moves toward Trent, who is "guarding" Wiggins but getting in the way of Towns. Garnett gets tangled up with Trent, before breaking free with a forceful but savvy shove.
"Throw that mother-------!" Garnett exclaims. He's teaching Towns to not hesitantly sneak through contact but to raise his arms and "play big." It's the classic KG move, initiating contact while raising his arms high and away from his defender in the process. It accomplishes a few things -- giving both a wide passing target to his teammate, and putting an even bigger target on the back of his opponent for the officials. These are the tricks of the trade, but they only go so far. There's something more to being great.
"You can't teach the beast," Garnett told Jackie MacMullan, regarding Towns. "It's either in you or it isn't. You can't just go to the store and buy a six-pack of beast. It don't work like that."
Towns, indeed, has proven to be worth mentoring.
"It's big because he's been through so many years of this," Towns says of Garnett. "He's already a first ballot Hall of Famer. To [have access] to years and years of experience -- not just experience but Hall of Fame caliber experience -- is a blessing."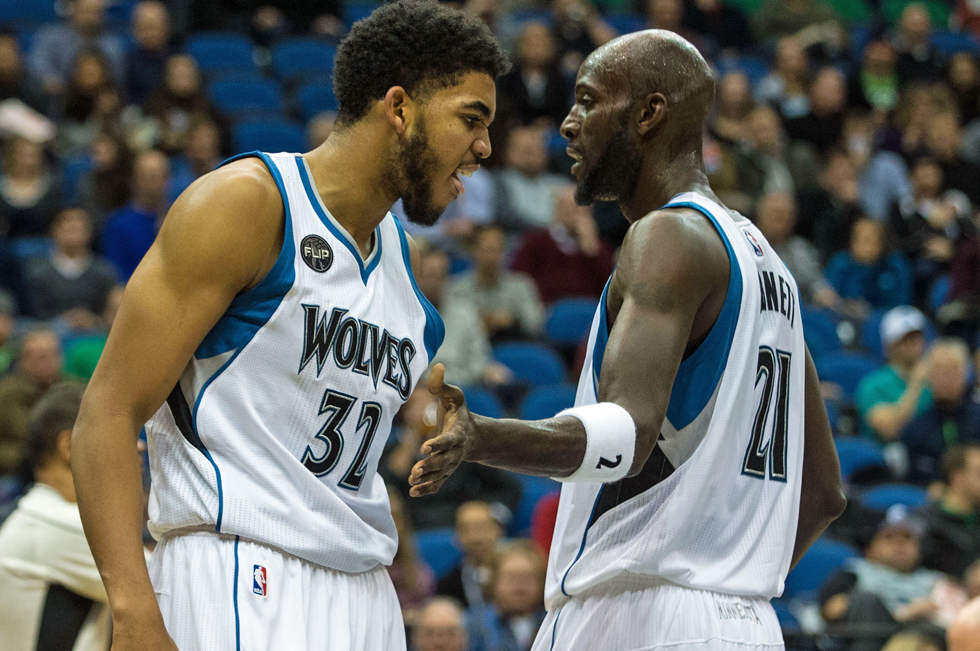 The torch has been passed in Minnesota. (USATSI)
Garnett, it turns out, was one of the guys who influenced Towns when he was coming up. But Len Bias is his favorite player of all-time. He owns a Bias Maryland jersey, one of the few he possesses. While he wasn't born until nearly 10 years after Bias' sudden death, the magic of YouTube helped Towns grow a fondness for him. As he got older, he started to look to Patrick Ewing and Hakeem Olajuwon and "old school" Tim Duncan.
The only guard Towns really looked to was Magic Johnson. His dream was to be a combination of Bias and Magic because of the explosiveness he wanted and the passing game he admired, but in reality, he was a big man from the start. Not one of those late bloomers, Towns was 6-foot-10 his freshman year in high school, and if growing up some big kids are prone to hide their awkward size -- at least until they start dominating in sports -- KG is quick to point out that doing so won't do you any favors in the NBA. Sneaking through a door isn't the same as busting through the door and convincing the ref it was someone else's fault.
"Man, when you're a rookie you need everything," said Wolves coach Sam Mitchell, who mentored KG in his playing days. "Have you ever seen a rookie come into this league and have a complete game? KG was no different. Only difference is he had a high basketball IQ so he picked up things really simple and easy. The thing we found amazing about him is if you show him something one time, he generally got it. You didn't have to go over and over and over.
"He wanted to win at everything," Mitchell continued. "Any time you have a guy that wants to win at every sprint, wants to win in every scrimmage, wants to win every drill, anything we do competitive, he didn't want to win; he had to win. That's the difference. You've got a lot of people who want to win."
Towns has never seen this Garnett interview with John Thompson back in 2005, when the Timberwolves were starting to crumble after those eight straight playoff appearances. And yet, he parrots so much of it. Wanting to play every game. Obsessive about losing. Excuses don't live in Towns' brain.
"I've never believed in the excuse, 'He's too young,'" Towns says. "You've just got to do it. We chose to be in the NBA. We chose when to leave college. We chose that we were ready to play this game at the highest level."
A recent loss to the Phoenix Suns in which Mirza Teletovic hit the winning shot over Towns still keeps him up at night. There are stories about how upset he was in the locker room after that game. He still racks his brain with how he could've played it differently.
"I don't like to lose in anything," Towns says. "When he hit a shot like that on me -- it was a great shot, it was an amazing shot by him -- but when the game is on the line, you make him miss that shot."
The pace of an NBA season, as Towns adapts to the grind of it all, is tough to figure out. He's restless by nature. He credits the coaching staff for forcing him to not come in some days. To get that crucial rest. But he can hardly stand it.
"I don't like to rest," admits Towns, who dribbles a ball while he plays Xbox. "I can't sit down too long without touching a basketball. I get like the addict where you take something away from me and I need it."
Flip's vision, when he had to pivot the direction of the franchise from a playoff hopeful to yet another rebuild for the Wolves, was to grab two or three stars in some way. Considering there isn't a South Beach near downtown Minneapolis, most likely he'd have to go through the draft or via trade. Getting Wiggins was the first step. Twenty years after they got KG, having Towns fall into the franchise's lap was the stroke of lottery luck they desperately needed.
Unfortunately and tragically, Saunders lost his life while battling Hodgkin's Lymphoma right before Towns' rookie season officially began. But even in the short amount of time they interacted, Saunders left an impression on the rookie. He left an impression on everyone. Towns still has a message that Flip left him on his phone. Saunders was excited about what he had in Towns. What he was close to starting to finish in Minnesota.
"He was proud of me, the way I was progressing at summer league," Towns recalls. "We actually talked a lot about me getting better not for me, but getting better for the team.
"And I stress that a lot, whatever steps I have to take to help us be the team that [Flip] and I had private conversations about being. Whatever I have to sacrifice, I [have to be] willing to do. We had conversations about that all the time."
Despite Flip's passing, and in so many ways in honor of it, the vision lives on. His son Ryan is an assistant and one of the more respected developmental coaches around. Fittingly, Garnett is back to usher it all in. And all the while, Towns is eager to get back to work. His bond with Wiggins, LaVine and the rest of the core runs deep. He knows they're getting closer every day to where Flip saw them going. He doesn't want to screw it up.
"I think we've just built something so special," Towns says. "We're never going to have this experience again, so we have to take advantage of it."