2012 NBA Champion Miami Heat: The quiet validation of Erik Spoelstra
Erik Spoelstra survives scrutiny to win NBA title.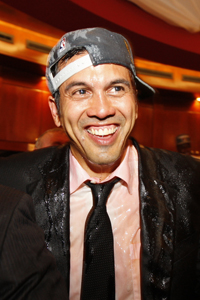 Erik Spoelstra had the last laugh this season.
(Getty Images)
Guess they didn't need Phil Jackson after all. 
Erik Spoelstra may have had the hardest job in sports this year. It's thought to be an easy gig, right? You have the best talent, just let them go out and be the best. But it's not like that. The Heat didn't have the most talent, just the best talent. And with that came the greatest of expectations, the harshest of scrutiny. Every single loss was a referendum on whether Spoelstra was worthy of coaching this team. Every win was because of the great team that had been assembled. 
All the blame, none of the credit. That's the life of Erik Spoelstra. 
But lost in the greatness of LeBron James was this fact: Erik Spoelstra outcoached Doc Rivers in a seven-game series, and outcoached Scott Brooks in a five-game series. That's not reductive, either. It's not just based on results. Every game, the Heat chipped away at the Celtics' offense, which carried them in the Conference Finals. The Heat responded to the Thunder advantages in Game 1 and swept the Thunder from there on out.
The dunks and highlight reel plays are fun. But the Heat won the championship on the back of their defense. That defense wasn't just great players being great. It was about rotations, help defense, traps, releases, and constant discipline. All of which was under the guidance of Spoelstra. 
The spacing which allowed those role players to make plays? That's under Spoelstra, too. These things don't occur naturally. But beyond the X's and O's is that whatever Spoelstra's message, it got through to this team. He's not a disciplinarian, or a player's coach. He's just a tactician who put together the year to provide the payoff to the promise. 
Spoelstra has dealt with supposed death blows from LeBron James bumping him, from Dwyane Wade yelling at him. He has kept his head down and worked harder. The former video coordinator has now reached the summit. He coached the Heat to the championship and that puts him in rarified company.
He'll never have the same name value as James, Wade, or Bosh. He won't get the headlines. But the Big 3 brought the talent to the Heat team. Erik Spoelstra made that talent into a team. 
Check in throughout the night for the latest news and highlights from NBA games

The Lakers legend details why the NBA popularity will continue to rise

SportsLine's Mike McClure, a DFS pro with more than $1M in winnings, gives optimal lineup...
If the Thunder forward doesn't know the reason, he has a very short memory

The 76ers star doesn't see a bright future for Jon Snow

Valanciunas played professionally in Lithuania before joining the Toronto Raptors