2012 NBA Draft: Matt Moore Mock Draft Version 2.0
2012 NBA Mock Draft after the NBA Draft Lottery on May 30th.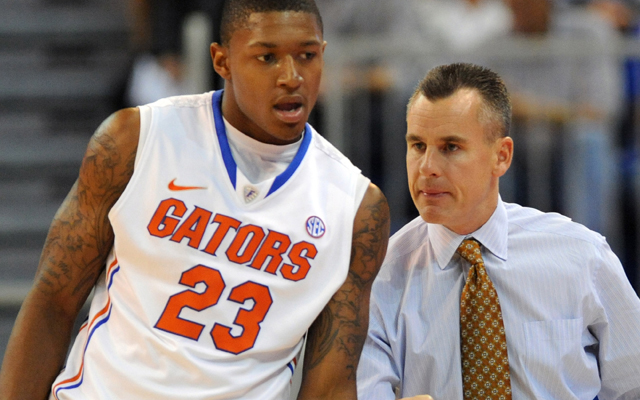 Bradley Beal is spoken of highly by scouts as a possible second overall pick.
(Getty Images)
NBA Mock Draft - 5/30/2012
Round 1
1. New Orleans Hornets
Anthony Davis, PF/C, Kentucky: 'Mek and The Brow: A new buddy comedy coming to you from the New Orleans Hornets. Featuring every block, ever. Fantastic fit for Monty Williams, fantastic fit for Davis.
2. Charlotte Bobcats
Bradley Beal, SG, Florida: The Bobcats need to trade this pick for as many pieces as they can. But if they keep it, they need to add Beal. He's the best overall weapon at both ends. If he surprises, he could save the franchise.
3. Washington Wizards
Michael Kidd-Gilchrist, SF, Kentucky: They have Chris Singleton, they have Jan Vesely, and they still need to take MKG. MKG gives Wall a devastating fast-break partner to run with and someone with an edge. He'll help with the team's porous defense as well.
4. Cleveland Cavaliers
Thomas Robinson, PF, Kansas: With Tristan Thompson raw and not great offensively, Robinson brings a ton of muscle and some scoring ability down low. He and Thompson create a pair of athletic young guys for Irving to run with. Barnes is another option here.
5. Sacramento Kings
Harrison Barnes, SF, North Carolina: The Kings need a small forward, and this will free up moving Tyreke Evans should they choose to do so. Even if Barnes is better as a spot-up shooter, with Isaiah Thomas and Marcus Thornton drawing defenders, he'll get his shots.
6. Portland Trail Blazers (from Brooklyn)
Andre Drummond, C, Connecticut: Drummond has high reward, but is also high risk. The Blazers can afford to take a risk with another top-11 pick. And with LaMarcus Aldridge, Drummond won't have to jump into the deep end of the pool offensively.
7. Golden State Warriors
Jared Sullinger, PF, Ohio State: He'll study under Andrew Bogut and David Lee, as the Warriors look to the future. Not the defensive force they want, but those options are off the board. A trade down to acquire Terrence Jones makes the most sense for Golden State.
8. Toronto Raptors
Jeremy Lamb, SG, Connecticut: Crazy length for Casey to mold defensively and the ability to actually score. With the Raptors exploring moving on from Jerryd Bayles and Jose Calderon, they're going to need some backcourt scoring.
9. Detroit Pistons
John Henson, PF, North Carolina: Pair Monroe with a hyper-athletic big with nothing but raw length since Monroe doesn't have it. No pressure to score in the frontcourt. This is a great fit.
10. New Orleans Hornets (from Minnesota through L.A. Clippers)
Damian Lillard, PG, Weber State: Pair the best overall prospect who needs a point guard to run the pick and roll with with the best overall point guard in the draft. Perfect.
11. Portland Trail Blazers
Austin Rivers, SG, Duke: Coaches' son offensive weapon to upgrade their wing. They need a player capable of taking over a game. Rivers has that potential.
12. Milwaukee Bucks
Terrence Jones, PF, Kentucky: Perry Jones is just too much of a risk here, despite his fit. Terrence Jones give Milwaukee some options with their players coming off the books and a hard-nosed player to pair with an athletic lineup. No worries about him shooting threes, there's Monta Ellis for that.
13. Phoenix Suns
Perry Jones III, PF, Baylor: No need to play defense, paired with Marcin Gortat in the post, can run the pick and roll with Nash or whever is running the offense. The Suns are uniquely set to develop Jones in a warm and supportive environment.
14. Houston Rockets
Meyers Leonard, C, Illinois: Big. Any big will do. Leonard's the biggest big available in this range. This'll do. The Rockets, constantly getting a little better, never making great strides.
15. Philadelphia 76ers
Tyler Zeller, PF/C, North Carolina: Doug Collins will love this guy, and he's a significant upgrade over Spencer Hawes, saving them the money on re-signing him.
16. Houston Rockets (from New York)
Terrence Ross, SG, Washington: Athletic wing? Don't mind if Morey does! This gives him some room to dangle players he has in trades. Ross could be another steal for the Rockets.
17. Dallas Mavericks
Kendall Marshall, PG, North Carolina: Yes, the Mavericks could use some athleticsm in the backcourt. But Marshall can run an offense and make the right play. That's got value on a team that could be without Jason Kidd next year.
18. Minnesota Timberwolves (Utah)
Quincy Miller, SF, Baylor: Miller's toughness could endear him to Rick Adelman if he can contain his worst instincts. If he plays inside the system, this could be a steal of a pick.
19. Orlando Magic
Dion Waiters, SG, Syracuse: They're going to need a playmaker badly in the backcourt no matter what happens. Waiters is a great steal here.
20. Denver Nuggets
Arnett Moultrie, PF, Mississippi State: Insurance policy against overpaying for JaVale McGee.
21. Boston Celtics
Moe Harkless, SF, St. John's: Paul Pierce won't be around forever.
22. Boston Celtics (From L.A. Clippers through Oklahoma City)
Royce White, PF, Iowa State: All muscle and effort, a good fit for the Celtics' culture in need of some bigs.
23. Atlanta Hawks
Evan Fournier, SG, France: This is a position of need and Fournier fits it well.
24. Cleveland Cavaliers
Tony Wroten, PG, Washington: Backup point guard is a major problem, and Josh Selby is out of position there. Teague slides in nicely and brings change of pace and athelticism.
25. Memphis Grizzlies
Marquis Teague, PG, Kentucky: Backup point guard is a major problem, and Josh Selby is out of position there. Teague slides in nicely and brings change of pace and athelticism.
26. Indiana Pacers
Festus Ezeli, C, Vanderbilt: Anyone big will do.
27. Miami Heat
Tyshawn Taylor, PG, Kansas: Mario Chalmers and Taylor together for the first time. KU greats. Or something. Puts some pressure on Norris Cole to improve.
28. Oklahoma City Thunder
Jeffrey Taylor, SF, Vanderbilt: Provides depth when Durant moves to the 4, or as a reserve which the Thunder have been short on since Jeff Green's departure
29. Chicago Bulls
Doron Lamb, SG, Kentucky: Allows for the Bulls to maneuver around their existing backcourt bench. Lamb can also provide bench scoring, something they badly need. He and John Lucas could spell the starters effectively.
30. Golden State Warriors (from San Antonio)
Andrew Nicholson, PF, St. Bonaventure: There's the big the Warriors were looking for, just 23 picks later.
Galin Dragiev is on a 31-18 NBA run and just locked in a play for Thunder vs. Warriors on...

SportsLine's Mike McClure, a DFS pro with more than $1M in winnings, gives optimal lineup...

We've got all the scores, top plays and news from a busy NBA Friday
Butler didn't put any pressure on his right leg as he was helped to the locker room on Fri...

Our advanced computer model simulated Saturday's Magic vs. 76ers game 10,000 times

Several playoff contenders could use the services of Ilyasova, who's nearing a buyout agre...