2012 NBA Free Agency: Ranking the top 40 Free Agents
CBSSports.com's Eye On Basketball staff ranked the top 40 NBA free agents in the class of 2012.
CBSSports.com's Eye On Basketball staff convened to rank the top 40 free agents in the NBA's 2012 class. Rankings were aggregated. Players listed with position and last year's team. Write-ups done by Matt Moore, Royce Young and Ben Golliver.
1. Deron Williams, G, Brooklyn Nets: The cream of this class's crop, Williams is a 3-time All-Star looking to put the pieces back together after getting blindsided by a trade in 2011. A physical point guard capable of scoring and making plays for others, he's the one true star in this class who is in the prime of his career. He's reportedly narrowed his list to two teams: the Nets and the Dallas Mavericks. -- BG
2. Eric Gordon, G, New Orleans Hornets: Gordon sat out a vast majority of the 2011-12 season with a knee injury, but his abilty to score and shoot will command a maximum salary offer (or close to it) At 23, the best is still yet to come and all signs point to the Hornets retaining him to position him as the outside complement to the inside presence of presumptive No. 1 overall pick Anthony Davis. -- BG
3. Kevin Garnett, F, Boston Celtics: A perennial All-Star, Garnett shifted seemlessly to the center position as the Celtics were hit with a slew of injuries in 2011-12. He regularly posted 20/10s in the playoffs and had Boston within one win of an appearance in the 2012 NBA Finals. The Celtics' only competition for his services seems to be a possible retirement, as KG just turned 36. -- BG
4. Tim Duncan, F, San Antonio Spurs: Another aging but incredibly productive big man, Duncan, like Garnett, was knocking on the door of another Finals appearance before the Thunder rudely intervened. At 36, Duncan definitely has some good basketball left, after having his playing time reduced during the last two seasons and with Spurs guard Tony Parker emerging. -- BG
5. Roy Hibbert, C, Indiana Pacers: Free agency couldn't come at a better time for the massive Hibbert, who had a big stage to shine on during Indiana's postseason run after posting career-best numbers (12.8 points, 8.8 rebounds, 2.0 blocks) in 2011-12. The fact that he's missed just three games total in the last three years combined helps ensure that he will get a major pay day. -- BG
6. Steve Nash, G, Phoenix Suns: After years of trade rumors, Nash finally hits the market as an unrestricted free agent, facing a tough decision: take a discount to play for a title contender or find a spot that offers the best financial offer with a shot at making a playoff run. He's 38 years old, so the stakes couldn't be higher. -- BG
7. JaVale McGee, C, Denver Nuggets: McGee transformed from a laughingstock to a promising laughingstock by virtue of a midseason trade that sent him from the Washington Wizards to the Denver Nuggets. His gag reel is as long as his highlight reel but he was dominant during stretches of Denver's playoff series against the Los Angeles Lakers. Upside always comes with a cost. -- BG
8. Ryan Anderson, F, Orlando Magic: Anderson, 24, had a career year, scoring 16.1 points and shooting 39.3 percent from deep, while winning the NBA's Most Improved Player award. He fizzled a bit against the Indiana Pacers in the playoffs, though, which cut into his offseason buzz. After acquiring him as a trade throw-in, the Magic, even under new management, are surely highly motivated to retain him through to his prime.  -- BG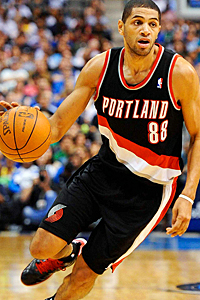 9. Nicolas Batum, F, Portland Trail Blazers: A Frenchman known for his silky two-way play, Batum has said there's a "99 percent" chance he returns to Portland. He was the victim of a positional logjam with Gerald Wallace last season but that was cleared with a midseason trade. The Blazers will now ask the 23-year-old Batum to shoulder a much larger burden. -- BG
10. Jason Terry, G, Dallas Mavericks: Known for his big shot-making, his equally big personality and his instant offense off the bench, Terry could be in for a new home after an 8-year run in Dallas. -- BG
11. Brook Lopez, C, Brooklyn Nets: If Lopez were rebounding, he might just be the prize of this class. Instead, he's a seven-footer that averages 20 points a game and teams are iffy on. -- RY
12. Ray Allen, G, Boston Celtics: Allen is set to have offseason surgery on his ankle and while he's rapidly advancing in age, he can still shoot. And anyone likes a good shooter. -- RY
13. Jeremy Lin, G, New York Knicks: The Knicks are in a tricky situation with Lin as in if they want to commit to him as their full-time starter, but caught a break in arbitration. -- RY
14. Gerald Wallace, F, Brooklyn Nets: He's already said to be opting out, because he's in search of at least one more big contract. -- RY
15. Goran Dragic, G, Houston Rockets: The Rockets seem to be committing to him as their point guard of the future, but will have to pay Dragic like a starter if they want to keep him. -- RY
16. Ersan Ilyasova, F, Milwaukee Bucks: His market value is still a little fuzzy, but at the right price, Ilyasova could turn into the steal of this free agent class. -- RY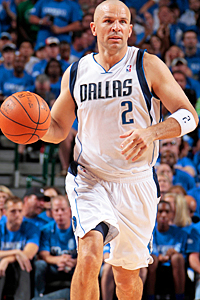 17. Jason Kidd, G, Dallas Mavericks: Kidd has already conceded he's not starter material anymore but in terms of a backup point guard, I'm not sure you can do much better.-- RY
18. O.J. Mayo, G, Memphis Grizzlies: Mayo has yet to really find his place in the league as a scorer. He was mainly deployed as a spot up shooter in Memphis and if a team looks to deploy him more as a wing scorer, he could fit well with someone. -- RY
19. Brandon Bass, F, Boston Celtics: With a big postseason performance, Bass raised his stock and could be looking at a quality offer. He's a good jumpshooting big, can rebound and though he lacks size, has a little versatility to make up for it. -- RY
20. Mo Williams, G, Los Angeles Clippers: For a while, Williams made a run at Sixth Man of the Year but his second half of the season slowed down. In the right situation where he can score, he's a solid addition for a lot of teams. -- RY
21. Andre Miller, G, Denver Nuggets: His age is advancing and while he might not necessarily be starter material anymore, he's a savvy vet that can still create, score and of course, throw an absolutely perfect lob. -- RY
22. Omer Asik, C, Chicago Bulls: Quietly, Asik turned into one of the better interior defenders in the league. His issue is that he contributes almost nothing offensively, but in terms of frontline size, he's a in the top tier in this class. -- RY
23. Kris Humphries, F, Brooklyn Nets: Humphries has become a double-double machine and for a team not looking for scoring inside but instead mainly defense and rebounding, he could carry some value. -- RY
24. Jeff Green, F, Boston Celtics: Obviously the biggest question with Green is his health after missing the entire 2011-12 season because of heart surgery. But assuming he's healthy and back to form, he could be a key addition to a number of teams because of his versatility. -- RY
25. George Hill, G, Indiana Pacers: Hill moved into the starting role down the stretch for the Pacers, who acquired him via a Draft day trade. One would assume Indiana, blessed with significant cap space this summer, is well-positioned and motivated to retain him. -- BG
26. Lou Williams, G, Philadelphia 76ers: If you look around and realize that you need a bench scorer who shot 40 percent fom the field last year... you may have some bigger issues to work out with your team psychologist. -- MM
27. Aaron Brooks, G, Phoenix Suns: Remember him? Bailed for China in the lockout? Got stuck in the playoffs? Firebug point guard the Rockets moved on from? Brooks is inefficient but can get the job done in a pinch. -- MM
28. Ramon Sessions, G, Los Angeles Lakers: Such high expectations. Such a terrible playoffs run. Sessions' offense vanished in the playoffs but he'll still fetch a good price on the market. -- MM
29. Nick Young, G, Los Angeles Clippers: The biggest shots Young hit in the playoffs were transition catch-and-shoot fadeaway threes falling out of bounds. Yup. -- MM
30. Jamal Crawford, G, Portland Trail Blazers: Crawford wanted a big long-term contract from Atlanta where he was a hero in 2011. Instead he got a short-term contract with Portland where he was part of one of the most disappointing teams of the season. Juuuuust a bit outside. -- MM
31. J.R. Smith, G, New York Knicks: Smith actually defended pretty well for the Knicks last year. He comes with risks, to say the least, but if you can find a coach to connect with him, he can turn a game around for you. -- MM
32. Carl Landry, F, New Orleans Hornets: Dude played after having teeth in his arm. Teeth. -- MM
33. Antawn Jamison, F, Cleveland Cavaliers: Quality locker room guy, played surprisingly well for Cleveland. As a bench scorer, could make a big difference. -- MM
34. Jameer Nelson, G, Orlando Magic: This guy was an All-Star once. No kidding. -- MM
35. Chris Kaman, C, New Orleans Hornets: Also once an All-Star. Then he was untradeable last year. But he hustles and is a veteran big in a league that covets them. -- MM
36. Marcus Camby, C, Houston Rockets: Old man can still rebound and play defense. Understands his role. -- MM
37. Michael Beasley, F, Minnesota Timberwolves: Can you really put a price on goofball guys capable of putting up an empty 40 any night of the week? -- MM
38. Robin Lopez, C, Phoenix Suns: Tall. -- MM
39. Delonte West, G, Dallas Mavericks: Is the baggage worth it? Depends on how you interpret things. -- MM
40. Grant Hill, F, Phoenix Suns: You're not going to find a better locker room guy on this list. -- MM
The investigation detailed a corrosive workplace environment

Also, when -- or rather, will -- the Warriors flip the switch?

The versatile forward has one glaring weakness, but Toronto can see it turning into a stre...
The investigation detailed a hostile workplace environment

Cousins suffered a torn Achilles tendon on Jan. 26, and will miss the rest of the season

Ingram has become one of the team's go-to players with Lonzo Ball sidelined with an injury