2012 NBA Mock Draft 4.0: A bizarre turn of events after Wizards-Hornets trade
2012 NBA Mock Draft with Anthony Davis headed to New Orleans, and Thomas Robinson joining the Cats.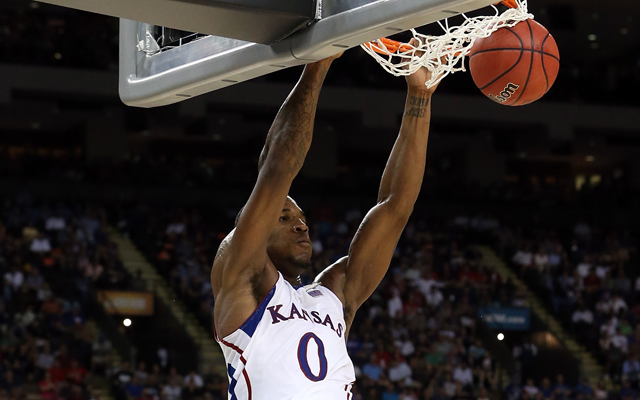 Thomas Robinson could go as high as No. 2 in the draft.
(Getty Images)
Had this one all ready to go. All worked out nicely. Then the Wizards traded Rashard Lewis to the Hornets for Trevor Ariza and Emeka Okafor and everything went a little haywire. But as it stands, this mock draft represents two very different approaches. 
1. It's based off of some of the salient details of what has come out of team workouts and reports on team desires, along with information from scouts and team personnel. 
2. There's also a lot of contingency in this mock draft. "If this team doesn't make the obvious pick of 'X,' then what happens?" We see this with Andre Drummond's fall and the tumble of Jeremy Lamb, to a degree. 
This isn't to say that these are pure hypotheticals. Based on the information at this moment, it's possible this is how it could go down. It's more of a sign of how liquid this draft is after pick No.5 than anything. The top five is going in some order of those players. 
After that is where things can get interesting. 
NBA Mock Draft - 6/20/12
Round 1
1. New Orleans Hornets
Anthony Davis, PF/C, Kentucky: The Hornets didn't just strike gold in getting the No.1 pick and Davis, they struck gold in getting a No.1 pick that is a no-brainer. No second-guessing for them.
2. Charlotte Bobcats
Thomas Robinson, PF, Kansas: Bradley Beal is a better option here for the Cats, but a lot of indications point to Robinson being the hottest mark at this point, along with Harrison Barnes. Robinson's a can't miss pick, even if he doesn't ever make an All-Star team. It's a way for the Bobcats to get a foundation in place.
3. Washington Wizards
Bradley Beal, SG, Florida: The Wizards trade locks in Beal for no lower than this spot. Kidd-Gilchrist creates too much of an overlap at the SF with Ariza, so either the Bobcats take Beal or the Wizards do. If the Bobcats take Beal, that's going to get sticky. Do you take MKG and create an awkward situation with Ariza? Or do you take Harrison Barnes and try and play a guy that big at the 2?
4. Cleveland Cavaliers
Michael Kidd-Gilchrist, SF, Kentucky: That sound you hear is Chris Grant sprinting to the phone and dialing so hard his fingers break. Kidd-Gilchrist provides a lot of what the Cavaliers need. An athletic wing to run the floor with Kyrie Irving, a lock-down defender for Byron Scott, and a beast on the offensive glass beside Tristan Thompson and Anderson Varejao.
5. Sacramento Kings
Harrison Barnes, SF, North Carolina: There's a lot of talk about Barnes going higher, and it would be a pretty big mistake. He has the potential to be somewhere between Tracy McGrady and Antawn Jamison, or he can be Marvin Williams. The Kings can afford this gamble and need a small forward. If they keep the pick, this is a natural fit.
6. Portland Trail Blazers (from Brooklyn)
Damian Lillard, PG, Weber State: A clean start for the Blazers at point guard after the trouble over the past few years. Lillard is a scoring point so LaMarcus Aldridge may take a downtick, but without Nate McMillan to kill their souls, a new point guard could flourish with the kind of athletes Portland has.
7. Golden State Warriors
Terrence Jones, PF, Kentucky: Here's where the picks get dicey. Does Golden State take Andre Drummond, hoping that by learning behind Andrew Bogut he can develop in time? Do they take Dion Waiters and hope his impressive wingspan makes up for his 6-4 height? Or do they reach for Jones? Here's the thing. Jones at 6-10 can handle the new breed of NBA small forwards who are all monstrously athletic. Anything he lacks in perimeter speed is mitigated by length. He provides versatility on a team that needs it.
8. Toronto Raptors
Austin Rivers, SG, Duke: Speaking of a reach, with Lillard off the board, the Raptors go for the next best playmaker. Waiters is going to be tempting here, but Rivers' upside is intriguing and he give them a world of options with how to go forward in free agency. If he develops into a point guard, great. If not, he can operate as a combo guard who can light up the scoreboard and defend.
9. Detroit Pistons
John Henson, PF, North Carolina: A natural fit with the Pistons, Henson is the sickle to Greg Monroe's hammer in this scenario. It's a great fit and puts the Pistons that much closer to contention.
10. New Orleans Hornets (from Minnesota through L.A. Clippers)
Andre Drummond, C, Connecticut: The Hornets can afford to gamble, and this is a big one. If it works out, Davis and Drummond combine to be the most dominant young frontcourt we've seen in years. If it doesn't, the Hornets still have Anthony Davis. Monty Williams may be able to reach the engimatic Drummond and activate him. If so, lookout. If Damian Lillard falls here, he should go to the Hornets.
11. Portland Trail Blazers
Tyler Zeller, PF/C, North Carolina: No injury risks. No character issues. No burdens of expectation. A quality basketball player who scouts like a lot for his transition to the next level. Portland pairs Aldridge with a legit young 5 who can rebound and score.
12. Milwaukee Bucks
Meyers Leonard, C, Illinois: The Bucks will have all the athletic young big men there are. With Ersan Ilyasova possibly departing in free agency, the Bucks can pair Leonard with Ekpe Udoh for pure size. Not like there are going to be a lot of shots to go around with Brandon Jennings and Monta Ellis on the floor.
13. Phoenix Suns
Dion Waiters, SG, Syracuse: It would not shock to see Waiters go as high as six. But in this scenario, the blistering buzz he's receving post-combine fades and he winds up with the team that reportedly provided a lottery promise to him. It's a good fit, athleticism and scoring punch always work well in Phoenix's system.
14. Houston Rockets
Jeremy Lamb, SG, Connecticut: A steal at No. 14, the Rockets get a shooting guard to allow them to move Kevin Martin, and a long, athletic wing to slide out in small lineups. If Leonard or Zeller is here, don't be shocked if they go here. Arnett Moultrie would be a reach but if the Rockets become concerned he could get taken, they might bite.
15. Philadelphia 76ers
Arnett Moultrie, PF, Mississippi State: The Sixers are in desperate need of bigs a this makes a lot of sense. They can manage to develop him slowly behind who they have and work him into the rotation. This helps them not overpay for Spencer Hawes, which is always a plus.
16. Houston Rockets (from New York)
Perry Jones III, PF, Baylor: And the Rockets are forced once again to overpay for a marginal center in free agency. For every season, turn, turn, turn. But Jones is a steal here, despite the bazillions of questions about his work ethic, role, approach, attitude, and style. It's a monster-upside pick, but also not a hard one to justify. If he works out, the Rockets luck into the kind of player they've needed.
17. Dallas Mavericks
Terrence Ross, SG, Washington: The big questions surround Jason Kidd's age, but Roddy Beaubois is still in Dallas. Jason Terry, on the other hand, is likely gone, and Dominique Jones has big question marks. Ross is athletic, long, and can produce offense. He's a steal here at No. 17.
18. Minnesota Timberwolves (Utah)
Quincy Miller, SF, Baylor: Long, can shoot, and can run the floor. The kind of player Ricky Rubio can flourish with. The Wolves can hardly go wrong here, and Royce White is another option. But Miller spaces the floor better. Miller's a good pick for a team that can gamble, and the Wolves have that luxury.
19. Orlando Magic
Kendall Marshall, PG, North Carolina: Kendall Marshall, PG, North Carolina. The Magic may move on from Jameer Nelson and Marshall is a distributor point guard on the cheap.
20. Denver Nuggets
Royce White, PF, Iowa State: The Nuggets love versatility and this gives them a big who can score. They have more than enough guys to go small with, this gives them a combo-forward to go big with. High upside, and the Nuggets are smart enough to prepare him mentally. With JaVale McGee on board, dealing with White is a piece of cake.
21. Boston Celtics
Jared Sullinger, PF, Ohio State: This is a bit far for Sullinger to tumble, since his back issues are not a big surprise to anyone. But the fact remains. This is a 6-9, undersized big with poor explosiveness, slow lateral rotations, and a bad back. If he slides, he could slide hard. But the Celtics would be in a position to disregard the concerns and take the risk on him, especially with the next pick.
22. Boston Celtics (From L.A. Clippers through Oklahoma City)
Jeff Taylor, SF, Vanderbilt: A versatile defender in a spot they need some depth, who can space the floor (43 percent from range last season). This is a pretty solid set-up for the Celtics.
23. Atlanta Hawks
Tony Wroten, PG, Washington: Tony Wroten, PG, Washington: More of a pure point to pair with lightning bug Jeff Teague. The Hawks will need depth at this position and Wroten has some upside if he can locate his shot.
24. Cleveland Cavaliers
Andrew Nicholson, PF, St. Bonaventure: Chris Grant lands a versatile athletic big to compliment Tristan Thompson and gives him another option if they move Varejao. Cleveland's new core starts to take shape.
25. Memphis Grizzlies
Tyshawn Taylor, PG, Kansas: Taylor is a leader who can effectively run the pick and roll. He also attended Kansas, alma mater of GM Chris Wallace who has selected a KU player in three of the past four drafts.
26. Indiana Pacers
Moe Harkless, SF, St. John's: The Pacers don't have any glaring needs, but their depth at the 3 is suspect. This gives tham another athlete to put on the floor and run, which is something they need when George and Granger are out.
27. Miami Heat
Fab Melo, C, Syracuse: Big man is big. Come on, they employ Eddy Curry; Fab Melo isn't worth a gamble?
28. Oklahoma City Thunder
Marquis Teague, PG, Kentucky: Eric Maynor is returning from injury and will be up for extension eventually. Teague gives the Thunder pure speed they don't need immediately. One of the best development teams in the league could do wonders with Teague.
29. Chicago Bulls
Draymond Green, SF/PF, Michigan State: Effort, intangibles, and strength. An all-around type player to throw into Thibs' system. Coachability is big here.
30. Golden State Warriors (from San Antonio)
Evan Fournier, SG/SF, France: They want wings, they get wings. A steal here, given his status, the Warriors pick up a great prospect without having to reach for him.
Victor Oladipo just wants to live his life and enjoy his breakout season with his new team

Keep it right here for all of the news, notes, scores, and highlights from around the Asso...

LeBron has a player option for next season, and is expected to opt out and become a free a...
The Pistons will be looking to snap a five-game losing streak when they host the Celtics on...

Bryant offers some advice for Ball and other rookies about having a sense of urgency in the...

Burks has stepped up in a big way for the Jazz, averaging over 20 points per game since Rodney...