2012 NBA Playoffs Preview: Miami Heat vs. New York Knicks
Eye on Basketball presents the 2012 NBA playoffs first round series previews. In this edition, the Miami Heat versus the New York Knicks.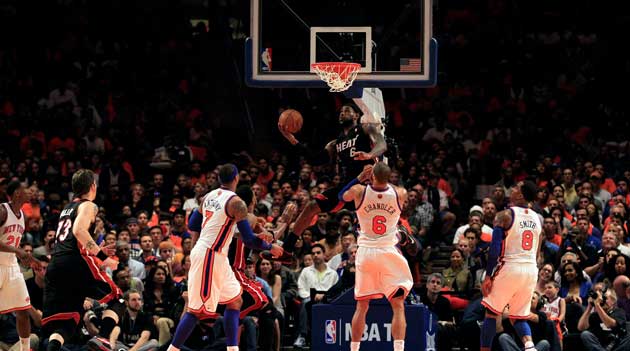 LeBron James begins another quest for his first ring during a first round playoff series against the Knicks.

(Getty Images)
Eye on Basketball presents previews of the first round of the 2012 NBA Playoffs. In this edition, the Eastern Conference's No. 2 seed Miami Heat (46-20) vs. the No. 7 seed New York Knicks (36-30).

Biggest Strength:
Miami Heat: Let's not overthink this one: top-shelf talent. The Heat boast the NBA's most productive player (by leaps and bounds) LeBron James, another top-10 guy in Dwyane Wade and a third wheel All-Star in Chris Bosh. It's not an absolutely perfect "each piece makes the others better" triangle but it's an elite talent base that few teams can match. The Heat have talked about their improved chemistry and comfort this season and they are the only team in the NBA that is top five in both offensive and defensive efficiency this season. Credit James, whose league-leading 30.79 PER and 27.1 points, 7.9 rebounds, 6.2 assists, 1.9 steals and 53.1 percent shooting are completely out of this world.
New York Knicks: Even though Carmelo Anthony has been called the league's best scorer and Amar'e Stoudemire is known as a one-way player, New York's biggest strength has been a defense that ranks in the top five for efficiency. Center Tyson Chandler makes the whole thing work and guard Iman SUmpert puts out excellent effort on a consistent basis. The Knicks can be extremely dangerous turning defense into offense, as J.R. Smith can finish above the rim on the break and knockdown three-point shooter Steve Novak can make people pay in secondary transition.
Biggest Weakness:
Miami Heat: The Heat have managed to put up solid rebounding numbers overall, but their frontline remains a mash unit aside from Bosh and Udonis Haslem. It's a by-committee approach that has relied on James to cover up for its flaws and step in to defend both power forwards and centers. The Heat have talent and shooting on the wings to compensate so It's unlikely to be a fatal flaw in the first round.
New York Knicks: Whether the word is chemistry or cohesion or simply health, the Knicks have dealt with a host of absences in recent weeks. Chandler, Stoudemire and Anthony have all missed time and sensational point guard Jeremy Lin is expected to miss the first round series following arthroscopic knee surgery. Lin's absence leaves Barnon Davis and Mike Bibby to man the point guard position, a scary proposition.
X-Factor:
Miami Heat: For Miami, it's not any one player but the collective sharpness after Bosh was shut down for the last 10 days and James and Wade were given some time off as they nursed fatigue and minor injuries. Do they start off the series on the right foot? If they take both of the first two games, the mental momentum will be overwhelming. If they slip up, though,Madison Square Garden comes in to play, as do all the "Who gets the ball late in games?" and "Why isn't Bosh doing more?" questions.
New York Knicks: The Knicks ranked No. 19 in offensive efficiency this season and will need both consistent firepower and late-game shot-making if they are to have a chance. Anthony and a recuperating Stoudemire won't be enough. J.R. Smith was brought in after a stint in China to deliver both, and he certainly doesn't lack for confidence or playoff experience. Consistency and focus, however, are always questions. If he tunes in and gets hot, there's no one better equipped – save 'Melo -- to send the Madison Square Garden into fourth quarter hysterics.
Match-Up Advantage:
Miami Heat: Wade probably presents the most challenges for New York, as the Knicks have All-Stars at both forward positions to attempt to cancel out the production of James and Bosh. In three games against the Knicks this season, all wins, Wade averaged 26.0 points, 5.3 rebounds and 4.3 assists. Shumpert, Smith, Landry Fields, Toney Douglas and whoever else will do their best, but the talent gap is stratospheric.
New York Knicks: Tyson Chandler is a big, long, active and intelligent center who gave the Heat fits during the 2011 NBA Finals, serving as the backline of the Dallas Mavericks' defense and making timely plays whenever James and Wade attempted forays into the paint. Chandler's offensive game is limited but his defense and rebounding will be crucial for New York to make this a series, and his presence should help keep Bosh out on the perimeter. Miami is a below-average offensive rebounding team; Chandler should help limit them to one-shot possessions with his rebounding (9.9 per game) and his presence should encourage more jumpers.
Will Win If...
The Miami Heat will win as long as LeBron James doesn't get way, way deep into his own head and Dwyane Wade avoids an early-round injury.
The New York Knicks will win if Jeremy Lin pulls a Willis Reed meets Brandon Roy comeback and repeats his Linsane first few weeks of being a fearless starter and big-time shot-maker.
Series Prediction:

Heat in 4 | Read more NBA expert predictions
CBS Sports HQ Daily Newsletter
Get the best highlights and stories - yeah, just the good stuff handpicked by our team to start your day.
Please check the opt-in box to acknowledge that you would like to subscribe.
Thanks for signing up!
Keep an eye on your inbox for the latest sports news.
Sorry!
There was an error processing your subscription.
The NBA offers a 10-game slate on Saturday

The Rockets haven't had CP3 in their lineup since Dec. 20, but have been just fine despite...

Davis suffered the injury in Friday night's game against the Blazers
Fultz hopes to suit up for the Sixers again this season

Los Angeles is getting closer to having two of its best players back in the lineup, but it's...

Cousins played in his first game since suffering an Achilles injury, and he couldn't be happier...