2012 NBA playoffs preview: Philadelphia 76ers vs. Chicago Bulls
Eye on Basketball presents the 2012 NBA playoffs first round series previews. In this edition, the Philadelphia 76ers vs. the Chicago Bulls.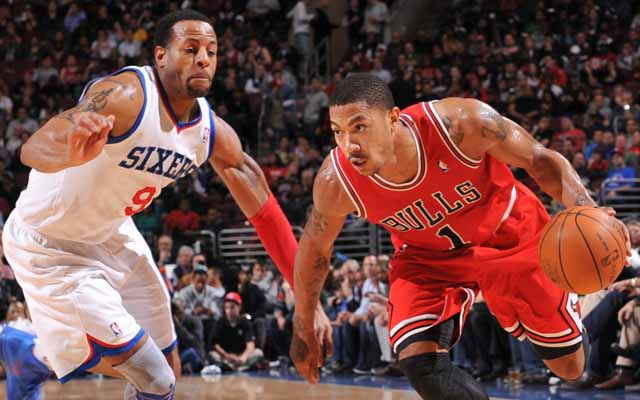 Andre Igoudala has a big task ahead of him, even if Derrick Rose isn't completely healthy.
(Getty Images)
Our playoff previews continue with the Philadelphia 76ers vs. the Chicago Bulls. 


Biggest Strength:Chicago Bulls:
Defense, defense, defense. The Bulls suffocate you. They throw a plastic bag over your offense, then tie a noose around you while you're struggling and then open a trapdoor under you. And while you're squandering for precious air, they're getting out and creating open looks. They rebound so well and so much that it helps them kickstart the break and even though they're not a great transition team, they're always in attack mode, so they set up their offense quick. You hear the phrase "their offense is lead by their defense" and it has never been more true than this Bulls team. They're the Steel Curtain of the
NBA
.
Philadelphia 76ers:
Versatility. The Sixers have a remarkably deep bench and can throw about a dozen different looks at you viably. They have bigger lineups, smaller lineups, skill lineups, athlete lineups, the works. They can deploy two players of similar molds to guard two wholly different players and can attack in a myriad of ways.
Biggest weaknessChicago Bulls:
Besides health, it's the extra gear. Last year the Bulls were stunningly challenged in the only competitive five-game series in recent NBA history by Indiana, and then struggled again vs. Atlanta. The concern is after a year where they give such outstanding and consistent effort in the regular season that they lack the ability to kick into a higher
Philadelphia 76ers:
Scoring points.
Lou Williams
is similar to how Bucks teammates once described Michael Redd. He's going to keep firing, and sometimes he hurts the enemy, and sometimes he hurts his teammates.
Andre Iguodala
continues to avoid being the primary scorer.
Elton Brand
isn't in a position to put up 20-plus points anymore.
Jrue Holiday
isn't there. The Sixers finished the season with the 17th best offense, and against the Bulls you can expect it to become more difficult.
X-FactorChicago Bulls:
The beasts off the bench.
Omer Asik
and
Taj Gibson
as a combo allow just 86.4 points per 100 possessions, but against the Sixers, gave up 96.8. That's a bizarre outlier to what is typically a fantastic combination. How those two play as a pair will determine a lot. The starting frontline is solvable.
Carlos Boozer
will hit some jump shots and get blocked a few times.
Joakim Noah
will makes ome plays and miss a few jumpshots. But Asik and Gibson can change the complexion of a game with their effort and intensity. They need to be the ones to crush any hope of a Sixers upset.
Philadelphia 76ers:
Andre Iguodala. Iguodala has the ability to play a poor man's LeBron. Versatile wing that can hit 3s, drive, pass, defend, and rebound. That can give the Bulls issues. Iguodala has to have a masteful series, and most important, has to score in bunches. He cannot be a complimentary player, because they don't have another player good enough for him to compliment. He has to take over for stretches, even if it's just making plays.
Matchup AdvantageChicago Bulls:
Size inside. The Bulls feature Joakim Noah along with burly Carlos Boozer and Gibson and Asik off the bench. The Sixers lack any significant size whatsoever and have been hurt at the center position all year. The Bulls can get easy buckets inside if they work for them.
Philadelphia 76ers:
Matchup competency. The Sixers have a young, fast point guard in Jrue Holiday to attack Rose on the dribble, to whatever degree you can. They have talented wing defenders to try and match
Luol Deng
. They have versatility to run or play slower. Elton Brand is a good matchup against Carlos Boozer. There are certain ways the Sixers can mirror the Bulls. It's the ways they can't that cause the issues.
Will Win If...Chicago will win if...
Derrick Rose
is healthy enough to give a Derrick Rose performance consistently. The Bulls are better than the Sixers without Rose, but Rose playing at less than 100 percent changes the complexion. The team is still built around getting him the ball, but he's not at that MVP level. Rose's health will the biggest issue for the Bulls throughout the playoffs.
Philadelphia will win if...
Rose isn't 100 percent and the Sixers get back to playing how they did at the start of the year, with energy, execution and defense. It's going to be a grind of a series. The Sixers need to reduce it to a handful of possessions at the end and try to close, something they haven't been good at.
Series prediction: Bulls in 5.
Greek Freak scores career-high 44 points and reaches scary level to finish the game

It was an ugly finish as the Warriors fell to 1-2 on the season -- both Curry and Kevin Durant...

Mirotic was hospitalized with facial fractures after an altercation with Portis during pra...
Irving had some choice words for a fan who heckled him in Philadelphia

Several teams were reportedly interested in Nelson after he was waived by the Nuggets

Cousins got into a heated exchange with a fan during the Pelicans' season opener