2013-14 EOB NBA Division Previews: Atlantic Division
With less than a week left until the tipoff of the 2013-14 regular season, we're rolling out our division previews for the upcoming season. First up is the Atlantic Division.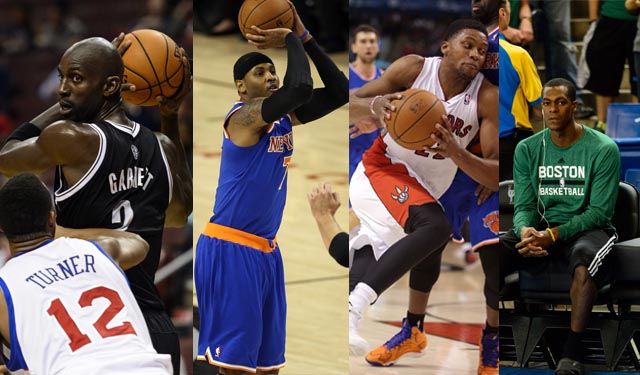 Our team-by-team win predictions | Podcast: East over/unders | West over/unders
East previews: Atlantic | Central | Southeast
West Previews: Southwest | Northwest | Pacific

Cream of the Crop: Brooklyn Nets. As impressive as the New York Knicks were at times last year, their offense looks a little awkward going into this season and the Nets roster is loaded. As of right now, it appears that most of the major pieces for the Nets complement each other. Deron Williams (if he can shake this ankle thing) should work fantastically in the pick-and-pop with Kevin Garnett and the pick-and-roll with Brook Lopez. We can see a versatile high-low game between Garnett and Lopez. Andrei Kirilenko is able to fit in nicely with just about any player you put around him. He just adapts to the lineup and situation.
Defensively, Garnett should help Lopez make even bigger strides than he did last year. Kirilenko and Joe Johnson should be adequate enough perimeter defenders to keep opponents from getting a head of steam on their way into the paint. There's just a lot of talent on this team and a lot of talent new coach Jason Kidd shouldn't have a problem harnessing.
If you noticed, I haven't mentioned Paul Pierce yet. There's a reason. I know he's good but I still am not sure how he's going to fit into all of it. He could seamlessly slide into the system the Nets run and the role they need him to be. He's talked about being more of a role player this year for the Nets. But that's going to require all of the instincts Pierce has displayed over the last 15 years to not kick in when he has the ball. He's adjusted his game nicely as he's gotten older, but accepting and executing a role player job is another animal.
Regardless of how the Pierce part of the equation gets solved, this team is too good not to scare the rest of the division and the East. 

Really good, not great: The Knicks found an identity last season that worked until the playoffs started. They weathered copious injuries to key players throughout the year, found ways to move the ball in order to maximize sets that ended in isolation, and they broke the record for 3-pointers made by a team in a season. They were exciting, erratic, and a force that was tough to deal with on random nights during the 82-game campaign.
But the construction of this roster looks a bit awkward with Carmelo Anthony shining more as a power forward than a small forward. Andrea Bargnani and Amar'e Stoudemire need to find time on the floor. J.R. Smith is coming off a knee surgery and suspension, potentially missing a significant chunk of games to start the season. Will their style from last season hold up and can they implement their new pieces into that? Where is the team defense going to come from? Is Tyson Chandler capable of playing like the Defensive Player of the Year we saw a couple years ago?
This Knicks team is really good but their questions keep them from being really great.

Don't get injured: This Toronto Raptors team could go one of two ways. They'll either show the talent on the roster and the defensive schemes of Dwane Casey are enough to sneak into the backend of the playoff seeding in the East. Rudy Gay will emerge as a star of sorts and Jonas Valanciunas will be the real deal inside on both ends of the floor. Kyle Lowry's "bulldog swag" that Casey once boasted about will permeate throughout the team and this talented perimeter core will find ways to outrun opponents every night.
Or the Raptors will start out slow and it will be all the reason Masai Ujiri needs to blow up the roster, strip it of its perimeter players like Gay and DeMar DeRozan, and we'll see him start stockpiling assets. Ujiri is one of the best in the league when it comes to the dismantle for assets strategy and there's plenty of room to work with the Raptors. Finding a way to get this team to compete won't be hard, but will it be what Ujiri allows to happen? 

Pulling the rug out from under themselves: The Boston Celtics have too much talent to properly tank, but that's probably because they're trying to avoid the tanking word. A proper tank job would have been stripping this roster of its veterans (even after the Garnett-Pierce trade) and relying on only the young players. They'd tell Rajon Rondo to hang out until 2014-15 and quietly shop him around. The Celtics would pile up losses and look to land one of the big draft class prospects in 2014. 
Instead, they seem to have a plan to be competitive and if Rondo comes back before January, they might be too good to tank. It may not mean more than 30 wins, but it could be too many for what the rest of the bottom feeders in the league are trying to accomplish this "throwaway season." Brad Stevens is going to install his own system and culture with the Celtics. It will eventually work for them too. But they have to commit to either trying to sneak into the playoffs or trying to guarantee a top-3 pick.

Welcome to Tanksville: The Philadelphia 76ers' three best players are Thaddeus Young, Evan Turner, and Spencer Hawes. They may not even have rookie Nerlens Noel in his year back from an ACL injury in college. The roster may not have a proper rotation for remaining in games past halftime, let alone 12 bonafide NBA players. You have to appreciate the commitment to tanking that Sam Hinkie is employing. He wants Andrew Wiggins or whoever else emerges as the top prospect. He wants to be bad so they can be good long-term. He wants a pass on this season and it's not hard to blame him.

Division MVP: Carmelo Anthony. He's in a contract year and has plenty to prove. Anthony probably needs to lead this Knicks team past the second round, which will be difficult with the Heat, Nets, Bulls, and Pacers in the way. The Knicks' style of play revolves around Carmelo buying in, which he had no problem doing last season. However, to truly buy in he has to be there defensively for them on a consistent basis. Scoring titles are fantastic but more of a complete game is what's needed for his team to be successful.

Division ROY: Kelly Olynyk. Olynyk may look like a duck in traffic on defense but he has an incredible scoring touch on the offensive end. He's going to put up points, crash the boards, and put up the kind of stats you love seeing from rookies. It doesn't matter if he doesn't help the Celtics win because they really shouldn't be winning anyway. Olynyk has been able to score in the lower levels of NBA play with Summer League and preseason. He should be a nice bright spot on offense for a struggling Celtics team.

Projected finish:

1. Brooklyn Nets 52-30
2. New York Knicks 48-34
3. Toronto Raptors 36-46
4. Boston Celtics 25-57
5. Philadelphia 76ers 13-69
Mirotic was hospitalized with facial fractures after an altercation with Portis during pra...

Irving had some choice words for a fan who heckled him in Philadelphia

Several teams were reportedly interested in Nelson after he was waived by the Nuggets
Cousins got into a heated exchange with a fan during the Pelicans' season opener

Mike McClure, a DFS pro with more than $1M in winnings, gives optimal DraftKings and FanDuel...

Bryant said that execution is the key to taking on 'the big guys'