2013-14 EOB NBA Division Previews: Central Division
Derrick Rose is back. The Pacers are even more confident. The Pistons are whacky. The Cavaliers are healthy, we think. The Bucks are the Bucks. Central Time!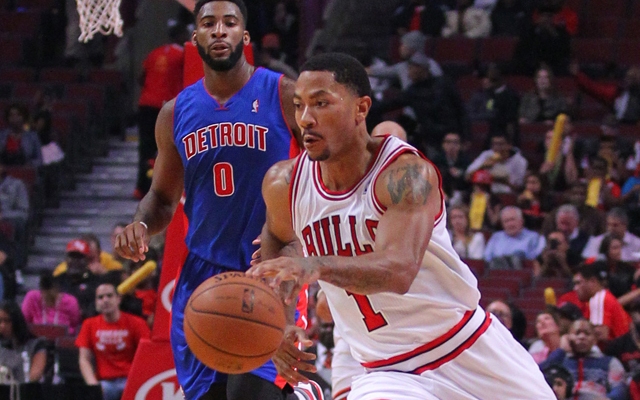 The Central Division gets back one of its biggest stars in Derrick Rose. (USATSI)
Our team-by-team win predictions | Podcast: East over/unders | West over/unders
East previews: Atlantic | Central | Southeast
West Previews: Southwest | Northwest | Pacific

Cream of the Crop: Do I think the Chicago Bulls are definitively better than the Indiana Pacers? No, I can't say that for sure, yet. I need to see it. And not just in an "anything can happen" way. I have a strong suspicion that by season's end, the Bulls and Pacers will look like equal foes, and it may take a 2-3 second-round matchup to settle who's the real king of "ugly ball."
But the Bulls have Rose, and the Bulls are a team that racks up regular season wins like that dude that runs the shuffleboard table every weekend scamming tourists. Tom Thibodeau has coached Derrick Rose for a full season twice, and in those two seasons, they won at a 62-game pace each time (one was the lockout-shortened season). They run the regular-season win-total score up, far more effectively than Indy does.
So the Bulls go up here. I started off in August thinking this team wasn't as talented as the 2011 team that made an Eastern Conference Championship run. Now, I'm not so sure. They have better offensive weapons and the same defensive presence. Health will be the question, not just with Rose but Joakim Noah and Luol Deng and the rest. But the Bulls are back, and they should be feared as such.
Sitting Pretty: All season long, I felt that the Indiana Pacers were the second-best team in the East last year. The whole year. They got off to a rough start in part due to Roy Hibbert's wrist injury and trying to adjust without Danny Granger. But when they got settled, man, they just hammered teams. The Knicks stole the headlines, the Pacers became the better team.
And yet I picked the Knicks over the Pacers in the second round last year. I can forgive myself for Nuggets over Warriors (who saw Andrew Bogut getting healthy?) and Nets over Bulls (it was a coin flip series), but man, Knicks-Pacers I'm still kicking myself over. Because make no mistake. This Pacers team is worthy of the hype they never get and a far more dangerous playoff team than they are during the 82.
Roy Hibbert, Paul George, David West (Assassin's Creed!), George Hill, Danny Granger, Luis Scola, Lance Stephenson, Ian Mahinmi, their roster is loaded with guys who step up when called upon. Their defense is ferocious, and their offense surprisingly found itself in the last two rounds. Maybe Indy won't win the Central. But you had better believe that in the gaggle of sub-contenders outside of Miami, they are as tough as anyone else.
On The Cliff: I cannot contain my excitement about the Pistons. They are going to be such a wonderful combination of genuinely good and hilariously goofy.
Josh Smith became so overrated on account of how underrated he was that a backlash formed and now he is underrated again. Brandon Jennings has a lot of flaws, I mean, a lot of flaws, but he's also never played somewhere he didn't feel like he had to do everything.
Can people please remember how good Greg Monroe is, offensively? Please?
Andre Drummond is a beast.
Their backup point guard is only seven years younger than Ice Cube. Their starting shooting guard has one of the longest names in the league. They have a guy named Gigi for crying out loud.
They could spiral into oblivion, rise up over the horizon and taste sweet playoff air, and then nosedive into the canyon again. Get your popcorn people.
Waiting in the Tall Grass: Kyrie Irving is due.
I mean, that guy has a monster season coming to him. He didn't get to have the team around him to allow him an early playoff run. Instead he's suffered the indignity of a team with too little talent and massive injuries. But that could all change.
There's a reason why executives are so high on Irving. Why writers are so high on him. He has that ability to take over a game the way few players can. And he has a vicious killer instinct. You put that guy in playoff atmosphere? Look out. He's just got to get there.
Andrew Bynum is apparently going to play, or something. We'll see; I can't believe it until it happens and even then I'll have to check to make sure it's not a 2K Sports simulation. Varejao was going to be an All-Star last year before the basketball gods resumed their torture of his body.
And Anthony Bennett looks really great except for having asthma and sleep apnea and being out of shape from shoulder surgery.
But the talent is there. If they can just get a little luck, just a bit, just a sliver, they can snag the 7th or 8th seed. And then Irving gets a shot at the playoffs and we all get the show we've been waiting for.
Dead Meat: The Bucks. They're the Bucks. You know the deal. They're OK. Brandon Knight has moments of being good when DeAndre Jordan isn't killing him and Kyrie Irving isn't crossing him over. O.J. Mayo can score if his coach can put up with him. Giannis Antetokounmpo looks really interesting, Larry Sanders (LARRY SANDERS!) is good, and Ersan Ilyasova is underrated.
They probably won't be terrible, they just won't be worth saying anything meaningful about. But there are worst teams to catch for those February Tuesday games on league pass. They're not so much dead meat as heavily sedated.
Division MVP: Derrick Rose.
I hate not putting David West or Roy Hibbert on here. The Pacers really don't get enough attention, and a lot of that is because big market superstars soak up too much.
But come on.
Rose looks back, like way, way back and better than ever before. He has a team to support him and draw attention. He may have learned from his experience to avoid contact a little more. He's a better player now than then, from the looks of it.
Hibbert and West and Paul George are all fantastic players who help make the Pacers a beast. But no one in this division takes over a game like Derrick Rose when healthy. He's just too... oh, you know.
Division ROY: Lot of good candidates here, no joke.
Anthony Bennett looks lik he's wheezing if he runs more than five minutes at a time, but the extra bulk actually helped him bully some players in preseason. He's got great touch and a back-to-the-basket game. If he becomes the go-to scoring forward and Varejao moves to the bench (if Bynum gets healthy) that makes the Cavs crazy good and deep in the frontcourt with Tristan Thompson. Will he get enough touches, though?
Kentavious Caldwell-Pope (KCP) has shown lightning shooter's touch. The question of touches is of course still the biggest question just like with Bennett, even more so on that team. But if he's knocking down kick-outs as the defense swarms Jennings and plays to the pick and roll with Andre Drummond? KCP could be wide open and light up teams.
Giannis Antetokounmpo came in, and because none of us can pronounce his name, kind of passed into "whatever mode." The kid has shown so much more diversity in his game than I expected. No telling how it plays out for him, but the skill is there for him to fill up the stat sheet.
Outside shots: Sergey Karasev, Tony Snell, Gigi Datome, Solomon Hill
Projected finish:
1. Chicago Bulls 58-24
2. Indiana Pacers 53-29
3. Cleveland Cavaliers 40-42
4. Detroit Pistons 38-44
5. Milwaukee Bucks 30-52
Kris Dunn somehow took a chunk of the Bulls court out with his teeth, but didn't lose any in...

The fallout from the Rockets-Clippers tussle continues; no Clippers were disciplined

DH12 is picked for free throws after a teammate gets ejected. He makes both, and lets Scott...
Bell was injured defending a Robin Lopez dunk and had to be taken off the floor in a wheel...

Trevor Ariza and Gerald Green are reportedly both suspended two games

We've got all the scores, highlights and news from Wednesday night