2013-14 EOB NBA Division Previews: Pacific Division
The Pacific division torch has officially been passed from one Los Angeles team to another. But the Golden State Warriors may have something to say about that.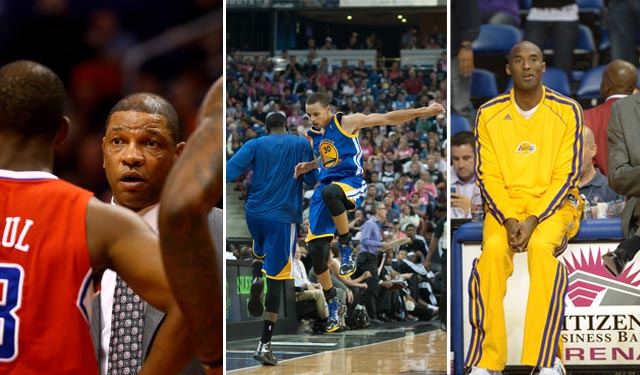 Our team-by-team win predictions | Podcast: East over/unders | West over/unders
East previews: Atlantic | Central | Southeast
West Previews: Southwest | Northwest | Pacific

Cream of the Crop:  Los Angeles Clippers . The banners in the Staples Center still say " Los Angeles Lakers " on them, but the Clippers have plans of covering those up and letting everybody know it's their building for now. With the Lakers in a lot of disarray, the Clippers have the keys to the city and the keys to the Pacific division. Chris Paul and Blake Griffin will lead the charge under the tutelage of Doc Rivers, the team's biggest acquisition in the offseason. And with newcomers like Darren Collison , J.J. Redick , and Jared Dudley , there is more than enough firepower, whether it's the starters, second unit, or a mixture of the two.
There are three things to keep an eye on with the Clippers this season. First, Chris Paul and his MVP-caliber season could be in full effect. CP3 is someone that should be in the running for MVP just about every season. He's that good and he means that much. He's so good that he made the Clippers relevant again for once. I don't worry that he'll be able to hold up for an entire season, but I do wonder how much he'll need that midseason coast we typically see from him.
Secondly, Blake Griffin is going to be really good. His jumper is by far the best it's looked in his entire career and he has the post game and face-up game to make it all deadly. That's right; Griffin has a post game. The key will be how much do the Clippers trust it? He is better on the move, but they may throw it into him early and often in games to make him feel established. He has to be a vital part to the offense for the duration of games and not just fun spurts of highlights.
Thirdly, what is to be made of the rest of the frontcourt? DeAndre Jordan will be trusted by Doc for two reasons: 1) he's better than the leash he was allowed in the past and 2) there really isn't much else there. The Clippers need Ryan Hollins or Byron Mullens to step up and be a legit, rotation big man. If that doesn't happen (and it probably won't), the Clippers have to find a trade for a third big. Antawn Jamison doesn't count.
Cream of the crop, Pt. 2:  Golden State Warriors . You could convince me that the division belongs to the Golden State Warriors. They stormed onto the scene last season and demolished the  Denver Nuggets ' franchise in the first round of the playoffs. Andre Iguodala decided to jump ship this summer and he joined up with the Warriors for a hefty price tag but one that will be worth it if he brings the same Bath Salt defense to the Bay Area that he used in Philadelphia and Denver the last few years.
It's impossible to write about the Warriors without mentioning health. Thankfully, I don't believe much of that has to do with Stephen Curry anymore. It mostly centers around their big man Andrew Bogut , who needs to be healthy and productive for this team to be the contender they believe they're becoming. Bogut's defensive impact along with Iguodala on the perimeter could make them one of the top defenses in the league. Unfortunately, it's hard to buy the "best shape of his life" rumors. He won't have the pressure of impending free agency, showing the Warriors are committed to this core for now.
Where the Warriors need to find a little luck is their bench. If they bring Klay Thompson off the bench and start Harrison Barnes alongside Iguodala, that could provide some much needed offense from a bench unit that lost Jarrett Jack and Carl Landry this offseason. Those are big blows and while Toney Douglas and Marreese Speights can replace some of that, they mostly need all of the young guys (Barnes, Thompson, Draymond Green , Kent Bazemore ) to come through on potential.
We all need Kobe but you really need Kobe: Los Angeles Lakers. Now that we're pretty close to 100 percent that Kobe Bryant will not start the season (we never know when he'll appear like GOB Bluth), it's time to start focusing on where the rest of this team is until he comes back. Let's say Steve Nash and Pau Gasol are 80 percent of their old selves due to age and injuries. Is that enough leadership to keep the Lakers afloat in their time of need? Will Nash running Mike D'Antoni's offense in 2013-14 be as effective as running it in 2007-08? Is Gasol going to be too hobbled to man the middle on both ends of the floor?
From there, how much does Nick Young fit into D'Antoni's style of play? Is Chris Kaman going to be someone the team plays next to Gasol if D'Antoni had reservations of fitting Gasol and  Dwight Howard together last season? Can the Lakers hit on either wing with  Wesley Johnson or  Xavier Henry ? The team will have enough leadership in the backcourt with Steve Blake and Jordan Farmar coming off the bench. 
The offensive firepower is there, even without Kobe around, to make this team decent. However, the defensive limitations are well known and pretty improbable to overcome. Kobe can't get back soon enough.
You secretly have something going here:  Sacramento Kings . Granted, to fully believe the Kings might have the makings of something positive here, you kind of have to believe that Mike Malone can tame and focus DeMarcus Cousins . I'm not going to convince you of that here so for now we'll just suspend that thought in midair and come back to juggle it in a bit. Let's take a look at the rest of the roster.
The Kings have two very capable and talented point guards in Greivis Vasquez and Isaiah Thomas . They have two very capable shooting guards in Marcus Thornton and Ben McLemore . For these two positions, the younger versions will certainly push the veterans for playing time, which can only be a good thing. At small forward, it's kind of a mess with wings like  Travis Outlaw and  John Salmons  inexplicably getting time. Perhaps Luc Richard Mbah a Moute can moonlight at the 3 as well. At the power forward position, Jason Thompson and Patrick Patterson are very different but can be very effective role players. Once Carl Landry comes back from his injury, that beefs up and you can slide Thompson to the 5 more.
That's a very solid rotation of guys under a new coach that everybody swears by. You can also be sure that this team will look pretty different a year from now because of trades. Between the movable assets and the potential of Mike Malone and DeMarcus Cousins, can you see yourself being talked into this team more and more each season?
Welcome to Tanksville:  Phoenix Suns . Much like the Philadelphia 76ers , I appreciate the fact that the Phoenix Suns aren't wasting our time with pretending to care about the outcome of this coming season. The Suns are planning on being bad, but their version of it will be far more aesthetically pleasing on the court. They're going to unleash Eric Bledsoe on defense, let him get his feet wet on offense, and the rest of the team will be a fireball of chaos.
The Suns have young talent to develop throughout the season with Archie Goodwin , Alex Len , the Morris twins, and Bledsoe to keep our interest a little bit. But mostly, they're looking to prepare for the near future with the 2014 draft and it's nice that it's fairly obvious. 
Division MVP: Chris Paul. You can make a great case for Stephen Curry and possibly Kobe Bryant if he comes back soon enough and wills the Lakers into playoff contention. But this is still Chris Paul's division to rule. He's the best point guard in the league and will lead one of the most explosive and exciting teams out there. If the Clippers get the No. 1 seed in the West, he won't just be the division MVP; he might be the league MVP.

Division ROY: Ben McLemore. There's surprisingly not a lot of competition in the Pacific for this. Len will be brought along very slowly for Phoenix and the Clippers have Reggie Bullock , but they're unlikely to really utilize him. McLemore will have a great shot at NBA ROY with Trey Burke and C.J. McCollum starting the year with injuries. McLemore has to find time next to Thornton though.

Projected finish:

1. Los Angeles Clippers 55-27
2. Golden State Warriors 53-29
3. Los Angeles Lakers 37-45
4. Sacramento Kings 31-51
5. Phoenix Suns 18-64
The NBA broke its silence with a statement related to the Lakers-Paul George tampering cha...

The Clippers big man thinks LeBron will reunite with the banana boat crew at some point

Have the Clippers reportedly found their next GM?
The NBA stayed to the point in their response to the Greek basketball federation

The Pacers believe the Lakers tampered with Paul George before they traded him

Among the questionable decisions by Jackson was signing Noah to a long-term, lucrative dea...