2013-14 EOB NBA Division Previews: Southeast Division
The Heat own the Southeast. So who's battling for second?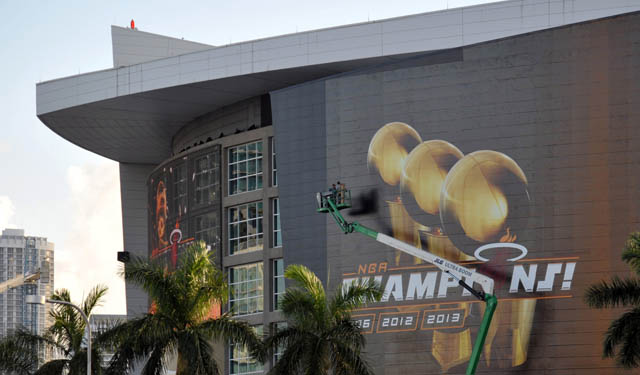 Our team-by-team win predictions | Podcast: East over/unders | West over/unders
East previews: Atlantic | Central | Southeast
West Previews: Southwest | Northwest | Pacific

Cream of the Crop: Miami Heat. There's only one thing that's more of a lock this NBA season than the Heat winning another Southeast title. And that's that the season will tip off as regularly scheduled on Oct. 29. Because once that happens, forget about the division and start looking toward seed and playoff position. 
It's not just that the Heat are an excellent team, but they've also benefitted from this division being hot garbage for the most of the last three years. There hasn't been a single team capable of pushing them. The biggest question that's left in the division when it comes to the Heat is if they'll clinch in March or not. 
Good, not great: Washington Wizards. Even before they made a ruckus with the Marcin Gortat trade, this team looked solid. They were dealing with a few injuries, but a healthy John Wall, an improved Bradley Beal, a healthy Nene and some decent depth had them thinking playoffs. Add in Gortat to take over center and allow Nene to play his more natural power forward and you've got a really solid looking roster here. 
Before the acquisition of Gortat, I had them pegged at 41-41. With him? You could probably add a win or two, but I think the Wizards -- assuming good health -- are very probable for the postseason. The backend of the East is terrible and winning 40 games should be enough to get it done. With the talent that's there, winning 40 games should be more than possible. Atlanta Hawks. 
On a cliff: They're starting over, kind of. It's been a slow-drag rebuild, one where everything wasn't blown up, but more just a reshuffling of pieces around the core parts they had in place. The addition of Paul Millsap to replace the departing Josh Smith feels like a downgrade in terms of talent, but it could produce a better fit with Al Horford. And if that's the case, the Hawks may have a little something. 
The other wildcard for them: rookie Dennis Schroeder. He drew raves during Summer League and has drawn even more during preseason and training camp. Some are even listing him as a darkhorse Rookie of the Year candidate. But that is what the Hawks are missing. A dynamic playmaker that can turn an otherwise awful possession into something good. 
Pulling the rug out from under themselves: Charlotte Bobcats. The Bobcats are trying. They've tried to follow the right model and turn bad seasons into high lottery picks. But they've had some bad luck in where they've landed (no No. 1 picks) and some of their choices haven't panned out. But it's still early for guys like Michael Kidd-Gilchrist, Kemba Walker and Bismack Biyombo. 
So what they've done to expedite the process is sign Al Jefferson to a $41 million deal to attempt to aid the young roster. Money notwithstanding, it's a quality addition. But where exactly does that leave them? They have a maybe competitive roster with young player that could possibly push to win 35 games if everything goes exactly right. Now instead of a high lottery pick, it'll be a low one. Congrats? 
Welcome to Tanksville: Orlando Magic. It's a slow burn for the Magic and with general manager Rob Hennigan, they're preaching patience. There were signs things are trending positively last season as the team was competitive in their first post-Dwight season, but with so much youth, they ended up limping in with just 20 wins. But that's not a bad thing. That's really what needed to happen.
Because they now have Victor Oladipo, a potential cornerstone player, and look to be only one r two lottery players away. Another rough season for the Magic would be good, especially with the draft class that's ahead. Pop in a top five pick with Oladipo, Tobias Harris, Moe Harkless and Nikola Vucevic and you've got a nice little core that could blossom and start winning sooner than later.

Division MVP: LeBron James. Do I really need to explain it? I do? OK, here goes: He's the best player in the entire world, so that makes him the best player in the NBA, which makes him the best player in the Eastern Conference, which makes him the best player in the Southeast Division. Got it?

Division ROY: Victor Oladipo. Positioning will be the big questions for him as the Magic sort out if he's more of a point guard or shooting guard, but either way, his competitive spirt and work ethic will have him producing solidly regardless. Oladipo may not be a superstar, but he's absolutely a good player with the potential to be even more than that. 

Projected finish:

1. Miami Heat 57-25
2. Washington Wizards 41-41
3. Atlanta Hawks 40-38
4. Charlotte Bobcats 27-55
5.Orlando Magic 23-59
Kris Dunn somehow took a chunk of the Bulls court out with his teeth, but didn't lose any in...

The fallout from the Rockets-Clippers tussle continues; no Clippers were disciplined

DH12 is picked for free throws after a teammate gets ejected. He makes both, and lets Scott...
Bell was injured defending a Robin Lopez dunk and had to be taken off the floor in a wheel...

Trevor Ariza and Gerald Green are reportedly both suspended two games

We've got all the scores, highlights and news from Wednesday night