2013-2014 Schedule: Toughest and easiest stretches around the league
How do various teams' schedules line up for the 2013-2014 NBA season? We take a look.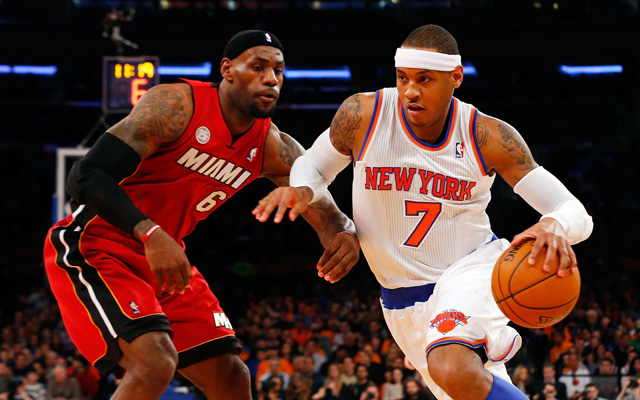 With the release of the 2013-2014 NBA schedule, there's lots of analysis on the big games with national attention. But while every team plays 82 games, 41 at home, 41 away (not counting the games in Mexico City and London), the ebbs and flows and specific makeup of the schedule does impact that season. 
For starters, here are the number of back to backs for all teams next season, via SBNation.com: 
Charlotte Hornets : 21

Cleveland Cavaliers : 20

Detroit Pistons : 20

Utah Jazz : 20

Washington Wizards : 20

Indiana Pacers : 20

Milwaukee Bucks : 20

Boston Celtics : 20

Minnesota Timberwolves : 20

Philadelphia 76ers : 20

Atlanta Hawks : 19

Los Angeles Lakers : 19

Portland Trail Blazers : 19

Sacramento Kings : 19

San Antonio Spurs : 19

New Orleans Pelicans : 19

Phoenix Suns : 18

Toronto Raptors : 18

Houston Rockets : 18

Orlando Magic : 18

Memphis Grizzlies : 18

Miami Heat : 17

Los Angeles Clippers : 17

Brooklyn Nets : 16

Dallas Mavericks : 16

Chicago Bulls : 16

Golden State Warriors : 15

Oklahoma City Thunder : 15

New York Knicks : 14

Denver Nuggets : 14
via NBA 2013 schedule: Charlotte Bobcats have most back-to-backs - SBNation.com.
Denver getting 14 is especially convenient for them given their tough schedule last season and the fact that they consistently catch teams on the second game of a back to back in Denver. 12 of Denver's 41 home games next season are against teams on a SEGABABA (SEcond GAme of A BAck to BAck). 
The Grizzlies have a rough stretch to end the season, as noted by Three Shades of Blue: 
Once again, the NBA schedule makers have not been kind to the Grizzlies in "crunch time" – March and April. March is particularly brutal as 11 out of 17 games are played away from FedExForum.

April is balanced from a home/away standpoint, but we have late games against Denver, at San Antonio and at home against Miami. As we learned last year, one game can be the difference between the 3rd seed and the 5th seed, so those games could be crucial.

That said, the last four games are against Philadelphia, at LA Lakers, at Phoenix and home against Dallas. That is a manageable stretch.
via 3sob.com | Quick & Dirty 2013-2014 Schedule Breakdown.
Oddly, the Grizzlies traditionally go on a run through these tough stretches, including brutal stretches in 2011 when they won their first playoff game and series, and last year when they made the Western Conference Finals.
Bulls by the Horns points out that the Bulls' seed could actually wind up decided in March with a similarly tough stretch. 
The Bulls will host a season long 6 games in a row at home in the middle of March. This home stand could be telling of Chicago's chances in the playoffs as five of the six games come against title contenders (the Memphis Grizzlies, Miami Heat, San Antonio Spurs, Houston Rockets, and Oklahoma City Thunder).
via Chicago Bulls 2013-2014 Schedule Released ».
The Pistons' season was sunk early last year after a horrid start had them looking like the worst team in the league, and eventuall lead to Lawrence Frank's dismissal as head coach. This year, Detroit Bad Boys points out it's a much easier road to kick things off. 
Following a quick one-trip to Memphis on Nov. 1, the Pistons return to the Palace for four more games against the Celtics (Nov. 3), Pacers (Nov. 5) and Thunder (Nov. 8), giving fans in Detroit ample opportunity to check out the team's revamped roster early in the season.

That stands in stark contrast to last year's unforgiving schedule, in which seven of the Pistons' first nine games were on the road, including six straight out west. If you recall, the Pistons were already six games under .500 before even playing their second home game last year, sapping whatever early-season optimism fans may have deluded themselves into having and setting the tone of another season of empty seats at the Palace. (And let's not even think about the 4-20 start from 2011-12 ...)

With any luck, that won't happen again this season with 10 of the team's first 17 games at home. The Pistons have only two road trips all season longer than three games -- and not one longer than four.
via NBA schedule 2013-14: Detroit Pistons open season with 10 of 17 at home - Detroit Bad Boys.
Will Pistons fans show up for Brandon Jennings and Josh Smith joining Andre Drummond and Greg Monroe ? Even an empty building will be familiar, though, and should help Detroit off to maybe avoid starting in the ditch. 
San Antonio had a rough schedule last year, not that it was a problem since they won 58 games, made the Finals, and rested their guys for a lot of the year anyway. But this year, 48 Minutes of Hell says, looks easier: 
Again, at first glance next season's schedule seems a little more manageable than the 2012-13 version. There are no 'Hell Weeks' like the Spurs saw during a 10-day stretch in late March and early April when they faced the Rockets, Nuggets, Clippers, Heat, Grizzlies and Thunder.
via Spurs release 2013-14 schedule, includes Christmas Day game.
Bullets Forever looked at the schedule and came away with the belief that the Wizards could struggle early, surge late. 
April should be a cake walk. More likely than not, the last time the Wizards will play a team that would have anything to gain by winning will be on April 4 when they play the Knicks. Other than that, April will feature two matchups with the Celtics, a game against Miami's scrubs and reserves assuming the Heat have wrapped up a high seed and a couple of lottery teams that will almost certainly be more concerned with the draft than the playoffs.

Overall, Washington is going to play 20 sets of back to backs throughout the course of the season and only those two November four-in-five stretches. The schedule sets up for the Wizards to start slow, hit their stride before the All-Star break and hopefully close the season on fire.
via Analyzing the 2013-14 Washington Wizards schedule: A brutal November, a soft finish - Bullets Forever.
Daily Thunder isn't freaked out by the Thunder's run this year, but points out a rough stretch and a March that will flow a bit easier. 
TOUGHEST MONTH

January looks pretty challenging to me. The Thunder play 17 games — which is a lot for a month — and only seven are at home. Starting with the Nets, the Thunder then head to Minnesota and have a stretch in the middle of a week playing the Grizzlies, Rockets and Warriors. They have four back-to-backs, games against the Heat, Nets, Spurs, Grizzlies, Rockets, Warriors, Timberwolves and Blazers. It could be a month where 10-7 feels pretty good.

EASIEST MONTH

March. You could make a case for November based on the fact the Thunder have a pretty favorable first six games along with a six-game homestand to close it out, but March is filled with should-win games. Of the 14 games, just five are against 2013 playoff teams. And those teams are the Lakers, Nuggets, Bulls and Rockets. Oh, and just two back-to-backs. There's a good chance the Thunder could go 12-2 or 13-1 in March.
via Daily Thunder.com Breaking down the Thunder's 2013-14 schedule | Daily Thunder.com.
The Raptors are in a transition phase, but have a lot of talent. However, it's going to be a tough start. From Raptors Republic: 
November and December, as usual, look tough, with the Raptors facing every single Conference semi-finalist at least once, including both Miami, San Antonio and New York twice and Chicago three times.

Those first two months also feature 12 back-to-back games, including 6 in their first 7.

Speaking of the Knicks, Andrea Bargnani makes his return the the Air Canada Centre on December 28th. I expect a full house for that one.

9 of the 14 games in December are on the road.
via Raptors Schedule Released | Raptors Republic: ESPN TrueHoop Network Blog.
A Wolf Among Wolves has good news and bad news for Minnesota fans. Few four-games-in-five-nights! But a whole. Lot. Of. Back-to-backs, with most of them on the road for the SEGABABA. 
Back-to-back games

By my count, it looks like the Wolves will have 20 sets of back-to-back games. Here is the breakdown of when they occur by month (back-to-backs that carry over into next month will be counted for the second month):

November: 5 (at Knicks-at Cavs, at Lakers-at Clippers, at Denver-Boston, at Wizards-Clippers, Nets-at Rockets)

December: 4 (at Mavs-at Thunder, at Pistons-Sixers, at Grizzlies-at Celtics, Wizards-at Bucks)

January: 2 (at Raptors-Jazz, at Warriors-at Blazers)

February: 4 (Grizzles-at Hawks, Lakers-at Thunder, at Pelicans-Blazers, at Jazz-at Blazers)

March: 3 (at Mavs-at Rockets, Suns-at Grizzlies, at Nets-Clippers)

April: 2 (at Heat-at Magic, at Kings-at Warriors)

I haven't compared this to the other teams around the league, but 20 sets of back-to-back games sounds like a lot to me. Also, 29 of those 40 games will be played on the road. Again, not sure how this stacks up to the rest of the league but it sounds tough.

Four games in five nights

November 19-23: At Wizards then home for the Clippers, day off, and then home for the Nets before at Rockets

February 4-8: Home for the Lakers then at Thunder, day off, and then at Pelicans before home for the Blazers

I looked over the schedule a couple of times and only came up with two instances of four games in five nights. I feel like that's unseasonably low and just assume I missed something on the spreadsheet.
via Minnesota Timberwolves 2013-14 regular season schedule released | A Wolf Among Wolves.
You know what's a lot of games in a short span of time? 
The Clippers play 34 games before Jan. 1, 2014, half on the road and half at home.  
via 2013-14 SCHEDULE PRESENTS INTRIGUE, CHALLENGE | THE OFFICIAL SITE OF THE LOS ANGELES CLIPPERS.
That's a lot of games in a short span of time. 
Golden State of Mind points out the Warriors, like Wizards, start off extremely tough, but get to coast out at home. Also, their writers can count. 
The first 14 out of 22 games will be on the road. Probably before Andrew Bogut and Stephen Curry face injury woes.

17 games on either ESPN or TNT in the season. That seems like a franchise record. If not, then I've been sorely misled.

Christmas Day affair with the Los Angeles Clippers at home. There anything better than this?

13 of the last 20 games will be at home.

I can count.
via NBA Schedule Release: The Golden State Warriors hit Primetime - Golden State Of Mind.
Posting and Toasting noticed that the Knicks are set to surge into the All-Star break with a friendly stretch at home that goes on forever. 
That west coast swing at the end of March is the longest road trip (five games). February and March are both pretty road-heavy. On the other hand, the longest home stand is EIGHT GAMES (and 11 out of 12) between the end of January and beginning of February.
via Here is the 2013-2014 Knicks schedule - Posting and Toasting.
Essentially, if the Kings don't get off to a great start, they could jump out to a huge lead in the Great Tank War of 2013. 
Eight of the first 10 games are at home and Sacramento can gain some early momentum from that.

The Kings will also end the season at home on April 16th against the Phoenix Suns.

Sacramento has two huge road trips, a six-gamer in January and a seven-gamer in March. The longest homestands occur in November and January, and are both five games long.
via 2013-14 Kings Regular Season Schedule is Released - Sactown Royalty.
Finally, NBA.com points out that the Heat won't face the Pacers for a while, and have a cruising stretch before then. 
One of the most bruising matchups in the East, the Heat-Pacers, will not get under way until Dec. 10 in Indianapolis. That will mark those teams' first meeting since the Heat muscled past the Pacers in a seven-game Eastern Conference finals last spring.

(The Heat won't have it too hard before then. They have an 11-game stretch beginning Nov. 9 that goes: Celtics, Bucks, Mavericks, at Bobcats, Hawks, at Magic, Magic, Suns, at Cavaliers, at Raptors, Bobcats.)
via Season Starts With The Heat on Miami « Hang Time Blog | NBA.com.
A look at the context of the schedule and who plays who when, and how far they travel during...

Durant took on rapper Lil Dicky and actually might have lost

A report that James would once again be leaving Cleveland made the rounds on Wednesday
Known for his 'take that for data' rant, the Grizzlies coach touched on a number of important...

Wade's days with the Chicago Bulls appear to be numbered

Misty Suri will reportedly keep his job with the New Orleans Pelicans