2013 Las Vegas Summer League: Eye on Basketball Awards
Now that 2013 Las Vegas Summer League has been concluded, it's time to hand out the Eye on Basketball awards for the efforts and moments of the past 11 days.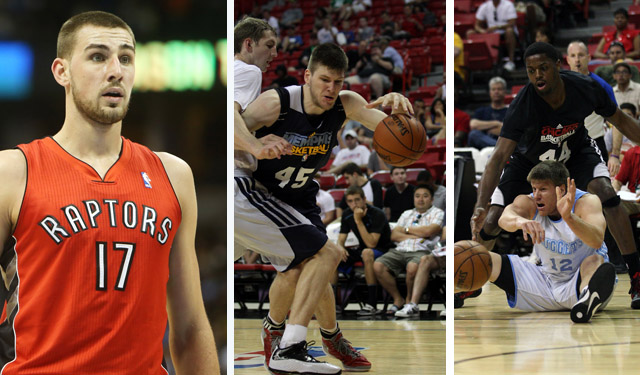 After 11 days and 61 games, the 2013 Las Vegas Summer League has officially come to a close. We've seen some pretty promising rookies, some rookies that have left us scratching our heads, some fringe players fall off the radar, and some lesser known guys make a name for themselves. Since we had so much fun with the summer league this year, even in a bit of a down year in terms of talent, it seemed like it would be fun to pass out some awards of our own.
Here are the 2013 Las Vegas Summer League Eye on Basketball Awards:
Most Valuable Player
Jonas Valanciunas, Toronto Raptors
This was the consensus pick and it's hard to argue because of just how dominant he was. Sure, his team didn't make it to the championship like Kent Bazemore's Golden State Warriors did, but nobody was more dominant this summer than Valanciunas in the paint. He was a terror rolling to the basket, posting up, and on the boards. I don't know if it will be enough to get his jersey retired in the Cox Pavilion and the Thomas & Mack Center like they did for Nate Robinson, we'll still always remember this summer. At least, we'll remember it until next summer.
Runner-up: Kent Bazemore, Golden State Warriors
Nate Robinson Award (Player that celebrated his own play the most)
Jeremy Tyler, New York Knicks
Nobody was more impressed with their own play than Jeremy Tyler of the New York Knicks. The play that personified it the most was against the Washington Wizards early in the week when he got a breakaway dunk. He cocked the ball back as he went in for the two-handed slam throwdown Jan Vesely tried to swipe at it from behind but never really got that close to Tyler. After Tyler threw it down, he stared down Vesely like he dunked on him. That was just one of many dunks he had that he over celebrated in a hilarious way. 
Runner-up: Quincy Acy, Toronto Raptors
The Kenneth Faried-Jae Crowder Duo award (Two players that look alike)
Jack Cooley of the Memphis Grizzlies and Luke Harangody of the Cleveland Cavaliers
How similar are Cooley and Harangody? Both players played basketball at Notre Dame. Luke Harangody wore No. 44 for the Fighting Irish and Jack Cooley wore No. 45 when he played. In one of the early games of summer league, Cooley scored for the Grizzlies and the PA announcer accidentally credited the basket to Harangody, who wasn't even playing in the game. As you can see in the picture above, they look a lot alike as well. 
Runner-up: Markieff Morris and Marcus Morris, Phoenix Suns
Composite Basketball Award (For worst competition idea)
Pulling tissues out of a box the fastest
Summer league may be a time to experiment with tournaments and different rules, but it's also time to experiment with different fan contests between quarters. One of the contests they tried a few times toward the end of the week was two fans squaring off at a table as they tried to pull tissues out of a tissue box faster than the other. They weren't allowed to rip the box open. There was the similar flair of a magician/illusionist pulling a never-ending scarf out of his sleeve, but that was about as exciting as it got. 
Runner-up: Blowing up a balloon and then letting it out as a way to knock cups off a table
John Wall Award (You looked great but let's get that shooting percentage up)
C.J. McCollum, Portland Trail Blazers
McCollum looked scary good in his first game of summer league, scoring 22 points on 9 of 19 shooting from the field. Everything looked easy to him and it seemed like the Blazers were primed for another Damian Lillard type of experience in Vegas. Over the course of the next four games, McCollum shot 28 of 82 from the field (34.1 percent) and scored 83 points. He looked great at times, but much like John Wall's summer league appearance, you want him to get that shooting percentage way up in the regular season.
Runner-up: Dennis Schroeder, Atlanta Hawks
Scott Machado Award (Undrafted guy who did/definitely should get signed)
Dwight Buycks, Toronto Raptors
Last season, Scott Machado entered summer league as an undrafted player looking to get his foot in the door. Instead of just getting his foot in the door, he kicked it wide-open and walked in like he owned the place. Buycks' two summer league appearances (Orlando and Vegas) cemented the Raptors' decision to sign him to a deal. Buycks showed incredible poise in both summer leagues and a nice ability to make plays. If he ends up being the backup point guard in Toronto, he has a great chance at seizing the opportunity better than Machado did. 
Runner-up: Stefhon Hannah, D-League Select
Most Improved Sophomore Award
Austin Rivers, New Orleans Pelicans
Rivers looked like a lost puppy for all of last summer and last season as he had the worst debut campaign of all time. He was so bad right away that fans and pundits started wondering if he'd even make it through his rookie contract with the Pelicans. After this summer league, you're starting to see a much better understanding of his abilities and the NBA game for Rivers. It doesn't mean he's going to be an All-Star by any means, but he certainly is starting to stop the discussion of whether or not he even belongs on an NBA court. He went from 21.1 percent from the field in 2012 summer league to 48.8 percent.
Runner-up: Kendall Marshall, Phoenix Suns 
Gerald Green Award (Best dunk of the summer)
Kent Bazemore over Jackie Carmichael
Runner-up: Malcolm Thomas on O.D. Anosike
Ricky Rubio Award (Happiest person on the planet)
Lucas Nogueira, Atlanta Hawks
Lucas Nogueira is probably the happiest person in the world. He's always smiling, he's unbelievably polite, and it looks like he's incapable of being sad. He loved playing basketball in Vegas and he seemed excited to answer questions, even with a bit of a language barrier. I know people are drawn to the incredible hair of Nogueira and the shot of him on draft night trying to fit the hat on his head was great, but his attitude is just otherworldly. 
Runner-up: John Shurna, Milwaukee Bucks
All Summer League Team (two guard spots, three frontcourt spots)
G: Kent Bazemore, Golden State Warriors
G: Jeff Taylor, Charlotte Bobcats
F: Markieff Morris, Phoenix Suns
F: John Henson, Milwaukee Bucks
F: Jonas Valanciunas, Toronto Raptors
My All Summer League ballot wasn't too different from the team that ended up getting the honor. The only difference I had was putting Markieff Morris of the Phoenix Suns into the third frontcourt slot over Cody Zeller of the Charlotte Bobcats. Other than that, the teams were the exact same. Marquis Teague of the Chicago Bulls also deserved consideration for the guard spot, but Jeff Taylor won out.
The Hall of Famer's jersey was retired by the Celtics in 1982

It's rare to see a legit punch in an NBA fight, but this was definitely one of them

We've got all the scores, highlights and news from an NBA Tuesday
The former Slam Dunk Contest champion will take his talents to Tri-State

Do NBA players have look-a-likes from famous paintings? We found out on the new Arts & Culture...

Larry Hartstein is on quite a run in picks involving the Suns and the Trail Blazers