2013 Las Vegas Summer League: Surprises and disappointments
With the 2013 Las Vegas Summer League wrapping up, it's time to look at some of the biggest surprises and biggest disappointments there.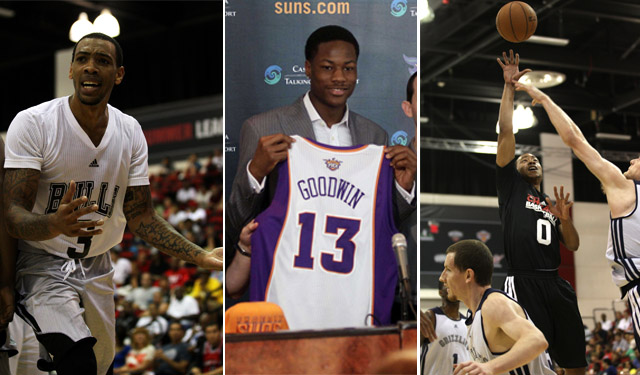 Expectations heading into Las Vegas Summer League are typically pretty high for rookies we've just been dissecting for NBA Draft analysis. We want to see validation for liking or disliking a prospect as we get to see a glimpse into the type of player they are in a semi-NBA setting.
Aside from what we see from drafted rookies, there are always quite a few no-name players who impress us or fringe guys we just haven't seen enough from. With summer league wrapping up as we start rounding out rosters and getting ready for training camp to begin, let's take a look at the surprises of Las Vegas Summer League and the disappointments. 
Surprises
Malcolm Thomas , Chicago Bulls : Malcolm Thomas raised quite a few eyebrows by dominating the boards as a 6-foot-9, 205-pound power forward who did a beautiful job of finding the space to rebound. Watching him on the court, he seemed to be reading the area around the basket as much as he judged where errant shots were headed. He was also one of the springiest and quickest jumpers to go snatch those available rebounds.
Archie Goodwin , Phoenix Suns : Goodwin surprised me a lot because he showed some offensive capabilities that looked a lot more refined than I expected. His biggest issue in college was when things broke down and got tough, he played an AAU-style of attack in which he put his head down and dribbled into trouble. It's a very small sample and a different style of play than what he'll see in the NBA, but it looked better than his draft stock assumed.
Marquis Teague , Chicago Bulls: Marquis Teague was quietly phenomenal in the summer league and probably won't get enough credit for what he did. He shot 44.0 percent from the field, made 75.0 percent of his 3s (only eight attempts), and he got to the free throw line 29 times in four games. He managed things really well all week long.
Stefhon Hannah, D-League Select: I'm pretty firmly on the record that I believe Hannah is an NBA point guard. His play turned heads this week and his ability to defend point guards was on display. He showed a Lindsey Hunter-like ability to harass guards for 94 feet.
Ian Clark, Golden State Warriors : Clark had a great showing with the Miami Heat in the Orlando Summer League and continued that solid play with the unbeatable Golden State Warriors. He's made 39.1 percent from 3-point range and looks comfortable taking just about any shot on the floor. He could be a great third point guard for a team.
Dwight Buycks , Toronto Raptors : The Raptors may have signed a gem who performed beautifully at summer league. Scouts that I talked to were glowing about the Buycks signing because he looks like a phenomenal backup point guard option moving forward. 
Vander Blue, Memphis Grizzlies : The Grizzlies didn't have much for scoring, but they did have Vander Blue show some really good things. He started out slowly in the first two games (combined 4 for 20), but after that he showed a solid ability to score the ball. He's a bit of a fringe player, but he can make enough plays to get through a training camp.
Chris Johnson , Minnesota Timberwolves : Chris Johnson looked like an athlete with the Wolves last season in small doses. In the summer, he looked like a perfect Rick Adelman big man and not just because of the talent he was playing against. His passing and scoring decisions were phenomenal and his defense was game-changing at times.
Austin Rivers , New Orleans Pelicans : Rivers wasn't just competent in the summer league; he was a really good player. You hedge all of this praise of him right now with his play coming against the summer league, but he was a perfectly competent scorer during his time in Vegas. He made 48.6 percent of his shots and scored 18.6 points per game. It's a nice step for him.
Terrence Jennings, New York Knicks : Jennings looks like a legitimate rotation big man to me. He made 55.6 percent of his shots and put up incredible per-minute stats. He averaged 10.0 points and 6.6 rebounds with 1.2 steals and 1.0 blocks in 16.6 minutes. His length, athleticism, and size are more than enough to get him through camp and onto a roster. 
Disappointments
Andrew Goudelock, Chicago Bulls: It probably looks odd having the fifth-leading scorer in summer league and someone who shot 47.1 percent as a disappointment, but hear me out. We all know Goudelock can shoot the ball and score. Summer league is about proving you can do the little things to earn yourself a definite shot with sticking around on a roster. And yet, all he seemed intent on doing was scoring. The NBA is full of guys that can score, so you've got to find a way to distinguish yourself from the rest.
John Jenkins , Atlanta Hawks : I really think Jenkins has a great shot of becoming one of, if not the best shooter in the NBA in a couple of years. He has an incredible shooting stroke that looks both robotic and incredibly fluid at the same time. However, it's going to be hard for me to get people on that same wavelength if he's 37.8 percent of his shots (85 shots) and 28.9 percent of his 3-pointers. 
Quincy Miller , Dallas Mavericks : The positive for Quincy Miller is he was a pretty decent defender and he knocked down 45.0 percent of his 3-pointers. He looks like he's learning how to use his length in some areas of the game, but he's struggling to make shots against defenders. Maybe it will only take a little more bulk and strength to get him comfortable against contact. 
Draymond Green , Golden State Warriors: It was a rough week for Draymond Green in terms of making shots. Early in his summer league stint, he was at least getting to the free throw line with 22 attempts in his first two games. Overall, he made just 30.8 percent of his shots and got to the line 9 times after the first 22. 
Scott Machado , Golden State Warriors: Machado was the hot name at Las Vegas Summer League last summer when he showed like he was one of the few pure point guards around. He shined with the Houston Rockets team and earned himself a contract. This summer, he shot 18.4 percent from the field and averaged just 2.8 points in 17.8 minutes.
Josh Selby, Los Angeles Lakers : Last year, Josh Selby was on a scoring binge and ended up earning co-MVP honors with Damian Lillard of the Portland Trail Blazers. Perhaps it was "the system" he was in with the Memphis Grizzlies' summer league team, but he wasn't given nearly the same freedom to jack up shots for this Lakers' summer team. Last summer, he scored 24.2 points per game while shooting 55.7 percent from the field and 64.3 percent from downtown. This summer, he scored a total of 10 points on 26 shots in 66 minutes. He had one more turnover than points.
Tony Wroten , Memphis Grizzlies: I really do get what Wroten was doing with this summer league. He was experimenting with his shooting and scoring ability because he can't be a complete non threat if he wants to secure the backup minutes at point guard for the Grizzlies. But going 20 of 79 from the field is just a really rough result, especially when a lot of the shots seemed poor. 
Thomas Robinson , Portland Trail Blazers : When Robinson was just being an athlete, he looked incredible. He dominated the boards and had some great moments around the rim. When he needed to make decisions and plays, he looked really bad. He could really stand to study video of how Amar'e Stoudemire scored as a young player and try to emulate that.
Sundiata Gaines, Washington Wizards : Sundiata Gaines has bounced around from the D-League to several NBA teams to the Chinese League. We've seen Gaines as an NBA point guard before, even if it was brief, and yet we saw him get only three assists in 50 summer league minutes. That's unacceptable for a guy who could conceivably run a second unit.
Otto Porter , Washington Wizards: I tried to avoid putting rookies on this list because I think it's mostly unfair to expect them to play a certain way in such a potentially chaotic environment that won't often mirror what they're doing at the NBA level. Porter was disappointing in the sense that he just never seemed to move the needle at all when he was on the court. His game was very subdued and pretty boring overall. It's likely he's just the type of player who can complement good players nicely but doesn't lift the level of fringe guys.
The Clippers big man thinks LeBron will reunite with the banana boat crew at some point

Have the Clippers reportedly found their next GM?

The NBA stayed to the point in their response to the Greek basketball federation
The Pacers believe the Lakers tampered with Paul George before they traded him

Among the questionable decisions by Jackson was signing Noah to a long-term, lucrative dea...

This Akron store doesn't want their hometown hero to leave again