2013 Las Vegas Summer League: What to watch on Day 11
The 2013 Las Vegas Summer League is here, and we've got the players and teams to watch on Day 11. Here are the developing storylines.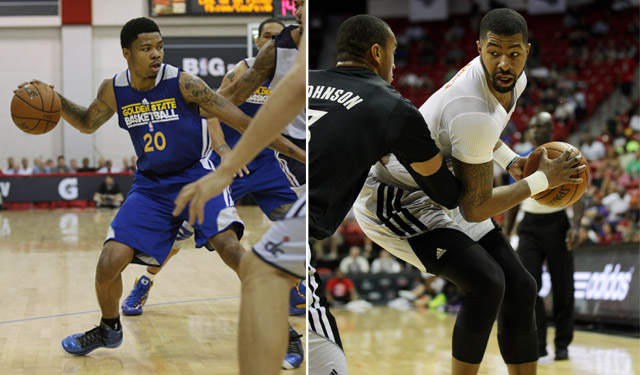 LAS VEGAS -- And then there were two. After 10 days and 60 games of basketball, the 2013 Las Vegas Summer League has come down to one more contest between the Phoenix Suns and the Golden State Warriors. With the summer league's new tournament format, we'll get our first official Las Vegas Summer League champion Monday night. In the past, we've seen teams go undefeated, but they have never been rewarded with anything for having the best performance.
It seems fitting that these two teams ended up in the final game, considering they might be the only teams that never sat out their NBA guys to get rest or avoid risk of injury in summer league games. While we saw other teams shut their guys down after a game or three, the Suns and Warriors kept their developing roster players on the court and it resulted in a chance to win some championship hats.
Let's take a brief look at how these two teams got here and whom they need to step up to win Monday night's game that tips off at 9 p.m. ET. 
How did the Phoenix Suns get here? 
The easy answer is by winning, but more specifically, they have received really good contributions from five different NBA players in Markieff Morris, Marcus Morris, Dionte Christmas, Archie Goodwin and P.J. Tucker. Markieff Morris has been a force on the inside while Marcus Morris has been knocking down nearly half of his shots from the outside. Archie Goodwin had a great performance by a rookie coming in and just looking to fit into the team concept. P.J. Tucker was a bully in the post as a power guard, and it's becoming a year tradition for Dionte Christmas to turn heads in summer league.
The Phoenix Suns haven't lost a single game this summer. They have wins over the Portland Trail Blazers (twice), Minnesota Timberwolves, Memphis Grizzlies, Toronto Raptors and Miami Heat.
How did the Golden State Warriors get here?
The Warriors also have not lost in their six games, and they've had some really spectacular contests. The majority of their wins have been confusing and disorienting. They've struggled to generate offense, primarily because they don't really have solid dribble penetrators that can consistently break down their defenders, get the ball into the middle of the floor and then find shooters. And yet, they keep finding ways to go on runs when they need to in order to pull out victories. 
The biggest contributors have been Kent Bazemore, Ian Clark, Draymond Green (more volume than effectiveness) and Cameron Jones. The Bazemore experiment of forcing him into a playmaking role has been awkward at times, but overall he has performed quite well in it. His passing has been solid, he's been able to attack the rim off of ball movement, and his shooting inside the arc is working. The rest of the guys have been supporting players for Bazemore, who is the star of the show.
Key player for the Suns
Kendall Marshall. Last summer, I was really concerned with how Marshall looked against summer league competition. He honestly looked like he didn't belong on an NBA court in any capacity. This summer, he looks much more comfortable with his decision-making, execution and place within the team. He's made some key outside shots, and if he can get the ball movement flowing, maybe the Suns can end the winning streak.
Key player for the Warriors
Draymond Green. Green is the Warriors' best chance of remaining undefeated in Las Vegas and extending their summer league winning streak to 13 games. His second best shooting performance was 7 of 17 from the field. He has to find a way to remind everybody he's one of the best players on the court in this environment and get the ball in the hoop. The Warriors could stand to see playoff Draymond Green rather than regular season Draymond Green.
Prediction: Summer Warriors 79, Summer Suns 74
DH12 is picked for free throws after a teammate gets ejected. He makes both, and lets Scott...

Bell was injured defending a Robin Lopez dunk and had to be taken off the floor in a wheel...

Trevor Ariza and Gerald Green are reportedly both suspended two games
We've got all the scores, highlights and news from the night's games

Jonah Keri talks with NFL and NBA broadcaster Ian Eagle

SportsLine simulated Wednesday's Nuggets-Clippers game 10,000 times