2013 Las Vegas Summer League: What to watch on Day 2
The 2013 Las Vegas Summer League is here, and we've got the players and teams to watch for on Day 2. Who are the veterans, and who are the sleepers?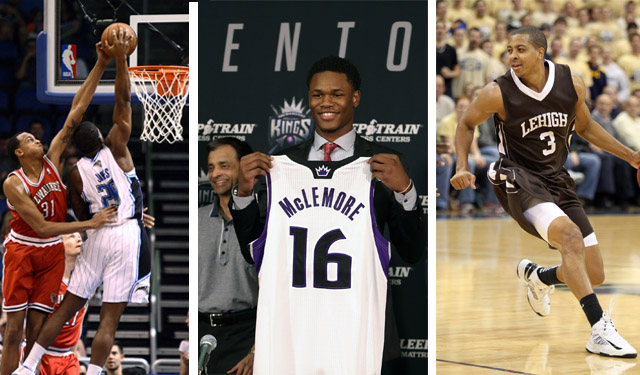 In Day 1 action at the 2013 Las Vegas Summer League on Friday, we saw a big game from New Orleans Pelicans '  Austin Rivers (24 points, 7 rebounds, 6 assists), a stinker from Dion Waiters (3 points on 1 of 11 shooting) and a monster dunk from Jeff Taylor on Aron Baynes . We had just four games but will see that expand to seven games on Saturday as we're introduced to the rest of the teams in Las Vegas.
For Saturday, here are the players to watch for in each of the seven games:
4 p.m. ET --  Golden State Warriors vs.  Washington Wizards
Warriors: The four most intriguing players to watch on the Warriors' summer league roster are  Kent Bazemore , Draymond Green , Scott Machado  and Nemanja Nedovic .
This team is loaded with summer-league stars. Bazemore's defensive peskiness and superior athleticism could make him a highlight reel waiting to happen in this environment. Green sharpened his NBA teeth with a great playoff run and should be able to dominate a lot of the talent out here. Machado showed incredible point-guard skill in the 2012 Las Vegas Summer League and made a name for himself after not being drafted in 2012. And while an ankle injury might keep the No. 30 overall pick Nedovic out of the early action, his incredible ability to create off the dribble should dazzle the crowd.
Sleeper to watch: Ian Clark. Clark just finished a nice week with the Miami Heat summer league team in Orlando and could prove to be an intriguing point-guard option after this session. He scored 16.0 points per game in Orlando over four games and shot 49.0 percent from the field.
Wizards: The three most intriguing players to watch on the Wizards' summer league roster are  Otto Porter , Jan Vesely  and Chris Singleton .
Porter is going to be the real show for this Wizards team this summer. The No. 3 overall pick in the draft gets to show how much of an overall game he possesses, and we get to see just how aggressive he is on the court. Vesely had 21 fouls in the first three games of his summer-league campaign in 2012, including a game with 10 -- so he could be really fun. And Singleton showed a scoring knack in the 2012 summer league while also arguing with teammates when he didn't get the ball.
Sleeper to watch:  Glen Jr. Rice Rice had a great year in the D-League as an efficient scorer, knocking down 49.1 percent of his shots and 38.5 percent of his 3-pointers. He could thrive coming off screens.
6 p.m. ET --  Sacramento Kings vs.  Dallas Mavericks
Kings: The three most intriguing players to watch on the Kings' summer-league roster are  Ben McLemore , Ray Jr. McCallum and David Lighty.
McLemore should be one of the stars of this summer league. He was in the running for No. 1 prospect in the country for much of the college season, and having a chip on his shoulder for dropping to seventh in the draft could give him enough fire to dominate. McCallum is a really nice, all-around point-guard prospect who really figured out how to score efficiently throughout his college career. We might see a triple-double or two from him. Lighty already had a stint in the Orlando league with the Brooklyn Nets. And while he shot the ball well from outside, he didn't do enough to make real headway. He has the ability to do it and should get plenty of chances playing next to McLemore and McCallum.
Sleeper to watch: Drew Gordon. Gordon had a lot of promise and the hopes of being a second-round pick in 2012. Instead, he went undrafted and played most of last season in Europe with Partizan. The one thing that he'll definitely do when he's on the court is rebound well.
Mavericks: The two most intriguing players to watch on the Mavs' summer-league roster are  Jae Crowder and Ricky Ledo.
Crowder made a big splash in the summer league last year and had a really good rookie season for a second-round draft pick. This summer, he'll get a chance to show if he has expanded his game to include more attacking off the dribble. Ledo will finally get to show what he's capable of doing after spending all of his freshman season ineligible. His scoring ability should dazzle if he doesn't just chuck up bad shots all game. No. 18 pick Shane Larkin was supposed to play this summer, but he broke an ankle this week.
Sleepers to watch: Terrico White and D.J. Stephens. The Mavs get two sleepers to watch because, between White and Stephens, someone will have an incredible athletic play that blows up YouTube.
6:30 p.m. ET --  Minnesota Timberwolves vs. D-League Select Team
Timberwolves: The three most intriguing players to watch on the Wolves' summer-league roster are  Shabazz Muhammad , Gorgui Dieng and Robbie Hummel .
A year ago, Muhammad was one of the top draft prospects from his high school class. After an age scandal and a year in which he scored well at UCLA but didn't overly impress everybody, Muhammad can finally begin to reverse the negative perception about his ability and show why he was rated so highly last year. Dieng's job will be to direct the defense and rebound. That's his job in the NBA right away, and that's what they'll want to see in Vegas. Hummel is supposedly completely recovered from past knee issues and will get to show off his scoring ability.
Sleeper to watch: Brandon Paul. In four years at Illinois, Paul proved he liked to shoot a lot. Unfortunately, he didn't make them nearly enough to justify the volume. He'll have to be much more accurate to prove he belongs, but you know he'll take the shots.
D-League: The three most intriguing players to watch on the D-League's summer-league roster are Darnell Jackson, Kyle Weaver and Brian Butch.
Jackson and Weaver have both played a few seasons each in the NBA. Jackson last played for the Sacramento Kings in 2010-11 and showed he's a decent rebounder and a big man who can knock down the midrange jumper. Weaver's most significant season was his rookie year with the Oklahoma City Thunder in 2008-09. Since then, he has bounced around a bit and hasn't shown the consistent outside shooting that he needs. Butch is a decent big-man prospect who dislocated his kneecap in the Vegas Summer League in 2010.
Sleeper to watch:  Chris Johnson . Johnson had a brief stint with the Memphis Grizzlies this past season and has a pretty solid approach to scoring the ball. He knocked down 38.0 percent of his threes in the D-League and needs that kind of accuracy to stay at the NBA level.
8 p.m. ET --  Chicago Bulls vs.  Memphis Grizzlies
Bulls: The three most intriguing players to watch on the Bulls' summer-league roster are  Marquis Teague , Tony Snell  and Andrew Goudelock .
Teague saw limited playing time as a rookie point guard for the Bulls, but he should be able to thrive in this environment. He'll often be one of the most talented players on the floor and can exploit that advantage. Snell was the 20th pick in this draft, and his all-around ability is something the Bulls would love to see in their rotation. Goudelock had a couple of nice scoring games in the playoffs with the Lakers out of necessity, but this environment is something that he'll thrive on.
Sleeper to watch: Charles Boozer. Yes, this is Carlos Boozer 's brother, who got a summer-league invite to be on the Bulls. I am not sure what type of player he is, but the fact that his name in Spanish is Carlos and his brother is named Carlos is beyond fascinating.
Grizzlies: The three most intriguing players to watch on the Grizzlies' summer-league roster are  Donte Greene , Tony Wroten  and Jon Leuer .
Greene had an incredible summer league with the Houston Rockets in 2008. Since then, he's basically played his way out of the league by not being a good enough defender or shooter. He has to show he can put in the work to be effective to stick around. Wroten is one of the most electric passers and dribblers that we'll see in the summer league, but he has to prove he can shoot. Leuer can certainly shoot, but he has to prove he can defend to be a stretch-4 that you're comfortable leaving out there for extended minutes.
Sleeper to watch: Vander Blue. Blue showed progress as a scorer in each year at Marquette, but the accuracy on his shot is still in question. After a disappointing two games with the Rockets' squad in Orlando, he has a chance to prove he can make shots.
8:30 p.m. ET --  Phoenix Suns vs.  Portland Trail Blazers
Suns: The four most intriguing players to watch on the Suns' summer-league roster are  Kendall Marshall , Archie Goodwin and the Morris twins.
Marshall had a surprisingly bad showing at his first summer league and should be able to show the playmaking that we saw in college. His command of the game can shine through, but being able to shoot would open up his game. Goodwin was the 29th pick in the draft and has the athletic ability to get a lot of easy buckets playing next to Marshall. If Markieff Morris and Marcus Morris don't try to pull a Parent Trap on the court, we'll all be very disappointed.
Sleeper to watch: Thomas Abercrombie. Abercrombie is an athletic wing player from New Zealand who has shined in international play before. He can still get up and throw down on players.
Trail Blazers: The most intriguing players to watch on the Blazers' summer-league roster are  Will Barton , Victor Claver , Allen Crabbe , Joel Freeland , Damian Lillard , CJ McCollum and Meyers Leonard .
Nobody seems quite sure if Lillard will actually play in the summer league, but he's listed on the Blazers' roster for it. Even if he doesn't, this team is loaded with NBA talent. They have seven players on this roster who will be on their regular-season roster. There are no sleepers on this team because this is basically an NBA roster competing in a lesser league. It will be fun to see if McCollum can replicate the summer performance that Lillard had last year.
10 p.m. ET -- Denver Nuggets vs.  Milwaukee Bucks
Nuggets: The three most intriguing players to watch on the Nuggets' summer-league roster are  Quincy Miller , Jordan Hamilton  and Evan Fournier .
Miller was a lottery talent in 2012 who fell to the 38th pick of the draft because of concerns about an ACL injury that he suffered in high school. He has an all-around game that should be easy to display. Hamilton is one of the better shooters on the real Nuggets roster. Fournier is a player whom Nuggets fans were clamoring to see more of throughout the season.
Sleeper to watch:  Erick Green . After the lottery talent in the 2013 draft, Green is probably the best scoring guard out there. He should have the ball in his hands a lot, and he has the penchant for getting buckets with ease.
Bucks: The three most intriguing players to watch on the Bucks' summer-league roster are  John Henson , Dominique Jones and Gustavo Ayon .
Henson was one of my favorite players from last year's summer league. He frustratingly didn't see a lot of minutes during his rookie season, but his defense and length make him a major factor when he's on the floor. Jones was a first rounder in 2010, but in his three seasons with the Mavericks, he never showed any kind of shot-making ability. If he can attack off the dribble, he should be able to find an offensive rhythm to make himself successful. Ayón is confusingly on this roster. I would think this league is a little beneath him as a very good role player at the age of 28, but he's listed.
Sleeper to watch: Nate Wolters. Wolters was a big-time scorer and playmaker at South Dakota State all four years, but now he gets to showcase his scoring ability against a bit better competition. How will he fare in the NBA style of play?
10:30 p.m. ET --  Miami Heat vs.  Toronto Raptors
Heat: The three most intriguing players to watch on the Heat's summer-league roster are Myck Kabongo, Jarvis Varnado  and James Ennis .
Much like a few of the other fallen prospects, Kabongo was the talk of his class when he was coming out of high school. He's a great point-guard prospect who has to show maturity is a big part of his game and life now. Varnado was able to soak up a lot of experience and teaching on the bench for the champion Heat this past season, but it would be good to show some post game this summer. With a huge wingspan and a nice knack for scoring, Ennis should be able to gain a little momentum toward earning a shot at making the Heat roster next season.
Sleeper to watch: J.R. Giddens. Giddens was a promising young player out of Kansas in the 2008 draft class but only managed to get on the court for 247 minutes in his two seasons. The talent is there, but is his commitment to doing what it takes to get to the next level and stay there?
Raptors: The three most intriguing players to watch on the Raptors' summer-league roster are  Terrence Ross , Quincy Acy  and Jonas Valanciunas .
When Ross is on the court, you can expect an aerial show both with his dunking ability and his 3-point shooting. Ross' highlight ability is made to liven up any summer-league game. Acy is such an imposing physical force under the boards in an environment like the summer league that we could see some strong dunks and big rebounding games. Valanciunas is on the summer-league roster and should be able to dominate after a solid showing in his rookie season.
Sleeper to watch: Trevor Mbakwe. Mbakwe's upside is questioned because he's already 24 years old, but his impact could still be legitimate for teams in need of rebounding and energy. He didn't show what he needed to do in his two games with the Philadelphia 76ers in the Orlando Summer League, but he can make a great impression this week.
Trump rescinded Curry's invitation to the White House after Curry said he wasn't interested...

Silver said he was hoping Warriors would get chance to share their views directly with the...

Along with the Thunder, those were the three teams most involved in the Anthony trade talk...
LeBron said he was frustrated by the President's recent actions

A look at the various actors and elements in the latest sensational blockbuster trade in the...

Blockbuster deal doesn't change the Thunder's projected finish in the West