2013 Las Vegas Summer League: What to watch on Day 3
The 2013 Las Vegas Summer League is here, and we've got the players and teams to watch for on Day 3. What are the developing storylines?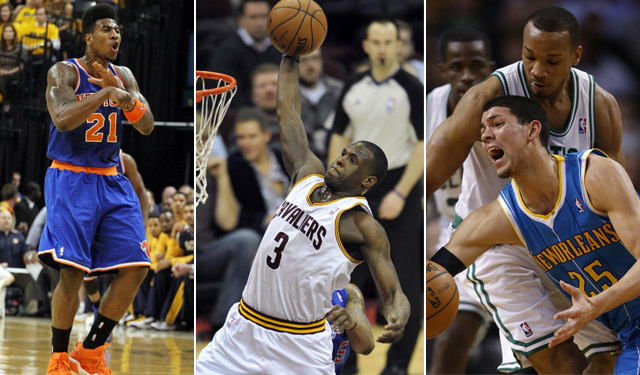 We have two days of Las Vegas Summer League in the books and, after all of the 22 teams have played one game, we can skip player introductions and start focusing on the developing stories. We've seen Austin Rivers have a great debut, C.J. McCollum drop points in all conceivable ways, the Morris twins in Phoenix combined for 32 points, John Henson dominate with his wingspan and someone has already fouled out by racking up 10 fouls in one game (sorry, Erik Murphy).
With eight games on Sunday, there should be plenty of memorable and forgettable performances to focus on throughout the day. Let's take a look at a few of the storylines for Sunday's action.
4 p.m. ET -- New York Knicks vs. Washington Wizards
The impact of Iman Shumpert. I listened to a conversation between fellow colleagues in which they debated whether Shumpert, of the New York Knicks, was an impact player who helped you win games. Sure, he was a really good defender before his ACL tear and in his recovery season he shot 40.2 percent from 3-point range, but there was a question of if he could consistently contribute to wins. It seemed like an interesting question, though one that most fans would dismiss. 
Apparently, his poor showing in the Knicks' first game this week made other people notice. A couple of people whom I talked to while waiting for various availabilities seemed to also be discouraged by his lack of playmaking in the summer-league environment. He showed very little ability to create off the dribble in the first game, didn't make a shot in five attempts and matched all four assists with four turnovers. It's probably nothing for the 23-year old, but if his defense still struggles post-injury and his shot isn't consistent (it never has been, dating back to college), what does he bring to the team?
4:30 p.m. ET -- Los Angeles Clippers vs. D-League Select
Reggie Bullock stretches the floor. With how easily basic defenses in the summer league can be exploited by finding open shooters, it's pretty cool to see someone like the Clippers' rookie comes crisply off screens and effortlessly knocks down jumpers like he's at an open gym. It's textbook stuff from Bullock, but watching someone navigate the halfcourt around screens, square his body up and effortlessly flick his wrist to snap a jumper through the net is kind of a rare sight in the summer league. 
6 p.m. ET -- Charlotte Bobcats vs. Dallas Mavericks
Does Jeff Taylor or Michael Kidd-Gilchrist look like the better prospect? Coming out of Kentucky, Kidd-Gilchrist was pegged as this Swiss Army Knife player who could do just about anything to contribute, except his shooting was rough. His 12-point (on 12 shots), four-rebound, two-assist effort in the first game of the week wasn't bad by any means; it's just not what you expect from a No. 2 pick. Taylor, on the other hand, looked like he was more than capable of doing anything and everything on the summer-league court. 
Taylor had 24 points on 17 shots and attacked in a variety of ways that MKG just can't do yet because of the lack of respect being shown to his shooting form. Of course, Kidd-Gilchrist is the better prospect and should be able to contribute significantly with his defense alone, but seeing someone score with ease and defend well next to him just makes you want that shooting form to come around even quicker. Also, if MKG could replicate what Taylor did at the rim, that would be really fun.
6:30 p.m. ET -- Los Angeles Lakers vs. Portland Trail Blazers
C.J. McCollum's scoring ease. We saw a real smooth scoring touch out of the Portland backcourt with Damian Lillard in the 2012 Las Vegas Summer League. Saturday night, we saw an incredibly smooth scoring touch from their latest rookie, McCollum. Even though the Suns' defense wised up a bit in the second half, McCollum has just about every move at his disposal. He dunked, he crossed over for floaters, he hit pull-up jumpers, and he even knocked down a step-back 3-pointer. You also can't even stop him when he's stumbling all over the place.
8 p.m. ET -- Cleveland Cavaliers vs. Memphis Grizzlies
Is Dion Waiters out of shape? Waiters didn't have a great first game. He made just one of his 10 shot attempts. He managed to have some nice passing moments and made good decisions mostly with the ball, but overall he didn't have a good game. A few people didn't seem concerned with his game as much as they were disappointed in his physical shape. For the second straight year, Waiters appears to be out of shape for the summer league. He admitted in 2012 that he wasn't in shape for Vegas, and he looks like he's returned in the same form. It's not a huge deal, but you'd like to see him look better physically on the court to help create more consistent production.
8:30 p.m. ET -- New Orleans Pelicans vs. Milwaukee Bucks
How real was Austin Rivers' 2013 summer-league debut? Rivers had a big first game for the Pelicans on Friday, but it was largely dismissed because he wasn't being challenged by NBA big men when he got into the lane. On Sunday, Rivers will get to tangle with the infinite wingspan and reach of John Henson when he drives into the lane against the Bucks. Rivers spoke of being an unselfish player after his Friday performance, and he might need to play that way to dump off to teammates when the shot blocker rotates over to meet him.
10 p.m. ET -- Atlanta Hawks vs. Miami Heat
The combination of Lucas Nogueira and Dennis Schroeder. It was hard to watch the Hawks' first summer-league game and not walk away impressed by their two rookies. Schroeder seemingly popped up out of nowhere in the past year, but he looked as composed as most veterans while running a pretty unfamiliar supporting cast. He and Nogueira appeared to have an instant connection, hooking up on several lobs. Both players will have their ups and downs in this development process, but it looks like the Hawks struck gold with their selections last month.
10:30 p.m. ET -- San Antonio Spurs vs. Toronto Raptors
Jonas Valanciunas might be a monster. I talked about his newfound bulk and physicality after his 23-point performance against the Heat's summer-league team on Saturday. He really did look like a much different player. He was finishing at the rim a lot in Europe, and it was part of the reason that he looked like such an amazing big-man prospect though he didn't get a ton of playing time in the national team tournaments for Lithuania. But if getting acclimated to the NBA and his new strength is going to result in him trying to pull the rim off the backboard, I think we can start projecting him as one of the best young big men in the league.
The investigation detailed a hostile workplace environment

Cousins suffered a torn Achilles tendon on Jan. 26, and will miss the rest of the season

Ingram has become one of the team's go-to players with Lonzo Ball sidelined with an injury
Giannis skipped EuroBasket last summer, and has missed four games this season with knee so...

Some of the best and worst from the league as we head into the home stretch of the season

Cuban acknowledged that tanking is 'brutal' and that he will no longer do that after this...