2013 Las Vegas Summer League: What to watch on Day 5
The Las Vegas Summer League is here, and we've got the players and teams to watch for on Day 5. What are the developing storylines?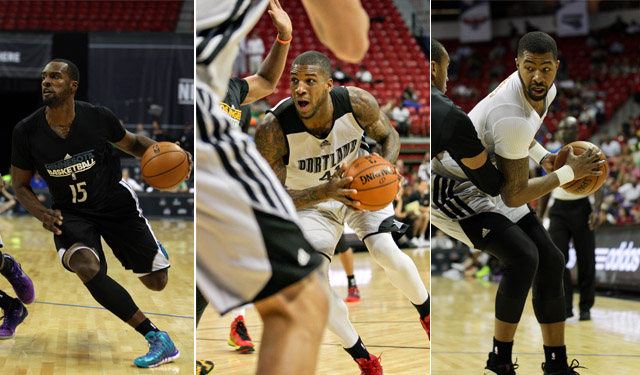 Day 4 of the Las Vegas Summer League on Monday gave us a couple of incredible moments. The first moment was probably when Metta World Peace showed up to announce on a television broadcast during play that he'd be joining the New York Knicks. He then held an impromptu press conference in the corner, during which he talked about having to come home to New York and maintaining an unfiltered creativity within himself that leaves unreal options open to him in his life.
Secondly, the Phoenix Suns had a pretty incredible comeback against the Minnesota Timberwolves and even managed to force a turnover on one end with under seven seconds left in the game. This set up a Marcus Morris jumper at the buzzer (video below) that won the game for the Suns. Third, Andrew Goudelock led the Chicago Bulls to victory by dropping 31 points on 13 shots that somehow overshadowed the 22-rebound effort from teammate Malcolm Thomas.
It was a pretty eventful day in Vegas. What should we look for in the seven games on Tuesday?
4 p.m. ET -- Minnesota Timberwolves vs. Miami Heat 
Shabazz Muhammad as a weapon off the ball in Rick Adelman's system. The early returns on Muhammad haven't exactly been stellar if you're just focusing on the results and box score. If you're looking at the process of what he's doing, it's a lot more palatable. There are three things the Wolves want to see from Muhammad in this summer league: passing decisions, defense and movement off the ball within the constructs of the offense.
At his introductory press conference with the Wolves, Muhammad talked about being an unselfish player for the Wolves. While he has made it a point to do the kind of off-the-ball movement that helps wing players thrive in Adelman's system, he has also forced the passing concept quite a bit. Sometimes it has worked out, and sometimes it has resulted in a blown play, but the fact that he's concentrating on that instead of trying to dominate the ball and score all the time is at least encouraging for his future role with the Wolves.
6 p.m. ET -- Sacramento Kings vs. Toronto Raptors
Will Ben McLemore get a scoring binge going? McLemore is supposed to eventually be a silky, smooth scorer for the Kings in real NBA games. While it's not necessary to dominate or even be relatively competent in summer-league games, if you have a guaranteed contract like McLemore does, it is nice to see guys go on good scoring stretches. Through two games of summer league, he is only shooting 22.9 percent from the field and has taken 35 shots to score 25 points. Again, it's not imperative for him to have a big game, but seeing his scoring rhythm when it's on is pretty entertaining.
6:30 p.m. ET -- Golden State Warriors vs. Milwaukee Bucks
Draymond Green's new physique. Green is noticeably slimmer than when we saw him in the playoffs. How has the weight loss treated his game? His shooting has regressed away from the playoff improvement that he showed and back to the 32.7 percent that he shot in the regular season. Green has made 33.3 percent of his shots through the first two games of the summer. But while he's struggling to make shots, he's a terror with some increased quickness that has helped him get to the free-throw line. He has shot 22 free throws in the Warriors' 2-0 start and made 20 of them. Maybe his jumper isn't falling, but he's setting up shop at the charity stripe. 
8 p.m. ET -- Chicago Bulls vs. Portland Trail Blazers
Thomas Robinson and his summer-league struggles. Summer league might officially not be Robinson's area of strength. In 2012, he struggled mightily with the Kings' summer squad, making just 34.4 percent of his shots and turning the ball over 24 times in five games. In 2013, the turnovers have gone down a bit, but so has his shooting percentage. His 29.4 percent from the field is pretty brutal right now, and his 3.5 turnovers per game are still way too many for him. With how chaotic and sloppy that summer league can be, it's possible he's playing to his competition here. It's also possible his effort isn't what it should be. Whatever it is, Robinson is too talented not to be a more effective player at this level.
8:30 p.m. ET -- Phoenix Suns vs. Memphis Grizzlies
The Morris twins have some attitude. I've been up close for both of the Suns' games so far, and one thing has been abundantly clear: the Morris twins have some attitude to their game. I guess the idea that there is power in numbers is especially true when it comes to Marcus and Markieff Morris playing this level of competition. They've been arguing with referees quite a bit (both got technical fouls in their win over the Wolves), and their play has been incredibly physical as they impose their will and muscle on the competition. They've played a little bit like bullies, combining their powers to really push people around on the court. This isn't a knock on them, either; it's kind of fun to see them get more confidence.
10 p.m. ET -- Denver Nuggets vs. Washington Wizards
When do we get to see Quincy Miller start to look dynamic? This seems to be a theme with young guys these days. But a couple years ago, Miller seemed like he was one of the best prospects in high school basketball. He was a sure-fire lottery pick when he finally declared. Unfortunately, he tore his ACL during his senior year of high school. From that point, he has seemingly missed out on his potential. He should have been a lottery pick and yet fell to the 38th overall pick in last year's draft. He was completely underwhelming in last year's summer league and nothing has changed for this year. Are we going to see a guy who looked like he'd become a dynamic scorer? When does he unleash some kind of scoring prowess on us, instead of showing us a 30.0 percent from the field performance in the summer league? 
10:30 p.m. ET -- Dallas Mavericks vs. NBA D-League
Is Stefhon Hannah becoming an NBA player before our eyes? Stefhon Hannah had a really inefficient season with the Santa Cruz Warriors last season, making 34.3 percent of his shots and 29.9 percent of his 3-pointers. He averaged 14.0 points, as well. These were all significant drops from the 45.0 percent, 40.7 percent from three and 18.9 points per game that he showed the previous season in the D-League. For the lightning quick point guard out of Missouri, finding the consistency that he showed two years ago is paramount to finding a job in the NBA.
So far in the summer league, Hannah has proven to be fearless. It's like he's carrying buckets of confidence with him at all times. He has been knocking down shots from downtown, he's attacking the basket to get buckets, and he has shown a ton of poise and leadership for the D-League select team. He's definitely a player to keep an eye on simply because the talent and the understanding of the game seem to be overflowing. If he keeps helping the D-League slay NBA teams in Las Vegas, he's going to end up never wanting to go back to the D-League select team.
Our advanced computer model simulated Saturday's Thunder-Cavs game 10,000 times

The Jazz are reportedly looking into trading Rodney Hood before the Feb. 8 NBA Trade Deadl...

The Cavaliers are ready to reset everything if they have to. Their interest in Lou Williams...
It sounds like the Cavaliers are going to be active before the NBA trade deadline on Feb....

We've got all the scores, highlights and news for Friday night

George Hill, who is unhappy in Sacramento, could be a solution to Cleveland's backcourt si...