2013 NBA All-Star Game reserves announced
The NBA announced the 2013 NBA All-Star Game reserves that were voted on by the coaches in each conference.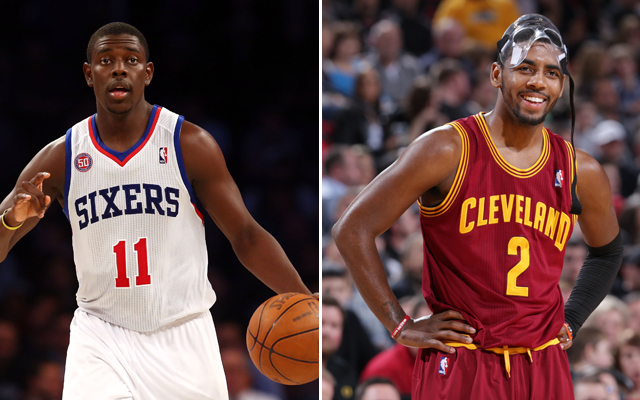 Kyrie Irving and Jrue Holiday were both chosen for their first All-Star Game.
(Getty Images)
The NBA announced its reserves Thursday night for the 2013 NBA All-Star Game. Here are the reserve players for the East and West, as voted on by the coaches of each conference:
Position
East
West
Backcourt

Kyrie Irving

,

Cleveland Cavaliers

Russell Westbrook

,

Oklahoma City Thunder

Backcourt

Jrue Holiday

,

Philadelphia 76ers

James Harden

,

Houston Rockets

Frontcourt

Chris Bosh

,

Miami Heat

Tim Duncan

,

San Antonio Spurs

Frontcourt

Tyson Chandler

,

New York Knicks

David Lee

,

Golden State Warriors

Frontcourt

Joakim Noah

,

Chicago Bulls

Zach Randolph

,

Memphis Grizzlies

Wild Card
 

Luol Deng

, Chicago Bulls

Tony Parker

, San Antonio Spurs
Wild Card

Paul George

,

Indiana Pacers

LaMarcus Aldridge

,

Portland Trail Blazers
A bit of a surprise that none of the Brooklyn Nets  made it. Deron Williams , Joe Johnson and Brook Lopez all seemed to receive serious consideration, and the team currently sits third in the Eastern Conference right now. It's also a surprise that Stephen Curry of the Golden State Warriors didn't make the cut, but the West is loaded. Zero Denver Nuggets made the roster as well.
Markieff Morris was already in line to miss the start of camp due to a pending assault cas...

The 76ers should hopefully get a lot of play out of their young guys this season

Okafor's been on and off the trade block for over a year and doesn't seem to be in Philly's...
Fisher is the fourth NBA player to compete for the Mirror Ball trophy on the show

Barkley commends the NBA, sarcastically, for extending the season and reducing back-to-back...

Enes Kanter isn't seeing much comedy in the Kevin Durant social media situation