2013 NBA Draft Big Board: Who'll be the next overall No. 1 pick?
With the 2012 NBA Draft in the books, College Basketball Insider Jeff Goodman takes his first look at the 2013 NBA Draft. The next No. 1 overall pick may not be as unanimous as Anthony Davis in 2012, with some significant talent at the top of the charts.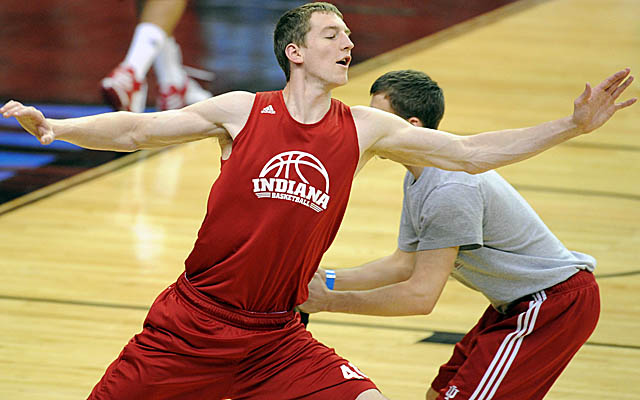 Returning to Indiana as a sophomore, Zeller will be on the short list for National Player of the Year.
(U.S. Presswire)
The 2012 NBA Draft is in the books, so it's time to start looking ahead. 

Since we don't know the draft order yet, we've decided to rank the top 60 players -- both seniors and underclassmen we feel could realistically leave school early. 

The top spot wasn't an easy choice, but we decided to go with a young Indiana Hoosier over a pair of talented freshmen. 


2013 NBA Mock Draft
1. Cody Zeller, 7-0, 237, C, Soph., Indiana
The youngest of the Zeller brothers is also the best. He's skilled on both ends of the court. He can score in the post and on the perimeter, rebounds the ball well, runs the court and also alters and blocks shots.
2. Shabazz Muhammad, 6-6, 225, SG, Fr., UCLA
He's got an NBA-ready body, can shoot it, get to the basket and also defend.
3. Nerlens Noel, 6-11, 216, C, Fr., Kentucky
A freak shot-blocker, Noel can change a game on the defensive end. His offensive game is a work in progress.
4. James Michael McAdoo, 6-9, 225, PF, Soph., North Carolina
Was a role player a year ago behind Tyler Zeller, John Henson and Harrison Barnes. Now it's his turn to shine.
5. Ben McLemore, 6-5, 205, SG, Fr., Kansas
Athletic wing who can also shoot it from the perimeter. Look for him to quickly become Bill Self's go-to guy in Lawrence.
6. Isaiah Austin, 7-0½, 218, C, Fr., Baylor
Long, long and long. He's a shot-blocker who can run the court and also has a nice skill set for someone his size.
7. Adonis Thomas, 6-6, 230, SF, Soph., Memphis
Long and athletic, Thomas will get a chance to shine with the departure of Will Barton. Only played about half the season due to an ankle injury.
8. Tony Mitchell, 6-8½, 235, PF, Soph., North Texas
Nearly left the Mean Green after coach Johnny Jones left for LSU, but the strong and athletic forward decided to return -- and could be a lottery pick.
9. Alex Poythress, 6-7½, 210, F, Fr., Kentucky
Long forward who excels in transition and can be disruptive as a defender as well. Has tremendous upside.
10. Rudy Gobert, 7-0, 230, PF, 20, France
Long and athletic, the skilled Frenchman is considered the elite international prospect on the board.
11. Steven Adams, 6-10½, 245, PF, Fr., Pittsburgh
Big, athletic, strong and plays hard most of the time. The New Zealander may take some time to acclimate himself to the college game.
12. Ricky Ledo, 6-5½, 190, SG, Fr., Providence
It's still unclear whether he'll be eligible to play as a freshman, but one thing is clear: Ledo can get buckets.
13. Mason Plumlee, 6-11, 240, PF, Sr., Duke
It's shocking that he will be a four-year player, but Plumlee may finally get a chance to be the go-to guy now that Austin Rivers is gone.
14. LeBryan Nash, 6-7, 225, F, Soph., Oklahoma State
So physically gifted, Nash's biggest issue is his mental approach.
15. Otto Porter, 6-8, 200, SF, Soph., Georgetown
Long, smooth and also possesses a high IQ for the game. NBA guys have fallen in love with Porter over the past year.
16. Archie Goodwin, 6-4½, 190, SG, Fr., Kentucky
He's long and extremely skilled. Can shoot it, gets to the basket and appears to do it all effortlessly.
17. Kyle Anderson, 6-8, 230, SF, Fr., UCLA
There's no better passer in the country than Anderson. He's got the size and vision. The questions surround his athleticism.
18. Jeff Withey, 6-11½, 230, C, Sr., Kansas
Now that T-Rob is gone, Withey will be the man up front in Lawrence. He's long and blocks shots, but his offensive game must continue to improve.
19. Jamaal Franklin, 6-5, 195, SG, Jr., San Diego State
Ultra-athletic guard who was forced to play out of position last season. If his perimeter shot improves, he's a lottery pick.
20. Aaric Murray, 6-10, 250, PF, Jr., West Virginia
Flopped at La Salle, but should excel with Bob Huggins. Murray is a skilled, talented big man who has off-court question marks.
21. Gorgui Dieng, 6-10, 250, C, Jr., Louisville
Has made strides each of his first two years under Rick Pitino. Terrific shot-blocker with limited offensive skills.
22. Isaiah Canaan, 6-1, 200, PG, Sr., Murray State
The Racers floor leader nearly left after his junior season, but decided to come back -- and is one of the nation's top point guards.
23. LaQuinton Ross, 6-7, 225, SF, Soph., Ohio State
He'll be the Buckeyes' top NBA prospect with his length, size and ability to score the ball all over the court.
24. Wayne Blackshear, 6-5, 229, SF, Soph., Louisville
Strong and athletic wing that never got a chance to showcase his game last season due to various injuries.
25. Dario Saric, 6-10, 225, SF, 18, Croatia
Skilled wing with a high basketball IQ who has questionable athleticism.
26. Mike Moser, 6-7, 205, PF, Jr., UNLV
Undersized power forward who gets after it on the glass, can handle it a little and can also shoot it from the perimeter.
27. Phil Pressey, 5-11, 175, PG, Jr., Missouri
I know he's little, but he's quick, athletic, makes everyone around him better and can also get after it on the defensive end.
28. Trevor Mbakwe, 6-8, 240, PF, Sr., Minnesota
Mbake's coming off a major knee injury, so it'll be interesting to see whether he regains his athleticism. Prior to the injury, he was a relentless rebounding power forward.
29. Doug McDermott, 6-8, 224, F, Jr., Creighton
Extremely skilled on the offensive end. Scores with either hand in the post and can also make shots from deep.
30. Trey Burke, 6-0, 185, PG, Soph., Michigan
Burke isn't physically imposing, but he can shoot and also excels in a ball-screen offense.
31. Anthony Bennett, 6-7, 220, PF, Fr., UNLV
A big-time athlete, the Canadian may try and bolt UNLV after a year.
32. Kentavious Pope-Caldwell, 6-5, 195, SG, Soph., Georgia
Has size and can really shoot the ball. That's a good combo for NBA guys.
33. Erik Murphy, 6-10, 238, PF, Sr., Florida
He's the ideal face-up four-man. Can shoot it from deep and is a legit 6-foot-10.
34. Patric Young, 6-9, 250, PF/C, Jr., Florida
Played injured much of last season, Young has a man's body -- but will need to become a more dominant rebounder and continue to improve his post moves.
35. Myck Kabongo, 6-2, 170, PG, Soph., Texas
The speedy Canadian had a rough freshman campaign, but he's still got the tools to be a quality point guard at the next level.
36. Alex Oriakhi, 6-9, 240, PF, Sr., Missouri
His stock dropped last season at UConn, but he's got an NBA-ready body and can be an effective rebounder at the next level.
37. C.J. Leslie, 6-8½, 200, PF, Jr., N.C. State
Terrific athlete who excels in transition, but needs to get stronger and work on his post game.
38. C.J. McCollum, 6-3, 185, G, Sr., Lehigh
Long and smooth, McCollum tested the waters last year following his performance in Lehigh's upset over Duke.
39. Alex Abrines, 6-5, 190, SG, Spain
Has good size and can make shots from the perimeter.
40. Deshaun Thomas, 6-7, 220, F, Jr., Ohio State
Big forward who can make shots from the perimeter. Thought about leaving after a strong NCAA tournament last March.
41. B.J. Young, 6-3, 175, SG, Soph., Arkansas
Athletic wing that gets to the basket and can finish. Withdrew from last year's draft.
42. Andre Roberson, 6-7, 200, PF, Jr., Colorado
Long, athletic and skilled power forward who has been terrific for the Buffs.
43. Alex Len, 6-11, 210, C, Soph., Maryland
Was up and down last season for the Terps, but he's got a nice combination of size and skill.
44. Ryan Harrow, 6-0, 170, PG, Soph., Kentucky
Extremely talented and athletic point guard will get his chance in Lexington after sitting out last season following a transfer from N.C. State.
45. Michael Snaer, 6-5, 200, SG, Sr., Florida State
Scoring wing who can also make an instant impact on the defensive end.
46. Zeke Marshall, 6-11, 230, C, Sr., Akron
Still a work in progress, but there's plenty to work with.
47. Josh Smith, 6-8, 320, C, Jr., UCLA
If he just could get his weight issues under control, he'd be a lock first-rounder.
48. Dexter Strickland, 6-3, 180, PG, Sr., North Carolina
Not a natural point guard, the ultra-athletic Strickland will get the chance this season due to the loss of Kendall Marshall.
49. Elijah Johnson, 6-3, 190, PG, Sr., Kansas
Not a true point, he'll get the chance to play the position this year with the loss of Tyshawn Taylor.
50. Christian Watford, 6-9, 225, PF, Sr., Indiana
He's tough to figure. Some days, he looks terrific. Others, he appears invisible.
51. Shabazz Napier, 6-1, 180, PG, Jr., UConn
He's erratic and needs to work on his decision-making, but Napier can shoot it and is capable of running a team.
52. Alec Brown, 7-1, 220, C, Jr., Green Bay
The skilled 7-footer is already a fixture on the NBA's radar.
53. James Ennis, 6-7, 190, SG, Sr., Long Beach State
Long and athletic, has terrific feel and is a decent shooter.
54. Elias Harris, 6-8, 245, F, Sr., Gonzaga
His stock has consistently dropped since his freshman season, but he's still talented and skilled enough to be drafted.
55. Kyle Casey, 6-7, 220, SF, Sr., Harvard
He's an exceptional athlete for the Ivy and can also be a quality defender.
56. C.J. Wilcox, 6-5, 190, SG, Jr., Washington
The Huskies wing can really stroke it and also boasts quality size.
57. Mark Lyons, 6-1, 188, PG, Sr., Arizona
He's a terrific athlete and will have a chance to work on his point guard skills this season at Arizona.
58. Reggie Johnson, 6-9, 330, C, Sr., Miami
He needs to get in shape and lose some weight, but Johnson is a rare commodity. He has size and skill.
59. D.J. Cooper, 5-11, 170, PG, Sr., Ohio
The Bobcats point guard just needs to work on his perimeter shot.
60. Nate Wolters, 6-4, 190, PG, Sr., South Dakota State
The kid puts up huge numbers and can really play. He scores and can also run a team.
The investigation detailed a hostile workplace environment

Cousins suffered a torn Achilles tendon on Jan. 26, and will miss the rest of the season

Ingram has become one of the team's go-to players with Lonzo Ball sidelined with an injury
Giannis skipped EuroBasket last summer, and has missed four games this season with knee so...

Some of the best and worst from the league as we head into the home stretch of the season

Cuban acknowledged that tanking is 'brutal' and that he will no longer do that after this...