2013 NBA Draft: Indiana's Victor Oladipo cashing in on weak position
Indiana Hoosiers wing Victor Oladipo should rise up NBA Draft boards because of how important the wing position is in the league.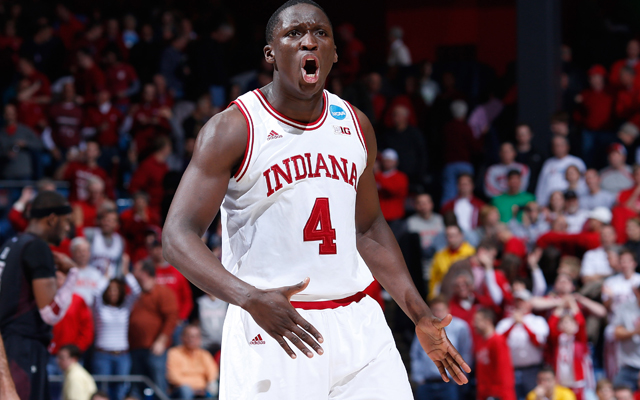 The discussion of top 10 shooting guards in the NBA used to be a lively and passionate argument among NBA fans. It seems like not too long ago there was a plethora of talent at the shooting guard position and teams had to be terrified of the man flanking the point guard. Now you're seeing a huge drop-off once you get away from Kobe Bryant, Dwyane Wade and James Harden. 
Who is in the top 10 of shooting guards right now? Eric Gordon? Is Kevin Martin in there? Is the fact that Monta Ellis is probably close to the top an indictment on the entire position? The dearth of elite talent at the shooting guard position could be a sign of an evolving game to a more forward-oriented league, or it could just be a lull in the talent pool. 
That possible lull could be over with Indiana Hoosiers' wing Victor Oladipo declaring for the draft. He's already pretty high on most draft boards, but that doesn't mean he won't continue to move up after the draft combine and any pre-draft workouts. CBSSports.com's Jeff Goodman has Oladipo 10th on his big board right now. Looking around the Web, SI.com's Chris Mannix has Oladipo at seventh and Draft Express has him all the way up to fifth.
Oladipo is a little undersized at around 6-feet-5, but he appears to have a great wingspan that will make up for his lack of height. And he knows how to use that wingspan, too. Defensively, Oladipo is just exhausting. He hassles offensive players, he's lurking in the passing lanes, and his quick hands allow him to get deflections constantly. His relentless style on defense is often compared to Andre Iguodala.
Offensively, this is where the questions come out. Is he going to be a scorer at the NBA level? Can he control the potential turnover problems? Is he really going to be able to shoot from long range at the NBA level? 
His 3-point percentage did improve from 20.8 percent his sophomore year to 46.8 percent this past season, but we've seen crazy jumps in college 3-point percentage recently that tricked people into thinking a guy can shoot from downtown (i.e. Derrick Williams). The tricky thing with big jumps in college shooting percentage from 3-point range is you really don't have a big sample size with some of these players. 
Coming out of Arizona in 2011, Derrick Williams was being heralded as a deadly outside threat, even though his impressive 56.8 percent from long distance came on just 74 attempts. That was after taking just 16 attempts total (he hit four) his freshman season. In his first two seasons in the NBA, he's made 26.8 percent and 32.6 percent from 3-point range, respectively. An overall 30.1 percent isn't exactly making opposing defenses honor his shooting threat.
Oladipo shot 20.8 percent on 48 attempts two seasons ago, and his improvement happened on just 68 attempts this year. Do you trust the recency of his shooting? That's something GMs will have to ask themselves when he's available for selection in June.
As for right now, he can probably play the pre-draft workout process safely, not workout for a lot of teams, and let the mystery of his game and the trimmed-down talent pool at his position catapult him up into the top 5 of draft boards across the Internet. Even if he's just an elite defender who can finish at the next level, a presence like that in the NBA is a huge addition for coaches and their systems. 
But if all goes right, we may be asking if he's deserving of being called a top-5 shooting guard in the NBA in a couple of years, instead of wondering if he should have gone top 5 in the 2013 NBA draft.
Markieff Morris was already in line to miss the start of camp due to a pending assault cas...

The 76ers should hopefully get a lot of play out of their young guys this season

Okafor's been on and off the trade block for over a year and doesn't seem to be in Philly's...
Fisher is the fourth NBA player to compete for the Mirror Ball trophy on the show

Barkley commends the NBA, sarcastically, for extending the season and reducing back-to-back...

Enes Kanter isn't seeing much comedy in the Kevin Durant social media situation