2013 NBA Draft: Which big man looks the best for today's game?
Today's big man is different from yesteryear. So how do the power forward and center prospects rate when looking at today's big men duties?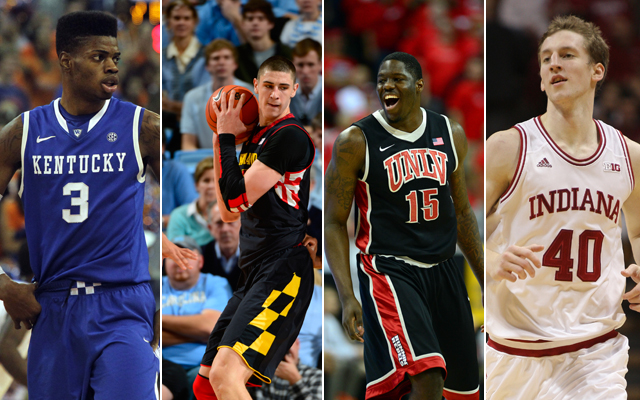 Aside from guys like Roy Hibbert, Andrew Bynum and Brook Lopez, the traditional center is a rarity in today's NBA. For the first 50 or so years of the NBA's existence, help defense was really hard to execute because you weren't allowed to cheat over. You either had to sprint away from the man you were guarding on the perimeter or hope to sneak in quickly along the baseline to bother a post player. More often than not, the centers and power forwards of the past had plenty of room to operate and dominate on the low block.
That's not the case anymore, and this year's crop of draft prospects show you a lot of where the NBA has gone to and where it's headed with the modern big man. The modern big man has to move his feet, be deadly in the pick-and-roll (even though guys like Dwight Howard refuse to acknowledge that's where they're at their best) on both ends of the floor and be a help defender that is in position far before he needs to be.
With the 2013 NBA Draft class, there aren't any dominant prospects at the power forward and center positions, but we do see plenty of big men that fit the mold of today's NBA giants and could provide a lot of help down the road for the team that drafts them. From Nerlens Noel to Alex Len to Mason Plumlee to Rudy Gobert, there are lots of things to like about this crop of big men as long as you're willing to be patient and let them develop a skill set that matches today's league.
In hopes of trying to see who looks most ready to play the role of the mobile big man in the NBA, I came up with 10 categories (post offense, post defense, ability to play in the high post, pick-and-roll defense, help defense, pass out of the double team, offensive rebounding, defensive rebounding, pick-and-roll offense and potential to have a dominant skill set) to attempt to project which areas these big men are proficient in now and which ones they need help in cultivating.
Below are the scores of the top 10 big men in the draft class, the key to that scoring system, and an explanation for what the player needs work on and what they're good at doing.
Scoring 2013 NBA Draft Bigs
Player
1
2
3
4
5
6
7
8
9
10
Nerlens Noel (66 out of 100)
2
6
3
9
9
2
8
9
8
10
Alex Len (63 out of 100)
4
4
6
7
7
8
8
7
9
3
Anthony Bennett (63 out of 100)
3
4
10
4
4
6
9
8
7
8
Gorgui Deng (62 out of 100)
2
7
6
8
8
4
7
7
6
7
Mason Plumlee (57 out of 100)
6
6
5
4
4
4
8
8
7
5
Cody Zeller (56 out of 100)
6
5
7
8
6
6
3
4
7
4
Steven Adams (55 out of 100)
4
4
3
7
7
4
8
6
8
4
Lucas Nogueira (53 out of 100)
1
5
1
6
7
3
9
5
8
8
Kelly Olynyk (52 out of 100)
8
4
7
4
4
3
5
4
7
6
Rudy Gobert (49 out of 100)
2
5
2
7
7
4
7
5
7
3
Scoring NBA Draft bigs -- Key
Category
Description
1
Post offense
2
Post defense
3
High post ability
4
Pick-and-roll defense
5
Help defense
6
Pass out of double team
7
Offensive rebounding
8
Defensive rebounding
9
Pick-and-roll offense
10
Dominant skill?
Nerlens Noel, C, Kentucky -- 66 out of 100
Overview: The problem with picking Nerlens Noel in this draft is he probably can't give you much in his rookie season. Because of the ACL tear at Kentucky, Noel is already damaged goods on arrival and it will take great patience to select him and wait for him to heal. Then he has to learn the NBA game, which will be hard in some areas for him.
Offensive concerns: Noel isn't a complete basket case on offense. His hands aren't great, but they're strong enough to throw down dunks when he gets around the basket. His quick leaping ability allows him to get great shots at the rim on lobs and pick-and-roll plays. The timing he has releasing on picks to roll to the basket is pretty great too. He's also fully capable of catching the ball in the high post and performing a quick drive around defenders. The rest of his offense is horrendous, though. He's really awkward in the post, off-balanced, and looks like he panics when hit with a double team. Adding muscle and getting stronger could help the balance, but he'll have to find comfort in the post to be a weapon on both ends of the court. 
Defensive wizardry: Noel still gives up deep post position and he tries to block everything when defending the post. With added strength, he'll learn that getting a guy out of position in the post can be just as good as blocking his shot. Everywhere else with him, you have to love his instincts. He blocks shots with either hand, he's quick to rotate from the weak side, he plays passing lanes incredibly well for a big man, and he's a very good rebounder. 
Alex Len, C, Maryland -- 63 out of 100
Overview: When trying to figure out how good Alex Len is going to be in the NBA, you're really trying to figure out if your team is capable of developing a big man with good potential but in need of a lot of work. There's plenty to like with Len in terms of mobility, size and the way he positions himself on the move. However, he has serious red flags with how he uses his size on the block, both offensively and defensively, and whether or not he'll be able to become a consistent weapon on offense. It feels like you're drafting Tiago Splitter, which isn't necessarily bad, but is it a top-pick candidate?
Issues with positioning: A guy with great size should know how to use his body in the post on both ends of the floor. Alex Len seems to know that he's bigger than everybody else but he doesn't really know how to be bigger than everybody else. Defensively, he just bumps guys with his chest, instead of trying to knock them off their base with his legs. This causes him to allow deep post position against smaller guys. Offensively, it's the same issue. He doesn't know how to get deep position consistently and he doesn't have the post game to make up for that.
Pick-and-roll weaponry: His mobility is his best weapon. On both ends of the floor, he's excellent in the pick-and-roll. He may be a little too slow on recovery when defending a PnR, but he hedges extremely well and cuts off driving lanes. He plans on getting more muscle, but will it hinder his recovery time to the roll man? On offense, he has great hands in the pick-and-roll and does a great job of diving into the space where a pass can be delivered. He also finishes well in these situations. Playing with a real point guard could make him a pick-and-roll option all the time.
Anthony Bennett, PF, UNLV -- 63 out of 100
Overview: You'd love Anthony Bennett if he measured out to 6-9, but unfortunately he's only 6-7. He has a great wingspan (7-1), and he does a great job of using that with his face-up game to get shots off, but defensively his lack of height hinders him. Where he can be valuable for you, though, is his knack for scoring and his ability to do work on the boards. He's great at finding space, even if he's going to be trying to navigate that space against much bigger guys. He may end up being a nice stretch-4 for some team.
Size concerns: You don't want to harp on his height because he's a good rebounder and a good scorer, but defensively his lack of awareness in help coupled with his lack of height in the post makes him a huge liability. Being 6-7 and a power forward makes defense the most awkward part of his game. You're going to have to hope you have a development staff to get him to learn how to use positioning to get guys away from their comfort zones, otherwise he'll struggle to bother shots.
Scoring could be his calling card: The style in which he attacks on offense with an inside-out game is very Zach Randolph-like. Doesn't mean he's as good as Z-Bo in the post -- he's not even close in that respect -- but his face-up game is deadly because he has a soft, feathery jumper. He has great rhythm for taking that shot and could be deadly in pick-and-pop situations if he doesn't fall in love with the 3-pointer. He's also great off the ball on offense and knows how to carve out points with that positioning. 
Gorgui Deng, C, Louisville -- 62 out of 100
Overview: With Gorgui Deng, what you draft might be all you get in his NBA career. Experience will give him a better sense of timing throughout his career and that will allow him to adapt, but there's no real reason to believe he'll actually become a threat in the post or as a scorer. But even if he can't improve, you're grabbing a plus defender that can really change the ways offenses attack your team. He doesn't really have many weaknesses defensively that can't be ironed out with a good system, and he's great at defensively attacking you from everywhere on the floor. 
What can he possibly give you on offense? There are two big positives you like with Deng's game on offense. First, he's a really good offensive rebounder. Second, he's going to pass well out of the high post when he has the vision to see the floor. Elsewhere, you probably are wasting possessions by giving him the ball in the post, and quick double teams could bother him on the lower block. He can do some pick-and-roll stuff for you, but that's the only systematic way you get points out of him.
Defense makes him a great idea: He should be one of those rookies that earn playing time right away because coaches can trust him to play proper defense. He's great at attacking the pick-and-roll and pushing it away from the hoop. He's great at timing weak side rotations to block shots, and he can do so without losing rebounding position. Pick-and-roll defense might end up being his calling card, kind of like it is with Joakim Noah.
Mason Plumlee, PF/C, Duke -- 57 out of 100
Overview: The athletic ability of Mason Plumlee is something you feel like a good point guard could maximize within the offense. He can get out and run. He's good attacking the basket because he's looking to dunk almost every time. He can draw free throws by doing this and put out the aggressiveness you want in an offense. But is he going to be skilled enough to build off of those attributes? And will his athleticism ever translate to defense where he is solid but slow to react side-to-side?
Will he actually be able to be a consistent scoring threat? He has a weird hit in his jumper and free-throw attempts that will have to be ironed out, but other than that it's going to be hard to trust him with the ball unless he's around the rim. Give him space to drive quickly without a swipe from a helping wing player and he can score, but other than that, he has to have space to be effective on offense. 
Keep this man in motion: You solve that issue by keeping him in motion. Much like a Cody Zeller type big man, you need to try to get him out and running in transition to get a couple of baskets going his way. When they say "reward the big man for running," he might be the reason this exists. He'll need confidence boosters by finding him moving toward the basket so he can explode for dunks. Otherwise, you might have a hard time getting him to fit.
Cody Zeller, PF/C, Indiana -- 56 out of 100
Overview: If you're looking for a traditional, tough big man who will protect the rim, Cody Zeller is not your guy. If you're looking for someone to grow into the role of today's big man with mobility and awareness, Zeller could develop into a really nice weapon. The problem with Zeller is he just doesn't play very physical basketball. That's fine on offense where spacing is the key, but on defense you need someone with a little more nasty, as Gregg Popovich would say. Is that something you can teach him? 
Where is the physicality? Post defense is good in terms of how he plays it strategically, but he gets pushed out of position and he's not a shot blocker at all. This also kills his ability to consistently rebound the basketball. On offense, he has a wide array of post moves and ways to score against defenders, but he's not balanced enough to make it a consistent weapon. It's possible that can be cured with strength, but there are strong guys like Jason Thompson that just never learn that proper balance.
Keep him on the move: If you want to make Zeller a weapon on both ends of the floor, you have to keep him moving. He's great at running out in transition and will be tough to keep up with because of his great instincts in leaking out as a big man. He's really good at operating in the pick-and-roll on offense and hedging the pick-and-roll on defense. If he's willing to take the hits, he could be a defender that takes a ton of charges with his help positioning.
Steven Adams, C, Pittsburgh -- 55 out of 100 
Overview: Steven Adams is a project. If you're drafting him and expecting him to be a quality starting center on the first day of training camp, you're in for a lot of disappointment. But there is potential there. Adams doesn't grade out in this little experiment right now, but he has plenty of room for growth. The key will be getting him comfortable with the game of basketball. Being patient on offense and keeping his motor running on defense will be the two ways to ensure he becomes a quality center in the NBA.
There is no one thing you can count on: He is quite inconsistent in his actions. He's a good worker on defense in help defense and the pick-and-roll, constantly working toward keeping players away from the paint, but we don't see that same work and intensity when he's defending the post. He's a tireless worker on the offensive glass, but he doesn't seem overly concerned with defensive rebounding. Which is the real Steven Adams?
He's a project, but it could be worth it defensively: His potential on defense is inspiring and enough of a reason to want to take him in the lottery and not worry about getting much out of him right away. He's this new brand of mobile big man that is built to slide his feet on the perimeter and block shots from the weak side. He'll have to learn that same work ethic down low when it's just him and a center, but for the most part he's built to defend today's NBA. 
Lucas Nogueira, C, Brazil -- 53 out of 100
Overview: Like a lot of these big men, Lucas Nogeuira needs to add strength while maintaining mobility, and he needs to figure out how to be a weapon on offense. Teams know that he'll be a nice option moving toward the basket in the age of the mobile big man, but he gives you almost nothing else on that end of the floor. On the defensive side, he could be a terror for opposing teams. He's so quick and active that you know he won't stop working if it's not going his way.
Other than pick-and-roll, can't use him on offense: He's really great at finishing lobs and knows how to use his quick jump and his length to his advantage around the rim. He has really good spacing and timing in the pick-and-roll. Outside of that, I don't know that he'd even try to post up. He has no post moves and is turnover prone if he tries to attack on his own. The offensive rebounding will be a plus, though.
His defense could end up being special: There are times where his pick-and-roll defense looks a little suspect with decisions on when to recover, but ultimately his activity, mobility and length will cause huge problems for opposing teams. The key for him will be learning how to protect the rim without giving up defensive rebounding position, which he already struggles to keep. But if he can figure that out, he'll be one of the better defensive centers around.
Kelly Olynyk, PF/C, Gonzaga -- 52 out of 100
Overview: This is where we'll really test our patience with this draft class. Kelly Olynyk could end up being a lottery pick or close to it. There's nothing wrong with him, per se, but to sell your fan base on this guy being a building block toward the future is going to be tough. He looks like he could be a crafty scorer on offense, but defensively fans may actually hate him. He could end up being a lightning rod, despite being a very ordinary type of role player.
He's a serious liability on defense: As you watch clips of Olynyk playing defense, the first word that comes to mind might be uncomfortable. His defensive decisions and rotations make you feel uncomfortable as a basketball fan because they're awkward and wrong. His post defense looks like an awkward seventh grade dance. You would think by accident a player would end up lucking into proper rotations more often than he does. It's just bad all around.
His ability to score makes him a Sixth Man ceiling: Where he has value is that he's a versatile scorer. If he develops a dominant skill, it will be as someone that can put the ball on the floor against opposing big men, spin away from them, and still put up a great shot inside. He has pretty good body control, even though he's not very explosive. He's quick and decisive in the post and facing up. He could end up with a Carl Landry-type of offensive attack.
Rudy Gobert, C, France -- 49 out of 100
Overview: The knee-jerk comparison with Gobert is Alexis Ajinca because both are French, excessively lanky and centers. Ajinca was a guy who almost seemed afraid or uninterested in playing down low. Gobert very much wants to be in the paint and mix things up inside. The problem is he has zero leverage on the floor and may not be able to get to the rim because he'll be pushed out easily. This will only bring more comparisons to Ajinca because neither of them will be around the rim, albeit for much different reasons. 
A lot of length without strength: That is the main thing with Gobert: he wants to be an interior center. But how does he get there? Will it be as simple as putting on muscle mass to fight his way inside? Or will a lack of a low center of gravity leave him at the mercy of the work ethic of opposing centers trying to keep him away from the basket where he can do so much damage? Without much of an offensive game in the post or away from the basket, that becomes a huge problem. 
The length cuts off the floor: His freakish wingspan of 7-feet, 8.5 inches will find ways to affect the game, though. He's very mobile, which allows him to play pick-and-rolls well, recover and rotate from the weak side. I'm not sure if length can be a dominant skill for somebody, but it just might be with Gobert. He likes to dive to the basket and dunk. He likes to push the offense away from the hoop and then deny them inside. Just needs to find ways to get and keep position to make an impact. 
Adam Silver said his piece with the schedule out; we address that and what the slate looks...

The Hawks and Sharecare reportedly agreed to terms on a five-year deal

A look at the context of the schedule and who plays who when, and how far they travel during...
Durant took on rapper Lil Dicky and actually might have lost

A report that James would once again be leaving Cleveland made the rounds on Wednesday

Known for his 'take that for data' rant, the Grizzlies coach touched on a number of important...