2013 NBA Draft will be held in Brooklyn at the Barclays Center
The 2013 NBA Draft will be held in Brooklyn at the Barclays Center for the first time.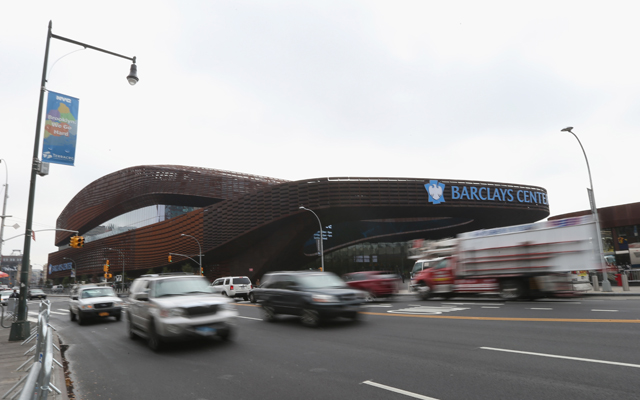 For 10 consecutive years beginning in 2001, the NBA Draft was held in New York City at Madison Square Garden. Commissioner David Stern would make his way to the podium from behind the stage, be greeted by boos and cheers (mostly boos) from a crowd that was mostly full of New York Knicks fans, and announce the next pro prospect entering the NBA.
In 2011 and 2012, the draft was hosted by the New Jersey Nets at the Prudential Center in Newark, N.J. Instead of bringing the 2013 draft back to MSG in New York, the NBA is going to continue to let the Nets' home arena host the draft. The league announced Wednesday that the Barclays Center in Brooklyn will host the 2013 NBA Draft for the first time. In a tweet from their NBA Communications account:
2013 NBA Draft presented by State Farm tickets on sale May 22; Brooklyn and Barclays Center, home of the Nets, to host NBA Draft for 1st time
The 2013 NBA Draft will be held on June 27, 2013, starting at 7 p.m. EDT. The draft lottery to determine the first 14 selections of the draft will be held on May 21, the day before tickets to the draft go on sale to the public. 
Knicks fans -- who seem to love to show up at the draft to boo the commissioner, boo whichever player gets drafted to the Knicks, and then cheer deputy commissioner Adam Silver -- will still probably show up at the new home of the draft to carry on their fan base's tradition. This time, they won't have to cross into New Jersey to do so.
The NBA Draft rotated from NBA city to NBA city between the 1992 and 2000 NBA Drafts. From 1960 to 1991, it was always held in New York City. 
Warriors' forward doesn't understand the reasoning behind the all-too-common double technical...

Hardaway Jr. gave a 'safe' call like he was an umpire in baseball

Barnes hits the trey with less than a second left to lift Mavericks to dramatic 95-94 vict...
Kevin Durant was once again back in Oklahoma City

Gregg Popovich has never seen an injury lead to the issues that Kawhi Leonard has been fac...

Kobe Bryant, of course, had his 81-point game against Rose and the Raptors back in 2006