2013 NBA Free Agency: Dwight Howard Power Rankings
With Dwight Howard's decision on where he'll sign seemingly days away, we've decided to put his options into a power ranking format.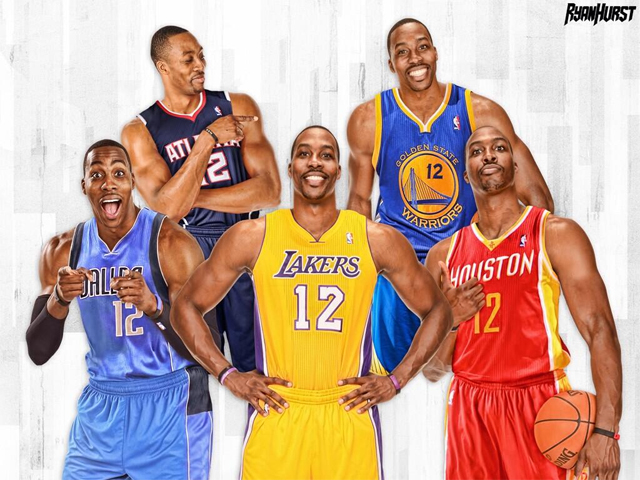 The Dwight Howard sweepstakes are going at full speed. The free-agent center is being wined and dined. He's being hyped and Skype'd. He's being recruited and disputed. With all of the attention being thrown Howard's way, it's hard to get a gauge on which team is the front runner for his services.
The Los Angeles Lakers are hitting the recruitment process harder than we've ever seen them do. The Houston Rockets look like the most intelligent decision for the three-time Defensive Player of the Year. The Dallas Mavericks offer probably the chance to work for the best owner in the sport. The Golden State Warriors could have the easiest team to plug into in terms of being surrounded by shooters. And the Atlanta Hawks are his hometown team and could have the shooters and flexibility to build a nice team around him.
So, who has the advantage? We don't really know who might end up with Howard, but we can certainly rank the possible situations for him. Introducing the Dwightmare Power Rankings:
1. Los Angeles Lakers
Positives: The biggest thing the Lakers have going for them is the money aspect. They can offer Howard a five-year, $118 million contract. No other team can give him such a deal, even in a sign-and-trade. The tradition of the Lakers is an important selling point as well, but, really, the money could be the biggest factor. They've prepared their pitch, given him billboards and are sneaking in every chance that they get to remind him of their interest. The Lakers always seem to find a way to contend over the long run. If Howard can be patient for a year or two with the team, many believe they can make it worth his while in terms of contending for a championship.
Negatives: The current situation is kind of a mess. Pau Gasol and Steve Nash looked completely broken down last season. Kobe Bryant is taking up over half of the salary cap with his current deal and is coming off of an Achilles tear, so we don't know how effective he'll be next season or moving forward. This team is incredibly thin and, because of their luxury tax situation, they can't really add a lot of talent unless that talent is looking to take a huge paycut. Most importantly, Howard doesn't seem too keen on playing for Mike D'Antoni and his system. Either there will have to be a compromise there or Howard might need assurances that D'Antoni is gone relatively soon.
2. Houston Rockets
Positives: This is a really fun, aggressive team that could be very close to contending with Howard on board. They like to move the ball around and shoot from outside, spreading the floor for a big man to operate inside. It's a lot like his Orlando Magic days, only Kevin McHale is the type of coach who can charm Howard into doing the work necessary to compete. Having James Harden as the top scoring option takes a lot of pressure off Howard, especially at the end of games. And the Rockets have shown a desire to be at the forefront of NBA trends in an attempt to get ahead of the curve.
Negatives: This team is incredibly young, and that kind of youth could make Howard believe they're as far away from contending as the Lakers. Jeremy Lin is not an ideal point guard pairing for Howard and might struggle with post-entry passes and pick-and-roll deliveries. The Rockets had the 16th-best defense in the league this season, but Howard might have to do a lot more work to make them an elite defense.
3. Golden State Warriors
Positives: If the Warriors can manage to keep Klay Thompson with Stephen Curry in any sign-and-trade deal, they'll have the outside shooting to spread the floor and give Howard a lot of room inside. It would be even more so than what the Rockets can offer because this backcourt is historically great at shooting from outside. This is one of the hottest teams in the NBA after its second-round appearance in the playoffs. They have a brand new stadium coming to San Francisco in 2017, and Howard could be around for that opening. Mark Jackson is a guy whom players seem to love playing for, and he's very faith-oriented, much like Dwight Howard's upbringing. With David Lee beside him, he'd have a very complementary power forward who doesn't clog the lane.
Negatives: The only way this gets done is with a sign-and-trade and, even then, the Lakers could take a lot of valuable assets back in the deal. If it causes the Warriors to give up Andrew Bogut's expiring deal, Harrison Barnes and Thompson to get the deal done, are the Warriors left with enough firepower to make Howard believe they're a contender? Curry is one ankle turn away from putting everything on Howard's shoulders. 
4. Dallas Mavericks
Positives: The Mavericks have the best owner in sports, who is well known for providing his team with the highest of luxuries in accommodations and travel. For now, Howard would get to play with Dirk Nowitzki, who can spread the floor in the exact way the center needs. Nowitzki has also talked about being willing to take a paycut so the team can add even more talent around Howard in the future. Rick Carlisle is a brilliant coach who could help Howard command one of the best defenses in the NBA. Dallas is a huge market.
Negatives: This team is not ready to contend, even with a healthy Howard on board. Nowitzki has not looked good physically the last two seasons, and there should be concern that he'll never approach the 2011 form that we saw march his team through the playoffs and to the championship. The point-guard situation is completely up in the air, unless you believe Shane Larkin is the future for them. This team doesn't have the offensive firepower that you'd hope to surround Howard with, outside of Nowitzki.
5. Atlanta Hawks
Positives: This would be a chance to turn his hometown Hawks into a household name around the NBA. Combining with Al Horford in the frontcourt and possibly having Jeff Teague at point guard is a really intriguing thought. Horford allows Howard to not have to kill himself on defense and rebounding so much, and they would be a very good high-low combination. The Hawks have the ability to surround Howard with shooters to spread the floor, even with Horford out there.
Negatives: Not everybody wants to return home to play, and the city of Atlanta leaves a lot to be desired in terms of basketball interest. The fans don't show up in droves to support the Hawks. Teague is still a fairly young point guard in terms of experience, and his restricted free agency could hamper the Hawks from making additional moves while valuable players are still out there. The Hawks have a very respected Spurs assistant coach in Mike Budenholzer who will take over the sidelines, but we don't quite know what system that Howard would be stepping into.
Expect these rankings to change in the coming days as more information about meetings and Howard's feelings gets revealed. 
Victor Oladipo just wants to live his life and enjoy his breakout season with his new team

Keep it right here for all of the news, notes, scores, and highlights from around the Asso...

LeBron has a player option for next season, and is expected to opt out and become a free a...
The Pistons will be looking to snap a five-game losing streak when they host the Celtics on...

Bryant offers some advice for Ball and other rookies about having a sense of urgency in the...

Burks has stepped up in a big way for the Jazz, averaging over 20 points per game since Rodney...