2013 Offseason Report: Charlotte Bobcats
Was signing Al Jefferson a smart move? Did they get Gerald Henderson for a good price? Did they maybe have an OK offseason for once?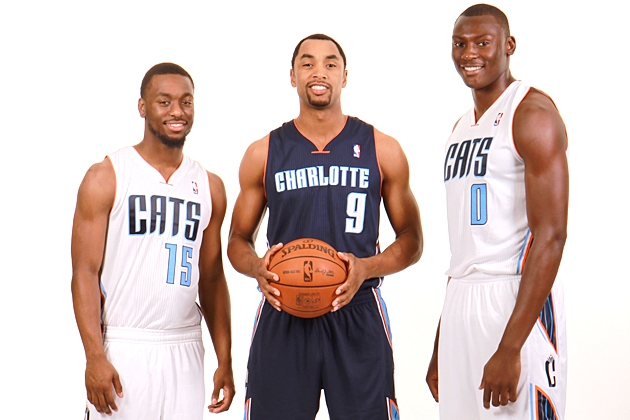 Over the next month, CBSSports.com's Eye On Basketball will take a team-by-team look at the 201213 NBA offseason. We continue with the Charlotte Bobcatst.
How they finished 2013
Your standard Bobcats season?
That's probably the best description of it. If 2012 was the "Oh My God Let Us Never Speak Of It Again" Bobcats season, this was more of the "Oh, Hey, How Was Your Day? Mine Was Fine, Thanks For Asking" kind of year. There was nothing exceptional about it, good or bad, which is kind of a good thing when it comes to the Bobcats.
I mean, it was bad, but there were bright spots. Kemba Walker looked like a real NBA player. Michael Kidd-Gilchrist can't shoot, but he showed some promise. They had a few games where it was painful (there was a Thunder game that gets its own category), but overall, they were competitive enough to be non-descript. That's a win in Bobcatland.
Needs entering the offseason
They were/are still very much in the "as much talent as possible." They were pretty good at small forward, and point guard wasn't urgent with Walker and Ramon Sessions. But everything else from combo guard to center, to power forward, shooting guard, and oh, hey coach, for what feels like the 10th year in a row.
They needed everything. That's very Bobcats.
The Draft
Sometimes you start to feel bad for them. Could they really have known Sean May like processed sugars so much? Was there really a way to know Adam Morrison wasn't able to do anything resembling a basketball skill?
But then they compound their history by things like this.
"Oh, there's a gangly seven-footer who has serious question marks when it comes to aggressiveness, strength, lateral quickness and finishing ability who fell from being the consensus No. 1 pick to maybe being an end-of-the-lottery guy."
And that's how Cody Zeller became a Bobcat.
Zeller has great size and a wide skillset. If he can capitalize on either element, he can be a quality starting center or power forward in the league. He has time to add some bulk with strength and conditioning work.
But there's part of you that worries he becomes that guy who always seems to get dunked on, gets blocked, winds up on the wrong end of the highlight. That's a non-factual description, so it's probably crap. But their draft history is so full of disasters, you hate to see them take anyone with any risk.
Free Agency and Trades
When Al Jefferson's agent said he would take the Bobcats' call, Charlotte backed up a dump truck full of cash and dumped it on his lawn. The Cats can't get free agents because they're the Bobcats, so they have to make extra efforts at players a lot of teams would pass on.
Jefferson plays poor defense, has never been able to transcend his team's limitations,and comes with a huge number of other question marks. He's also instantly one of the five best Bobcats players in franchise history. He's also a wonderful scorer and the rare big man that you can trust with the ball in a scoring situation late. (Note: He's so good in late-game situations I've nicknamed him the Cookie Monster of Clutch. Nom-nom-nom.)
So if you look at it like that signing Jefferson's actually a pretty good move. It's not ideal, but Jefferson really does have the ability to be a top-notch offensive player, and defense has to be a non-priority with a team this young anywa. They have size to pair him with to give him rebounding and shot-blocking help. It makes sense, even at that price.
Restricted free agency is a small market team's best friend (unless you're OKC), and getting Gerald Henderson back at the price they did was a steal. Henderson was yet another free agent who never got another offer because GMs knew the Bobcats would match. So he fell through the cracks. He's still developing, a smart, active defender who can shoot decently and has great athleticism.
Josh McRoberts is usually a punchline, but he gave some great highlights to the Cats last year and gives consistent effort. He's a good player to have. Anthony Tolliver can stretch the floor and is a good locker room presence.
And there's an immutable law of the universe that says one of the Pargo brothers must be employed by an NBA team at all times. Jannero Pargo fulfills this prophecy for the Bobcats.
The best free agency news for Charlotte? DeSagana Diop is off the books. Finally, mercifully, he's gone from the books, as is Tyrus Thomas. They cleared a lot of salary this year as part of the rebuilding effort
Overall grade and accomplishments: B
I expect so little from the Bobcats year after year that an offseason where they definitely did not get worse looks like a B to me. It's true that they're managing to not tank the one year with the draft class that validates such an effort, but they have a terrible lottery history anyway.
The Bocats have a recognizable best player in Jefferson, a roster of young, improving talent, cap room, and a new coach in Steve Clifford. There's a lot to figure out and a long-term vision remains a question mark.
But the Bobcats made some progress. The bar is lowered for them, but at least they cleared it.
The Kings' big man says he was wrongfully arrested in August for possessing marijuana with...

George appeared to show some frustration with the Pacers following the trade to OKC

It's worth wondering whether or not Wade will be in the Cavs' starting lineup
Nurkic is confident Portland will be a tough team to beat, and says it must begin on defen...

Wade, recently bought out by the Bulls, could finalize decision as early as Wednesday

James said nothing has changed from 2014 when he said he'd retire a Cav