2013 Offseason Report: Cleveland Cavaliers
Over the next month, CBSSports.com's Eye On Basketball will take a team-by-team look at the 2012-13 NBA offseason. We continue with the Cleveland Cavaliers.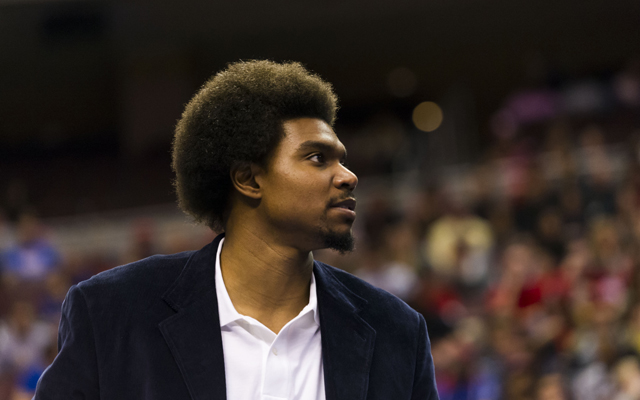 Over the next month, CBSSports.com's Eye On Basketball will take a team-by-team look at the 2012-13 NBA offseason. We continue with the Cleveland Cavaliers.
How they finished 2013
It's kind of an interesting question: Did the Cavs have a bad season in 2011-12? Their record says so (24-58), but there was the very obvious development of Kyrie Irving into a likely superstar and the improvement from Tristan Thompson. Dion Waiters showed positive signs and best of all, the parlayed all of that into the No. 1 overall pick in the draft. 
So was it a good year? Honestly, I think so. 
Needs entering the offseason
First need: A new head coach. After firing Byron Scott, the Cavs turned to a familiar face, calling up disgraced Laker coach Mike Brown. 
As for the roster: The Cavs have used the last three post-LeBron seasons to try and restock mostly through the draft, building a team somewhat in the Thunder mold. 
When you take that approach, it begins to limit specific "needs" on a team, because you have players at positions and have to present them the opportunity to grow, which means they have to actually play. Logjamming positions is how you stunt the growth of your young players. 
Outside of a little added depth -- something every team really needs -- the Cavs had one glaring hole to fill: small forward. Statistically, the Cavs small forwards last season combined as one of the least productive positions in the league. Alonzo Gee started all 82 games at the 3 last season, averaging 10.3 points with an anemic PER of 10.6. They also used Omri Casspi and Luke Walton for minutes at the position and the results were, you guessed it, not great. 
Everywhere else, the Cavs are kind of set, assuming the players at those positions progress. Point guard is covered. Shooting guard might be covered. Power forward is covered. And center, with a healthy Anderson Varejao, is covered.
Again, depth needs were something to be addressed like a backup point guard for Irving, a bench scorer, another big with Varejao (who is always hurt) and a shooter. But again, this is a rebuilding team, not a contender, so getting carried away with specific needs when the larger focus is the long-term vision wasn't extremely necessary.  
The Draft
All hail Nick Gilbert. The kid did it again. 
For a second time in three seasons, the basketball gods continued to pay pennance to Cleveland for The Decision as the Cavs landed the No. 1 overall pick. Unfortunately for them this time around, there wasn't a Kyrie Irving in it. No sure thing No. 1 guy, no locked superstar. 
So the Cavs, with a lot of youth and a lot of their needs covered were put in a difficult position. Do you address the obvious position of need -- small forward -- but by doing so select a player that's probably not worthy of the No. 1 overall pick? Or just go with the best available, most talented guy and hope to fit him in? 
The Cavs shopped the pick to move back -- the sensible move -- but the asking price was far too high. For instance, they talked with the Thunder and wanted Jeremy Lamb, Serge Ibaka and OKC's lottery pick. That's a whole lot to want for a No. 1 pick in a weak draft. 
The Cavs ended up doing what we knew they'd do and kept the pick. But the blandness stopped there. With the No. 1 pick, the Cavs didn't go with Nerlens Noel or Victor Oladipo or even Otto Porter Jr., the apparent top small forward. 
David Stern called Anthony Bennett's name first. A shock to everyone, including Bennett. 
What the Cavs took was a combo forward, a player with impressive size and strength that should be able to contribute immediately. Will he play more small forward or power forward? That's to be seen.
The Cavs also took Sergey Karasev with the 19th pick, a 6-7 Russian guard/forward with high offensive ability, and Carrick Felix with the 33rd pick, a shooting guard from Arizona State.
Free agency and trades
With a heap of cap space, the Cavs were set to be serious players in free agency. The question was if they'd use it to try and lure one big name, or a couple mid-level sized deals. 
They went big, and risky. With a two-year, $24 million deal the Cavs signed Andrew Bynum, but only guaranteed $6 million of it. It's an iffy move considering Bynum's injury history, but also somewhat safe because of the guaranteed dollars. And remember: Bynum is just 25 years old. He's dealt with a number of knee surgeries and is damaged goods having sat out all of last season. But if healthy, he's one of the most dominant seven-footers in the game. 
What it means, though, is that the Cavs at center have Bynum and Varejao, two players plagued by injury. Bynum still may not be ready for the beginning of the season (surprise!), and Varejao seems to be a ticking timebomb with injuries. 
To address immediately the small forward issue, the Cavs didn't sign a small forward. They signed a stretch 4 that they're going to hope can play small forward. With a two-year, $9 million deal the Cavs bring in Earl Clark who spent last season with the Lakers getting jerked around on Mike D'Antoni's bench. He's a lengthy 6-9 combo forward that can shoot the ball, defend and rebound. The question is, can he defend other 3s? 
The best move the Cavs made though? A four-year, $25 million deal for Jarrett Jack. There's now security behind Irving, as well as a point guard that has ample experience being a sixth man and playing alongside another point guard. Jack has immediately made the Cavs bench decent and provides Mike Brown with options. 
Overall grade and accomplishments: B
This is clearly an important season for the Cavs. This is Year Four of post-LeBron, and there hasn't been much sign of tangible progress. There are some good young players in place and Irving appears to be a superstar building block. But as for actual winning, the Cavs haven't done much of it. 
So some of that patience for Dan Gilbert probably wore off. Instead of just leaving the future to his young players, his front office made some splashes. Bynum may or may not work out, but $25 million for Jack is a substantial commitment. 
But with the Eastern Conference's back end a little watered down, the Cavs have a very real opportunity to be a playoff team. They have two main questions: 1) health and 2) development. Can Irving, Varejao and Bynum all stay on the court for most of the season? And will Waiters, Tristan Thompson and Anthony Bennett take steps forward? 
The Cavs are trying to blend a little of that internal development model with trying to win now, and the reason for it likely is because of Irving. It's clear the Cavs have a cornerstone and you can't be wasting years with a player like that. Irving is too good to be winning just 20 or 25 games annually. 
Did the Cavs make the most of their offseason? Sort of. Trading down made more sense than taking Bennett No. 1, but they probably got the player they wanted anyway. Signing Bynum is risky, but sensible. Adding Jack helps, Clark's signing is OK and hiring Mike Brown seems smart. It was a better-than-average offseason for Cleveland. They just didn't really answer any questions; they only asked themselves more. 
Wiggins is in the final season of his rookie deal and will be a restricted free agent in 2...

Brandon Jennings will not start off next season in the NBA

A look at the effects you might not immediately think about when you look at stars changing...
20 teams have reportedly inquired about Irving's availability, with six already making off...

A year after his own high-profile franchise switch, Kevin Durant chimes in on Kyrie Irving

Miami is on Irving's list, but this package still wouldn't be enough to get a deal done