2013 Offseason Report: Detroit Pistons
The Detroit Pistons added a new coach and a couple of inefficient high volume shooters in Josh Smith and Brandon Jennings. Will the wins come?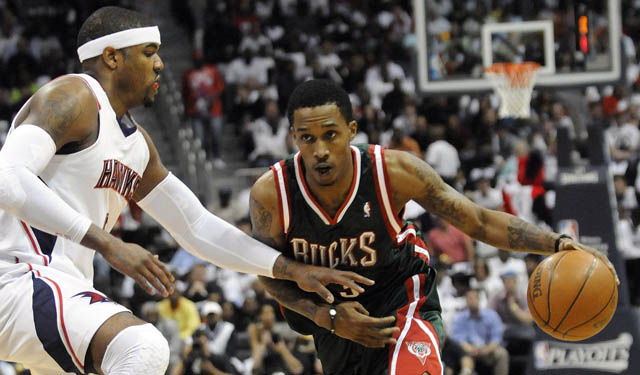 Over the next month, CBSSports.com's Eye On Basketball will take a team-by-team look at 2013 NBA offseason. We continue with the Eastern Conference hopefuls, the Detroit Pistons . Check out the rest of the offseason reports here.
How they finished 2013
How do you jumpstart progress?
For a few years now, the Detroit Pistons have been trying to get things back to the way they were. Just 10 years ago, the team was one Rasheed Wallace trade away from bringing rookie center Darko Milicic a championship ring. They pulled through on that accomplishment. The next year, they were a Chauncey Billups 3-point attempt that was blocked by Bruce Bowen away from making the final minute of Game 7 against the San Antonio Spurs a real nail-biter. From that year on, they steadily declined as the Eastern Conference started producing more and more challengers to their Eastern throne.
Joe Dumars hasn't handled the retooling and then rebuilding of the Detroit Pistons all that well. He had desperate free agent signings with Ben Gordon and Charlie Villanueva . He kept veterans like Richard Hamilton and Tayshaun Prince around long after needing to overhaul the roster. And over the past four seasons, the Pistons have been spinning their wheels in mediocrity with 27, 30, 25, and 29 wins, respectively.
The 2012-13 season was exciting for the Pistons, but ultimately they had a bunch of highlights (some good, some bad) and zero progression as a franchise. Andre Drummond was spectacular at times during his rookie campaign, but he had a back injury and a lack of trust from Lawrence Frank that limited his time on the court (just 60 games and 1,243 minutes). Greg Monroe had an incredibly productive year with 16.0 points, 9.5 rebounds, and 3.5 assists per game, but it seemed impossible for him to lead such a poorly constructed roster to victories.
Of their three guards that received time all season long, Will Bynum was far better than  Rodney Stuckey and Brandon Knight . It wasn't until Jose Calderon came to the team in midseason that the backcourt had any real outside shooting capabilities. The team struggled to score, struggled to defend, turned the ball over a ton, and couldn't dominate the defensive boards the same way they attacked the offensive boards.
Offseason needs
The Pistons need a direction. They have a foundation of two talented big men to take them into the future, but they need complementary wing players who could maximize the talents of both Drummond and Monroe. Stuckey and Knight haven't progressed enough in their brief time with the Pistons and with Calderon as a free agent, an upgrade in the backcourt seemed necessary. The Pistons also fired Lawrence Frank after posting a record of 54-94 in his two seasons coaching the team.
The draft
Detroit had the No. 8 pick, the No. 37 pick, and the No. 56 pick in the draft and actually received good value with each selection. With the eighth pick, the Pistons grabbed Kentavious Caldwell-Pope out of Georgia. The athletic, sweet-shooting guard was pretty much the lone bright spot on a horrendous college team. While he got to show off a lot of skills, having to do everything each game brought down his efficiency.
In the second round, the Pistons grabbed Tony Mitchell out of North Texas State and Peyton Siva out of Louisville. Mitchell gives them an incredible athlete at the forward position and Siva gives the team an option off the bench at point guard. Neither are spectacular players, but they could both become rotation players in the next couple of seasons.
Free agency and trades
The Pistons were incredibly active, but we just don't know how it all works. In theory, it should be great, right? They went out and signed Josh Smith to a four-year deal worth $54 million. They traded Brandon Knight, Khris Middleton , and Slava Kravstov for a newly signed Brandon Jennings (four years, $32 million). They signed 25-year old Italian forward Luigi Datome to give them some depth on the wing. They re-signed Will Bynum. They even brought back Chauncey Billups on a two-year deal (second year is a team option). These sound like moves that will put the Pistons back in the playoffs, right?
That's the tricky thing to figure out. With a few tanking teams inhabiting the Eastern Conference, the final two playoff spots in the East look to be completely up for grabs. The Heat, Bulls, Pacers, Nets, Knicks, and Hawks should all be locks. That leaves the Cavaliers, Wizards, Raptors, Pistons, and Bucks (let's just add them for now) in the hunt for the seventh and eighth seeds. This should be gettable for the Pistons based on pure talent throughout their roster, but it's not always that easy to link together.
Linking them together will be the job of their new coach Maurice Cheeks, who takes over for the fired Lawrence Frank. He has a career record of 284-286 with three playoff appearances in eight seasons and zero appearances in the second round.
Overall grade and accomplishments: B
Trying to figure out how this team is going to fit together could be a dizzying feat. The last two years, Josh Smith has had a true shooting percentage of 49.9 percent and 50.1 percent, respectively. Those are two horrendous shooting years from a combo forward that should be dominating exclusively in the post and at the rim. Instead, he settles for jumpers he can't hit. With Jennings, he's been a point guard chucking up bad shots and not finishing layups for about four seasons now, but he claims he was put in that situation by the schemes of the Bucks. He has a career true shooting percentage of 49.8 percent in four seasons. 
Are they willing to change their games in order to better fit with the combination of Monroe and Drummond? Will Detroit Lob City actually come to fruition with Jennings becoming much more of a distributor and directing Drummond and Smith to move toward the basket so they can touch the rafters before coming down for the dunk?
I think it's easy to mock the Pistons for the lack of shot selection they've acquired in their two most expensive players (I know I've mocked it a lot), but Joe Dumars is swinging for the fences again and hoping whatever culture he feels he's rebuilding in Detroit will find a way to influence the itchy trigger fingers of Smith and Jennings to be more selective. If the Pistons can get everything to come together, this team is far too talented to miss the playoffs.
However, if the Pistons aren't able to get Jennings and Smith to fit together and galvanize a young core that needs direction, we'll basically have the same effect with the Pistons we saw in 2008 when they signed Villanueva and Gordon to big contracts. And they'll once again wonder how to jumpstart their progress.
Trump rescinded Curry's invitation to the White House after Curry said he wasn't interested...

Silver said he was hoping Warriors would get chance to share their views directly with the...

Along with the Thunder, those were the three teams most involved in the Anthony trade talk...
LeBron said he was frustrated by the President's recent actions

A look at the various actors and elements in the latest sensational blockbuster trade in the...

Blockbuster deal doesn't change the Thunder's projected finish in the West