2013 Offseason Report: Los Angeles Lakers
Over the next month, CBSSports.com's Eye On Basketball will take a team-by-team look at the 2013 NBA offseason. Next up: the Los Angeles Lakers.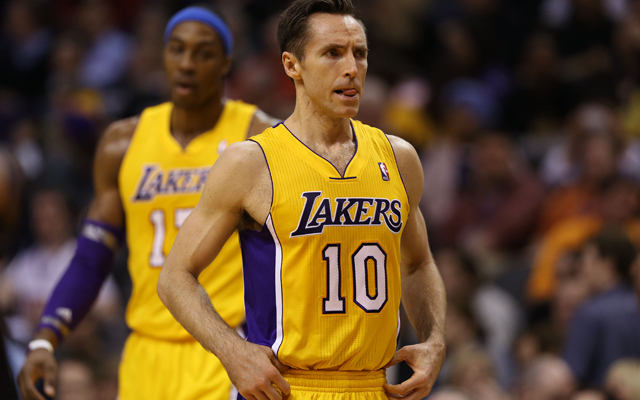 Over the next month, CBSSports.com's Eye On Basketball crew will take a team-by-team look at the 2013 NBA offseason. Next up: the Los Angeles Lakers. You can find our Offseason Reports here.
How they finished 2013
Last season. Um. Last season ...
If you were to summarize the 2012-13 campaign for the Lakers, you could go with "welp," you could go with "disaster," you could go with "nightmare," or if you're one of those non-Laker-inclined folks, you could go with "hilarious."
Any way you shake it out, the Lakers were a team essentially crowned in July, but then they lost their opener to the Mavericks, lost Steve Nash one game later and started slipping deeper and deeper into a hole. There was always the promise they'd figure it all out and put together a 15-game winning streak, but it became more and more obvious as the season went that a simple fact was true and our first impressions were correct: the Lakers just weren't very good. 
Still, they eked a way into the postseason, but they were walking dead at that point. They thought they could wipe the regular-season slate clean and just focus on winning four out of seven with that crazy talented roster. But with Kobe Bryant blowing out his Achilles a week before the playoffs began, the Lakers series against the Spurs was a mere formality. Four games later, the Lakers were done, and the focus was squarely on how to keep Dwight Howard. 
Needs entering the offseason
For the Lakers, that's kind of a funny question. Their needs entering the offseason were many, from bench depth to a new small forward, to a better philosophy, to better health, to youth and athleticism. 
But really, they just needed Dwight Howard back. 
Everything started there, everything centered around that. Get Howard back, lock him up for the long term and begin the transition of passing the torch from Kobe to Howard. Any offseason transaction the Lakers were to make was going to come after the chase for Howard. Everything was shaped there, and when he chose the Rockets, it wasn't on to Plan B. It was more like on to Plan F. 
The draft
Know when the Lakers last used a first round draft pick? 2007. They selected Javaris Crittenton 19th overall. 
This season they had one selection, the 48th overall pick and they used it to take Ryan Kelly from Duke. And really, at that spot in the second round, it's not a bad value pick. Kelly is a stretch 4 with a really nice perimeter touch and the potential to actually find a place in Mike D'Antoni's offensive system. 
In terms of immediate impact, nah. But to get that kind of value at that spot and actually have a player that may be useful, the Lakers did pretty well it seems. 
Free agency and trades
When Dwight Howard chose the Rockets, it was all over for the Lakers. Their plan, their hope, their current situation were all detonated. It was on to their disaster recovery plan, one that included veteran minimum contracts and the promise and dream of the summer of 2014. 
The Lakers 2013-14 season seems to be dead on arrival. General manager Mitch Kupchak did what he could to save it by inking Jordan Farmar on a one-year deal, Nick Young to a vet minimum contract, Chris Kaman to a cheap deal, summer league standout Elias Harris to a small contract and amnestied Metta World Peace to save some money. 
But with so much money committed to Kobe Bryant, Pau Gasol and Steve Nash, there really wasn't much room to do anything. When Howard left, the season became mostly a wash and it was then about positioning for the future while still trying to remain competitive as possible by filling out the team with veterans on the cheap. In that regard, well done. 
Overall grade and accomplishments: D+
I already gave them an F for free agency, but in terms of an overall offseason with an eye to the future, I feel comfortable bumping that to a D+. Again, Kupchak did what he could to salvage an otherwise disastrous summer. Getting a few solid players on short, cheap deal made a ton of sense and opens the door for a blockbuster summer in 2014. 
The Lakers only have two players under contract for next season (Steve Nash and Robert Sacre), or three if you include Nick Young's $1.2 million player option which I doubt he'll use. So basically, the Lakers have only $10 million committed to next year's team, which means they'll be serious, serious players in a free agency market that could include LeBron James, Chris Bosh, Carmelo Anthony and Dwyane Wade. 
So again, it was a salvage job by Kupchak, and really, he did a tremendous job of that. He put together a team as cheaply as possible after losing Howard, and while the Lakers are a likely fringe playoff team in the West, they could restore the glory in just one year.
Jackson is reportedly unable to make the trip from Montana

The Rockets are on fire, and my money is on Durant to join LeBron and Harden in the MVP ra...

Then-Lakers owner Jerry Buss eventually shot down the idea
Bryant will have both No. 8 and No. 24 raised to the Staples Center rafters on Monday

The Lakers will be retiring Kobe Bryant's No. 8 and No. 24 jerseys at halftime

The Nuggets will look for their second-straight win with Nikola Jokic back in the lineup