2013 Offseason Report: Memphis Grizzlies
Was letting Lionel Hollins go the right decision? Did Memphis improve their bench? Can anyone shoot? All these questions and more.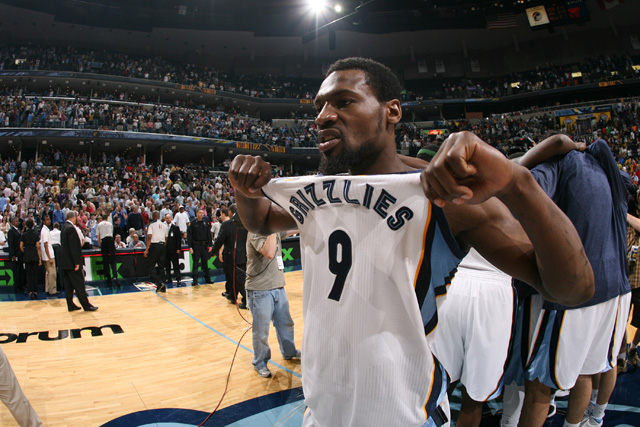 Over the next month, CBSSports.com's Eye On Basketball will take a team-by-team look at the 2013 NBA offseason. We continue with the Western Conference runners-up, the Memphis Grizzlies .
How they finished 2013
Best. Season. Ever.
No, really, it was the best Memphis Grizzlies season ever. They flew out to the best start in franchise history, won the most games in franchise history, and advanced past the second round for the first time before being swept by the San Antonio Spurs in the Western Conference Finals.
For a brief moment, when Russell Westbrook went down, Memphis sensed an opening, an opportunity to seize their own fate and make an improbable title run. Alas, they learned the power of established glory when the Spurs manhandled them defensively after a dominant season on that end of the floor, and victimized the Grizzlies' inability to hit, oh, what are those things called? Ah, that's right.
Jump shots.
Still, it was a huge step forward for the franchise, moving past the seemingly endless mediocrity that had plagued them for their first 15 seasons, which yielded only three seasons over .500 before 2011.
Marc Gasol was cemented as a star after winning league Defensive Player of the Year, Mike Conley stepped into the spotlight as a top 10 point guard, and Zach Randolph showed he can still rebound from injury to produce.
Somewhere in there they traded Rudy Gay , kick-starting a firestorm that really was unnecessary as Gay is a quality player who did not fit the team's needs, offense or market limitations on payroll.
Offseason needs
After new owner Robert Pera took over the team and brought aboard forward thinking executives Jason Levien, Stu Lash and John Hollinger, there began to be rumblings about the status of coach Lionel Hollins, operating on a lame duck contract.
Hollins was in the midst of coaching the team its best season and through a three-year run that had seen Memphis finally buy into the team behind the "Grit Grind" ideals that Hollins preached in practice if not name.
(Hollins thought the whole "Grit Grind" thing was stupid, but the players liked it, so whatever.)
After the team made the Western Conference Finals, it was assumed Hollins would be retained. You don't just let a guy walk after he makes the Western Conference Finals in Memphis, right?
Right?
Yeah, they let him go. So they needed a head coach.
They faced Tony Allen entering unrestricted free agency, and needed to badly upgrade their bench, and find someone, anyone who could spread the floor. A backup center would be nice so Gasol doesn't die of exhaustion.
Eventually, the team stunned the NBA and promoted assistant Dave Joerger, letting Hollins walk. That set off a firestorm of controversy in Memphis as people argued, divided over Hollins' approach vs. his accomplishments. It's a major gamble by the Memphis braintrust, only months after trading Gay.
Was hiring Joerger to replace Hollins the right move? That's a complicated question. 
As for letting Hollins walk, it's not the worst thing. New management always wants to feel like it has "their" guys in the front office. After Hollins trashed the Gay trade and questioned the use of analytics weeks after the hiring of Hollinger, even if it wasn't Hatfields and McCoys (everyone seemed perfectly friendly during the Western Conference Finals, for example), it made for an awkward fit. Hollins understandably wanted to run his team his way, the Grizzlies had other priorities. Can you commit to a high-money, multiyear extension for a leader who doesn't agree with your overall vision or approach? 
As for promoting Joerger, it seemed to garner nothing but positive responses around the league, save a few rumblings about the team's discipline remaining intact. The truth is that we don't know what kind of coach Joerger will be, only that at some level, his hiring is both a continuation of the previous success and a subtle shift towards the priorities of the new regime. 
The Draft
After trading away the 26th pick to Houston to get Shane Battier for half a season and get rid of Hasheem Thabeet , the Grizzlies picked Jamaal Franklin with at No. 41 overall. Franklin joins a long list of guards taken in the back half of the draft who have traditionally struggled to remain with the team and get floor time.
Franklin has the range to provide depth at shooting guard, something Memphis badly needs, but it remains to be seen whether he'll be given any playing time behind Allen and Jerryd Bayless (at combo guard).
The Grizzlies picked up Janis Timma with the 60th pick. Yeah,  don't go buying that jersey just yet.
Free agency and trades
Memphis didn't rush to re-sign Allen on a very reasonable four-year deal, but they also didn't let him slip away, re-signing him for four years at an average of $5 million per. The back end of his deal likely will be a hindrance, so he could eventually wind up as a candidate for the stretch provision, but for right now, he's the heart and soul of the team on a deal under $6 million per season.
The "big" signing of the Memphis offseason didn't come until later in the summer, after the Heat used their amnesty provision on Mike Miller . Miller danced with the Thunder, among other teams, but eventually wound up signing with the Grizzlies, returning "home" in what is likely the end of the career. The deal works for all sides, as Miller stays with a team in contention for a title, and the Grizzlies finally get someone to stretch the floor.
Should the Grizzlies get only limited regular-season production, if Miller's able to contribute during the playoffs as he did with Miami, it's a win for the Grizzlies. It brings back a player popular with the franchise and the fans, and lets Miller shoot for however longer he wants to continue his career.
Memphis worked out a trade to acquire Nick Calathes from the Mavericks to work as backup point guard. They needed a backup point guard with pure point capabilities and Calathes is a good fit and only 24. It was a sneaky good signing for the Grizz.
Maybe the most underrated move of the summer for Memphis happened early, when the Grizzlies traded Darrell Arthur to the Nuggets for Kosta Koufos , giving Denver the ability to focus on JaVale McGee . Koufos was a plus/minus monster for the Nuggets last season and instantly becomes the best backup center Memphis has had in years.
The signing is huge on multiple levels. The Grizzlies basically were entering each game praying that Gasol would stay out of foul trouble, and when he suffered a torn abdomen late in the season, he basically came back early and played through it. Koufos will give Gasol the rest he needs and can play suitably next to Randolph or promising young forward Ed Davis . He's a zero offensively, but can score on tip-ins and hit the occassional hook.
Finally, Memphis re-signed Jon Leuer to a multiyear deal. This seems like a nothing move, but Leuer legitimately shows promise at being a skilled stretch 4, and is a hard worker. Expect him to get more time next season behind Ed Davis as the third forward if the team looks to get Zach Randolph some needed rest.
Overall grade and accomplishments: B
Memphis didn't sign a knock-down, standout shooter, taking into consideration Miller's injury history and age. They didn't beef up their small forward rotation, and Calathes is still a gamble, given the translation from Euroball to the NBA.
But they did sign Miller for almost nothing, and if he does manage to have a good year physically, that will make a huge difference. They brought back Allen, which was as big for the fan impact as the on-court impact (Allen is a top-three perimeter defender in the league, maybe the best).
The Grizzlies beefed up their bench down low to give their star frontcourt a break and added some intriguing young talent to the backcourt.
Last year may have been lightning in a bottle for the Grizzlies because of Westbrook's injury, their own health, their series of matchups and momentum they carried. But there's little to indicate that Memphis didn't solve significant problems facing them in the offseason, and did so without losing much long-term flexibility.
The new leadership in Memphis have their own vision, and have taken smart steps to realize that vision. Whether this change in course works out better than the sustained success of the past three years ... well, that's the most interesting question for the Grizzlies headed into the 2013-2014 season.
T.J. Warren gets paid big money by the Suns in a four-year deal

Melo didn't hold back on his feelings about President Donald Trump and urges for help in Puerto...

The Wizards star says the NFL won't change until important players like Brady and Rodgers speak...
Popovich spoke at length about sports, race, culture, and politics during Spurs media day on...

Carmelo Anthony finds the idea of coming off the bench very funny

Several teams spoke about Trump's recent comments about protests and the Warriors' White House...