2013 Offseason Report: Orlando Magic
The Orlando Magic are young, and trying to rebuild. What kind of steps forward did they take in that process this summer?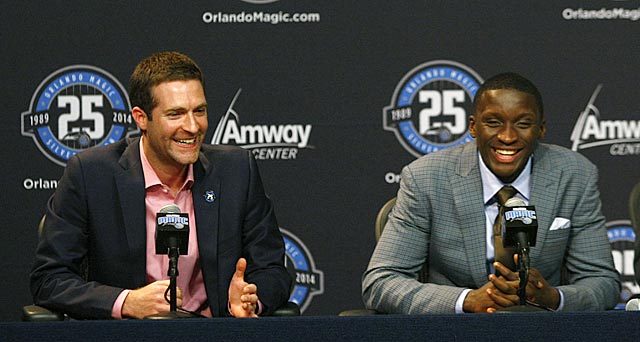 Over the next month, CBSSports.com's Eye On Basketball will take a team-by-team look at 2013 NBA offseason. We continue with the Eastern Conference hopefuls, the Orlando Magic. Check out the rest of the offseason reports here.
How they finished 2013
Not great. Can I just say that and move on? 
The Magic actually started the season 12-14 and appeared to be acclimating well to losing Dwight Howard. But almost as if they collectively realized, "Oh crap, we're winning too much," the Magic went on to play the final 56 games at 8-48. 
That's eight wins, and 48 losses. Which probably accomplished their goal as they finished 20-62 overall, which was the worst record in basketball. 
That was good enough to land them the No. 2 pick in the draft, though. Good job, good effort?
Offseason needs
The Magic are like a kid that just graduated college and got his enty-level job in his career. He's moving into his own apartment and while he has furniture and dishes and stuff, he needs furniture and dishes and stuff. He's got a few pieces here and there, hand-me-downs that turned out to be gems (Tobias Harris, Nikola Vucevic, Moe Harkless), but mostly he's trying to fill it out and become a real adult. 
So when it came to needs for the offseason, you could say the Magic needed a whole lot. But those needs are going to be filled on a case-by-case basis, one at a time when the budget allows it.
This is a young team that's counting on roster development as well as future assets to pan out. They have a bunch if mismatched furniture pieces, some with a lot of potential to work with nicer things. But they're going to have to grow up a little first to start really moving up. 
The draft
The Magic bought a fancy piece, though, in No. 2 overall pick Victor Oladipo, a potential franchise building-block player. 
But they also did a lot of talking before the draft. Maybe it was just posturing, but according to a number of reports, the No. 2 overall pick was very available. They settled on staying put and taking Oladipo, which appears to be a wise decision, considering how poised and talented he looked during Summer League. 
There's been talk of playing him as a point guard, which would be outside his natural position, but with a need there and Arron Afflalo already at shooting guard, it could make some sense. Plus, general manager Rob Hennigan came from Oklahoma City, a place where they took an athletic college combo guard and turned him into a point guard. 
The Magic also selected Romero Osby from the University of Oklahoma at No. 51 overall, and while there's a chance he spends this season overseas or in the D-League, he has the looks of a potential diamond in the rough. He was extremely good in Summer League, and with a crazy workhorse motor and a little room to grow offensively, Osby could turn into a very quality role player. 
Free agency and trades
Two moves for the Magic in free agency: 1) signed Jason Maxiell and 2) signed Ronnie Price. 
In other words, basically nothing happened. 
I will say the addition of Maxiell means a little something because he's a veteran big man that can play behind Vucevic and Harris and help teach them some physicality and provide a quality bench piece as things progress. Price is a third point guard, and insurance as a backup if Jameer Nelson is on the block or the Oladipo point guard experiment crashes and burns. 
Overall grade and accomplishments: B+
It's hard to really judge a team like the Magic for their offseason. They have a plan, and they're trying to stick to it. Hennigan has been tasked with rebuilding post-Dwight, and within that, he has to find new franchise pieces, acquire assets and look to create flexibility. 
Here's why I love their quiet, yet effective offseason: I think they got the best player in the draft. Oladipo could be the star from this draft, the player that's a household name in four years that's about to lock down a max extension. He's got all the tools, the work ethic, the motor, the mental makeup, the athleticism, the room to grow. He reminds me so much of Russell Westbrook when he was coming out of UCLA. A physical freak known for his defense that just had to get his offense to catch up. 
The rest of what Orlando did was quiet, but that's because Hennigan needs to see what he has. Harris showed strong signs last season, Vucevic could be a quality starting center and Harkless progressed nicely. But it's hard to know if those young players are actually going to turn into the pieces you build your roster around. With a youthful core, you've got to play things slow a bit, while relying on your internal development process. 
The Magic could spend, but that's not the plan right now. They're trying to move on to through the post-Dwight era, and to do that, they can't rush the process. 
Markieff Morris was already in line to miss the start of camp due to a pending assault cas...

The 76ers should hopefully get a lot of play out of their young guys this season

Okafor's been on and off the trade block for over a year and doesn't seem to be in Philly's...
Fisher is the fourth NBA player to compete for the Mirror Ball trophy on the show

Barkley commends the NBA, sarcastically, for extending the season and reducing back-to-back...

Enes Kanter isn't seeing much comedy in the Kevin Durant social media situation