2013 Offseason Report: Philadelphia 76ers
Tank-a-tank-a-tank. The Sixers are starting over after trading Jrue Holiday for Nerlens Noel and a pick and other moves.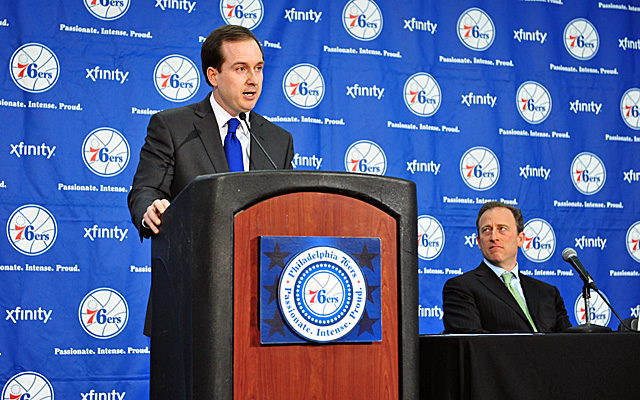 Over the next month, CBSSports.com's Eye On Basketball will take a team-by-team look at the 201213 NBA offseason. We continue with the gigantic tank engine, the Philadelphia 76ers.
How they finished 2013
Chernobyl. New Coke. "Jersey Girl." "Mission Accomplished."
Sometimes, good ideas just don't work out.
The Sixers had gambled everything on Andrew Bynum. They traded their best player, Andre Iguodala, took on salary, moved picks, everything. It was a desperate swing for a home run, to try and kickstart a revival. It was bold. It was admirable.
It turned out to be incredibly wrong, though they had no way of knowing it at the time.
Bynum never played. The team sunk to mediocrity, never really falling away completely but knowing they had no shot. Jrue Holiday was a bright spot, becoming a terrific two-way player. But other than that, the year was a disaster. And it wasn't a disaster in a "Oh, hey, it all fell apart and we got a good draft pick and know we're starting over." They were just "not good." Which is the worst place you can be.
It would have been easy going into the offseason to just stand pat. Keep Doug Collins in charge. Make another run with Holiday and Thaddeus Young, try and add some talent, keep going. That's what most of us expected, even as there were rumors that Collins was on the way out.
Collins left the job, and eventually Sam Hinkie of the Rockets was hired. And things got a little nuts.
Needs entering the offseason
To give up, to surrender, to accept the cold hand of nihilism wrapping its hands around their necks and squeezing the life out of their 2014 season so that they can start anew. Slash and burn. They needed to find a way to start over. They needed to get Andrew Wiggins (or Jabari Parker or Julius Randle or Marcus Smart or ...)
They needed to tank.
The Draft
And what better way to kick that off than by trading your All-Star point guard for a center coming off major knee surgery with no distinguishable skillset beyond his raw upside and a future pick in the loaded draft next year?
Ta-da!
The Sixers moved Jrue Holiday for Nerlens Noel and a top-three protected 2014 pick. If the Pelicans manage to be good-not-great, the Sixers are going to have two great picks in the top 15 of what is considered right now to be the best draft class since 2003.
They also picked up Michael Carter-Williams with their own pick. There are a lot of questions about Williams but he does bring exceptional athleticism. His problems are all things that have to be developed. Perfect for a team trying to lose as many games as possible. Let him shoot that bricked-out jumper to decency. What else are you doing?
Free Agency and Trades
Outside of the Jrue Holiday trade, they acquired Royce White from Houston, since what you really want to win games is a guy who fought all season with his team over his mental health medical treatment and travel schedule. They also picked up James Anderson and Tim Ohlbrecht from the Rockets, two Hinkie guys.
They let Andrew Bynum, Charles Jenkins, Dorell Wright, and Nick Young walk in free agency. They signed absolutely no one else. It took them until August to hire a coach, Brett Brown from the Spurs. They couldn't possibly have tanked any harder.
Overall grade and accomplishments: A/F depending on how you look at it.
They got considerably worse. They got amazingly worse. Kwame Brown could see serious minutes this season. It's going to be a disaster of the worst order and it's honestly a waste of every player with more than three years' experience to even show up.
It's genuinely impressive how bad this team will be. How much they committed to the tank effort. They didn't even hire a coach! They didn't even get sign and trades for their guys! They just bailed! It's amazing, truly.
The only criticism I have is that Thaddeus Young is still on the team. They have to trade that poor guy so he doesn't go crazy. Someone, please, go save Thaddeus Young.
The Sixers are going to be horrible, and that's the only way they're going to be great.
Warriors' forward doesn't understand the reasoning behind the all-too-common double technical...

Hardaway Jr. gave a 'safe' call like he was an umpire in baseball

Barnes hits the trey with less than a second left to lift Mavericks to dramatic 95-94 vict...
Kevin Durant was once again back in Oklahoma City

Gregg Popovich has never seen an injury lead to the issues that Kawhi Leonard has been fac...

Kobe Bryant, of course, had his 81-point game against Rose and the Raptors back in 2006