2013 Offseason Report: Portland Trail Blazers
Reviewing the offseason for the Portland Trail Blazers and how they turned the worst bench into a strength pushing them toward the playoffs.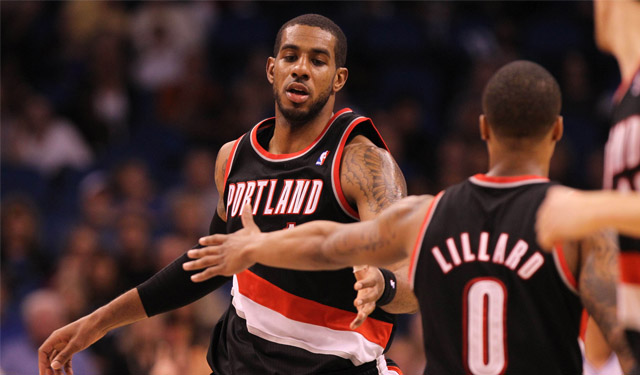 Over the next month, CBSSports.com's Eye On Basketball will take a team-by-team look at the 2012-13 NBA offseason. We continue with the Portland Trail Blazers .
How they finished 2013
I don't want to call what the Trail Blazers did at the end of 2012-13 tanking because I can't be sure they were trying to position themselves for a weak draft class. However, when you end the season on a 13-game losing streak after hovering around .500, then it's hard to know exactly what happened. The Blazers' losses during this stretch came by a margin of 14.2 points. Only three of those games were by single digits.
It sullied a pretty solid season by a group of starters that received zero help from an incredibly thin bench. The only time they received much help at all from the second unit was in the second half of the season after trading for Eric Maynor . Maynor provided valuable relief off the bench for about 21 minutes a night, but he was the only consistency they seemed to have.
Rookie of the Year Damian Lillard dazzled fans and media members all over the league with his strong play, often stealing the show on many nights. His ability to break players down and score, along with very solid facilitating skills, made him a must-see. LaMarcus Aldridge vowed to rebound more and he delivered with career highs in rebound average (9.1) and rebounding rate (14.0 percent). Nicolas Batum gave them solid play from all over the floor and J.J. Hickson went out and got his numbers while playing out of position and providing very little defense. Wes Matthews missed 13 games, but was a great threat behind the 3-point line.
The starters were good and the bench was atrocious. This was the story of the 2012-13 season for the Blazers.
Needs entering the offseason
A bench. A center. A center and a bench. The Portland Trail Blazers didn't have anything resembling either last season.
It may read like I'm trying to hammer home this point about how bad their bench was. That's because I am. It was that bad. According to HoopStats.com, the Blazers' bench was the least used and the lowest-scoring bench unit in the league. Stretched out over a rate of 48 minutes per game, they scored the fewest points in the league at 13.4. Only the Indiana Pacers (39.3 percent) had a worse shooting bench than the Blazers (39.9 percent). The Blazers had the worst 3-point shooting bench (29.8 percent) in the NBA. They also had the fewest free throw attempts per 48 minutes (2.7) and the second lowest free throw percentage (68.8 percent).
They had a better chance of Clyde Drexler and Kevin Duckworth coming out of retirement to help them most nights than they did getting Sasha Pavlovic, Nolan Smith , Luke Babbitt ,  Victor Claver , Meyers Leonard , and Will Barton to contribute something consistently.
While Hickson's raw numbers of 12.7 points per game and 10.4 rebounds per game look really nice, he was a big negative on the court for them. They weren't good when he was off the court (-2.6 points per 100 possessions) but when he was in the game, they were outscored by 5.3 points per 100 possessions. The Blazers asked him to play out of position at center and he's already a poor team defender. But his job was to plug a hole for them in the lineup as they were patient to fill it in the offseason and in turn, he got to hunt for his numbers and a new shiny contract elsewhere. 
It was a win-win for both sides, except in the win column. The Blazers needed to address the hole at center this offseason with Meyers Leonard still very much a project.
The draft
With the 10th pick in the 2013 draft, the Blazers selected C.J. McCollum, which makes things pretty interesting in their rotation. In many ways, McCollum mirrors what Lillard did in college. He played in a lesser conference than most top prospects do, he stayed four years at Lehigh, and he looked like an incredible scorer. McCollum is an undersized shooting guard in the NBA and it's unclear just how much he'll be able to run a team as a point guard.
However, he can put the ball in the hoop and that's why you go after someone like him. You can get away with small lineups a lot more in today's NBA than in the past, so running McCollum and Lillard together in the future could be a disaster defensively on the perimeter but it also could be a much bigger headache for the opponent on the other end of the floor. And if you play solid team defense behind those guys, the defensive deficiencies probably won't matter anyway. Adding a talent like McCollum was a nice find for them at 10 as it adds some much-needed punch to their bench.
The Blazers also grabbed Allen Crabbe out of Cal-Berkeley. Crabbe was taken 31st in the draft by the Cleveland Cavaliers and traded to Portland for a couple of future second round picks. Crabbe's an interesting prospect because he has a solid 3-point shot and a lot of length that could make him a rangy defender on the perimeter. He's still probably quite some time away from contributing to the rotation, but it's hard to find better value at 31 than him in this draft.
Free agency and trades
Neil Olshey took an egregiously bad bench and turned it into a strength without really doing too much. That's what is so impressive about the way they've transformed this bench in roughly a month. Olshey just made small moves here and there to end up with a second unit that could make a lot of teams jealous.
They started by trading two European prospects (Kostas Papanikolau, Mirko Todorovic) along with two second round picks to the Houston Rockets for Thomas Robinson . Robinson was the fifth pick in the 2012 draft and was expendable for the Rockets as they chased the cap room necessary to sign Dwight Howard . Olshey was opportunistic in grabbing a young forward who can come in right away without high expectations and prove to the Sacramento Kings that they shouldn't have given up on him so early into his rookie year.
Then Olshey signed Dorrell Wright as a backup small forward on the team. Just three seasons ago, Wright led the NBA in 3-pointers made for the Warriors. Olshey then squeezed his way into a three-team deal with the Kings and Pelicans as they tried to get Tyreke Evans to Louisiana in a sign-and-trade. Portland gave up second round picks, cash, and the draft rights to second round pick Jeff Withey to bring in  Robin Lopez and Terrel Harris .
After that, Olshey signed Earl Watson and Mo Williams to provide depth in the backcourt, which should allow Damian Lillard to pace himself throughout the season.
Overall grade and accomplishments: A
This was a team that was taxed by the end of the season and I think that's ultimately the reason we such a swoon by the time we got to late March. This year, assuming everybody is relatively healthy, the Blazers could really run 10-deep with a rotation of Lillard, Wesley Matthews , Nicolas Batum, LaMarcus Aldridge, and Robin Lopez as the starting unit with Mo Williams, McCollum, Wright, Thomas Robinson and Meyers Leonard in the second unit.
As the Western Conference has become more and more loaded, the Blazers haven't just sat there twiddling their thumbs and hoping to strike it rich with a big name. They drafted intelligently and positioned themselves via trades as the third team in one deal and as the beneficiary of preying on a team in desperate need of unloading a young, talented player in order to grab cap space.
Olshey looks like he went to the Daryl Morey school of asset acquisition and in the process, he didn't panic to trade Aldridge when there were rumors of his unhappiness and he just plugged away to fill out a roster that complements a solid core of starters.
It's hard to find a team that used the offseason as wisely as the Blazers and because of it, we may see a surge toward the playoffs at the end of the 2013-14 season instead of them petering out.
Irving has requested a trade away from the Cavaliers

The Lakers made a strong push for Rose, but he would have been a backup in Los Angeles

The small forward spent last season with the Sacramento Kings
Knight still has three years left on his five-year, $70 million contract

The Golden State forward is accused of assault, battery and making misleading statements

The Nets get their shooter a year later, and the Blazers reportedly will waive Nicholson