2013 Offseason Report: San Antonio Spurs
Over the next month, CBSSports.com's Eye On Basketball will take a team-by-team look at the 2012-13 NBA offseason. We continue with the San Antonio Spurs.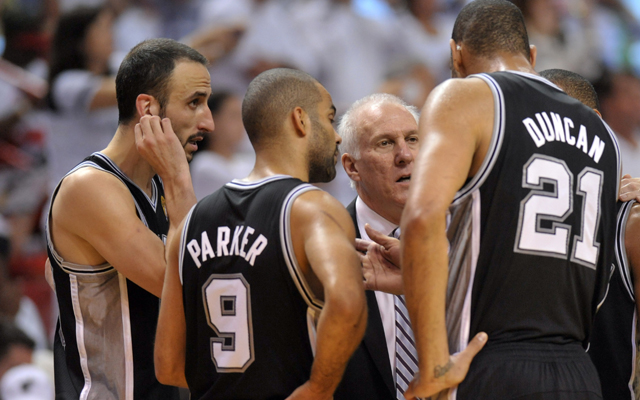 Over the next month, CBSSports.com's Eye On Basketball will take a team-by-team look at the 2012-13 NBA offseason. We continue with the San Antonio Spurs.
How they finished 2013
I still can't believe they lost Game 6. Can you believe they lost Game 6? I can't believe it.
Look at the Spurs' season in a vacuum and it's quite an achievement. Everyone knows their title window will eventually close, but they piled up another 58 wins, they ripped through the Western Conference playoffs and they made another Finals appearance, losing in seven games to one of the greatest teams ever. 
That's not bad.
But knowing how close they were, how they had it completely within their grasp, how they were within seconds of lifting another banner -- that just colors it all completely different. 
I don't even really know what happened in Game 7, because I was just sitting there the whole time thinking, "I can't believe this game is even happening." But I do know the Spurs still had a good chance and had Tim Duncan been able to put down that little bunny in the lane over Shane Battier with a minute left, who knows, maybe Game 6 is remembered only as an isolated great game. 
Instead, one has to wonder if the Spurs missed their best last chance to win it all one more time. Then again, every time we write off the Spurs, they just keep coming. 
Needs entering the offseason
With a few free agents, but Tony Parker and Tim Duncan covered, the Spurs needed to fill out the roster and take care of a few things before looking to the outside. When you break down the San Antonio roster, it's really hard to find a clear weakness that needs addressing. They do everything so very well, and they have their bases almost entirely covered. 
Their depth has always been sensational, their balance almost perfect. If anything, maybe a little more youth and athleticism to make the transition easier in the future, but mostly, the Spurs just needed to piece together and cover the areas that they're so good at handling. More bench scoring, more shooting, more depth. 
The draft
Picking 28th in the first round, the Spurs selected Livio Jean-Charles, a 6-9 French small forward from France with a bunch of upside and talent. At 19, he's a project, but the Spurs have had as much success as any franchise in history with international players, especially French ones. 
The Spurs also used the 58th overall pick on a swingman, Deshaun Thomas from Ohio State. The left-handed small forward is a quality shooter and was a very solid college player, but questions about athleticism and shot selection had him fall significantly in the draft. 
You'd assume Thomas won't be much of an impact player for the Spurs, but then again, this is the Spurs. They make their living off turning second round picks into gold, so with Thomas, don't be surprised if in three years people are following his name with, "Where do the Spurs find these guys?"
Free agency and trades
It all started with Tiago Splitter and Manu Ginobili. With Splitter being a sought-after restricted free agent and Ginobili kicking around the idea of retirement, the Spurs had to resolve those two things before anything happened. 
And it didn't take long. Ginobili signed on for two more years at $7 million per taking him through 2015 with Duncan and Parker. Splitter signed for four years for a total of $36 million. 
The number for Splitter felt big, but remember, the market for serviceable big men is always inflated and Splitter may be a key piece to San Antonio's future. 
The other moves they made was signing Marco Belinelli to a two-year, $6 million deal, something made to replace Gary Neal who eventually signed with the Bucks a few weeks later, and bringing in big man Jeff Pendergraph for some depth after DeJuan Blair took off for Dallas.  
Overall grade and accomplishments: B+
What the Spurs have is trust. They've accomplished so much and done things so well that no matter what, we all trust that they're making good moves. And while Splitter seems like he got too much money and Ginobili at $14 million feels like a lot, especially with how washed up he looked at times during the Finals, the Spurs have equity with us. They've rarely been wrong, so they get the benefit of the doubt. 
And really, if you look at it, the Spurs have set themselves up tremendously. When 2015 rolls around -- two seasons from now -- they will only have Splitter under contract, and Kawhi Leonard, assuming they give him an extension (they will). The Spurs will have enough cap space to completely restructure the roster right then and there, and quite possibly limit the amount of time it takes to rebuild from the Duncan era. 
The Spurs are looking at these next two seasons as their last shots with the current Big 3 core, then they'll move on to restructuring around Leonard, Splitter and Parker, with Duncan likely as a role player, unless he retires, plus cap space to add more. The Spurs have handled their current situation, while still maintaining flexibility in the future. 
Also: The move to sign Belinelli may be their underrated deal of the offseason because that's another capable scorer on an already capable bench. Belinelli hasn't been a very good shooter in terms of percentages in his career, but get him in a Spurs uniform and he's destined to shoot 45 percent from 3 next season. Especially with losing Neal, Belinelli stablizes an already quality bench and adds a bit more versatility to it. Neal was a tremendous scorer at times, but he was also a bit of a of a loose cannon, firing shots any time he saw fit. Belinelli may fit a little better. 
With the situation the Spurs are in, with their stars aging and the window slowly, slightly closing a little more, there's not much for them to do. They've just tried to restock, retool and look toward maybe getting a change to wash Game 6 out of their lives. Because really, that might be the toughest thing they deal with this offseason -- reliving those final 30 seconds over and over and over again. 
McCollum hurled a clever insult at the French forward

Hosts Bill Reiter and Reid Forgrave are joined by Blazers guard CJ McCollum

Check back throughout the night for the latest updates from Monday's NBA games
Garnett has worked with Maker and says he is reminded of himself

It might be a good time to place a bet on the Boston Celtics

SportsLine's Mike McClure, a DFS pro with more than $1M in winnings, gives optimal lineup...