2014-15 NBA schedule: The 10 biggest games
We tell you when LeBron's going to Miami, Kevin Love's going to Minnesota and more.
• 3 min read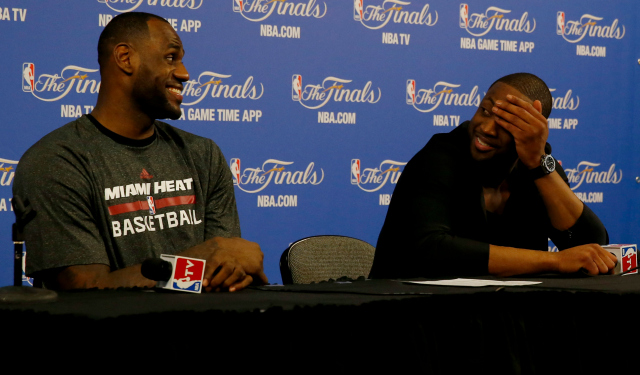 2014-15 NBA Schedules: Team-by-team | Day-by-day | National TV games 

The NBA schedule has been released, so let's look at the biggest games. You know, the games that you could see being introduced with a completely over-the-top video. The revenge games, the ones with all the narratives, the ones you mark on your calendar. There's a lot of Cleveland here, obviously. 
Cleveland @ Chicago, Oct. 31, 8 p.m. ET, ESPN
The NBA gave us a nice treat this Halloween: a potential Eastern Conference Finals preview. Most observers think these are the top two teams in the East, and at the beginning of the season they'll still be trying to implement all the new pieces. Fun fact: Derrick Rose played against LeBron James' Heat on opening night last year, and he scored just 12 points on 4-for-15 shooting. Rose is focused on having a stronger start this time. 
San Antonio @ Cleveland, Nov. 19, 7 p.m. ET, ESPN
Three weeks in, just how good will these Cavs be? Will the Spurs have picked up where they left off last season? Everyone will want to see LeBron and company take on the champs, and it'll be a good challenge for David Blatt's team to see how they stack up. It'll also be great when Gregg Popovich and Tim Duncan talk about how this is just another game on the schedule. If you were wondering, this isn't a part of a back-to-back, so Pop shouldn't be resting anybody.
Dallas @ Houston, Nov. 22, 8 p.m. ET
Chandler Parsons makes his return to the city where he made a bit less than $2.7 million over three years to develop into one of the league's best all-around small forwards. There's probably less bad blood on either side than there appeared to be from all of the back-and-forth in the media this summer, but you can still be sure Parsons will try to prove a point against the team that let him walk. A lot is expected of the Mavericks after their huge offseason, and people might be underestimating the Rockets because things didn't work out the way they hoped.
Milwaukee @ Minnesota, Nov. 26, 8 p.m. ET
Jabari Parker and Andrew Wiggins have been linked since they were in high school, and that'll continue throughout their NBA careers. It's been a while since we've had a draft class of this magnitude, and honestly you'd have to go back to LeBron James and Carmelo Anthony to find two guys who play the same position (yeah, maybe Parker is a power forward, we'll see) come into the league with a ready-made rivalry like this. There's no animosity between the top two picks, but there will certainly be hype about their first matchup on this level.
Cleveland @ Oklahoma City, Dec. 11, 8 p.m. ET, TNT
The best player in the world against the MVP. Do I really need to explain this one?
Oklahoma City @ San Antonio, Dec. 25, 2:30 p.m. ET, ABC
The Thunder will be looking for revenge after losing in the Western Conference Finals, and it's a Christmas Day game so the whole world will be watching. These were the consensus best teams in the West last year, and nothing has changed on that front.  
Cleveland @ Miami, Dec. 25, 5 p.m. ET, , ABC
Another one that doesn't need much by way of explanation. LeBron's going back to Miami, and the reaction of the fans and his ex-teammates will be more of a storyline than how either team is coming together. That stuff should sure be interesting, too, though.
Chicago @ LA Lakers, Dec. 25, 8 p.m. ET, TNT
The NBA did pretty well with the Christmas schedule, hey? Pau Gasol returns to face his former team with a strong cast of characters on his side, and honestly the Lakers shouldn't stand a chance. I'm already excited to hear what Kobe Bryant, the most vocal Gasol supporter in LA over the years, will have to say about his former teammate leading up to this.
Cleveland @ LA Lakers, Jan. 15, 10:30 p.m. ET, TNT
We haven't had a Kobe vs. LeBron game since February 10, 2013. Kind of nuts, right? The Lakers might be heading nowhere fast, but that's why this one's on national TV. Who knows how many times they'll go head-to-head while Bryant is still playing at a high level? By the way, uh, here's hoping in January he is indeed playing at a high level. 
Cleveland @ Minnesota, Jan. 31, 8 p.m. ET
It's already been established that Minnesotans are too nice to burn Kevin Love's jersey. Still, his return to Minnesota is notable. He likely won't receive a warm welcome, and it'll also be fascinating to see how Wiggins handles going up against the team that drafted and traded him after publicly stating that wasn't the plan. 
Rodman's agent says he is urging the ex-NBA star to check into rehab

The players and referees are working to fix a relationship that has recently been deterior...

The locker room heist is going to lead to plenty of fines and maybe some suspensions from the...
Larry Hartstein has his finger on the pulse of Boston basketball and locked in a pick for...

The always consistent Spurs take on the rebuilding Lakers in a national TV contest.

The lack of urgency from the front office has some players doubting their chances of reaching...