2014-2015 NBA schedule to be released Wednesday 6 p.m. ET
The NBA will announce its schedule Wednesday, but some marquee matchups are starting to make their way out.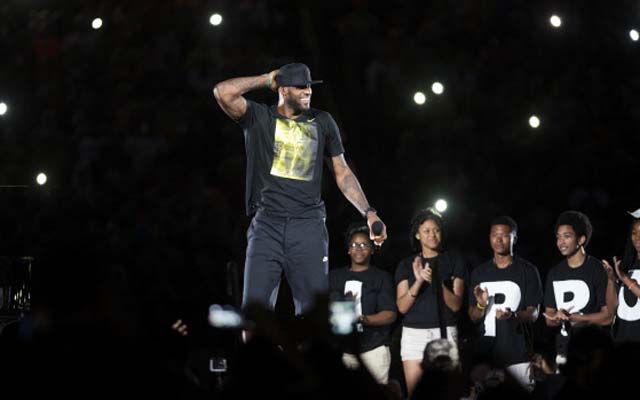 Offseason: Free Agency | Latest from Ken Berger | Rumors
Some of the NBA scheduling tidbits are starting to trickle out, with the big news that the schedule will be released Wednesday, August 12 at 6 p.m. ET on NBATV. 
• The New York Daily News reports the Knicks will open vs. Chicago, face Milwaukee in London, and take on Washington on Christmas. 
• The LA Times reported last week that the Clippers and Warriors will play on Christmas. That's likely the late game of the quintuple-header, as it was last year. Cavaliers-Heat is all but confirmed from multiple sources for a Christmas spot, so those two, plus Knicks-Wizards and a reported Lakers-Bulls game leaves just one other game, likely the late afternoon game following the prime time matchup. 
• Chris Vernon of Memphis radio fame reports the Grizzlies will open October 29th at home vs. the Timberwolves in what is likely Andrew Wiggins' debut, and that Memphis will face Dallas in their annual marquee MLK Day game. 
• There are rumors floating that the opening night national TV double-header will feature the Cavaliers and Spurs, but there is some discrepancy in whether the game is set to be in Cleveland or San Antonio. Meanwhile, ESPN reports that instead the Mavericks will face he Spurs on opening night. The late game is expected to feature the Houston Rockets at the Los Angeles Clippers. 
We'll have continuing coverage of the NBA schedule release Wednesday.
Lonzo doesn't want to throw away money for a tech, which isn't a great look for the rookie

Davis left the Pelicans' game against the Nuggets in the third quarter

Popovich was upset about an out of bounds call
Wall went 3-for-12 from the field, and had just eight points in the Wizards' loss

Noah was reinstated from his 20-game suspension on Monday, but is yet to play for the Knic...

In his first season with the Cavs, Rose has not played since Nov. 7