2014 All-Star Game starters voting released with latest update
The NBA released the current standings of the 2014 All-Star starters voting. Find out who the current starters would be.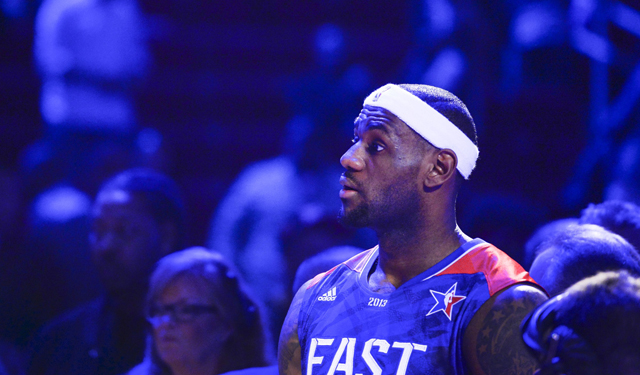 The NBA released the latest results of the 2014 NBA All-Star Game voting. The way the system is designed now, it's broken down into groups of backcourt players and frontcourt players. The top two vote-getters in the backcourt groups for each conference would be named the starting guards and the top three vote-getters in the frontcourt would round out the starting lineup. 
Once again, LeBron James of the Miami Heat is the leading vote-getter in the NBA overall and he'd probably be playing center for the East if the current frontcourt voting stays consistent. James, Paul George from the Indiana Pacers, and Carmelo Anthony from the New York Knicks are your top three frontcourt vote-getters in the East. They'd be joined by Dwyane Wade of the Heat and Kyrie Irving of the Cleveland Cavaliers. 
Their counterparts in the Western Conference would be Kobe Bryant of the Los Angeles Lakers, Chris Paul of the Los Angeles Clippers, Kevin Durant of the Oklahoma City Thunder, Blake Griffin of the Clippers, and Dwight Howard of the Houston Rockets. None of the voting is all that close to expect a significant change in the results between now and when the starters are named outside of the third frontcourt spot in the West.
Kevin Love of the Minnesota Timberwolves is roughly 21,000 votes behind Griffin. Next closest change would be Stephen Curry of the Golden State Warriors being roughly 52,000 votes behind Paul in the West. Voting ends January 20 and the starters will be announced on January 23.
Here are the top 10 vote-getters for each conference at each position:
Position
Western Conference
Eastern Conference
Backcourt

1. Kobe Bryant, Lakers: 723,031
2. Chris Paul, Clippers: 533,647
3. Stephen Curry, Warriors: 481,698
4. Jeremy Lin, Rockets 358,725
5. James Harden, Rockets: 270,476
6. Russell Westbrook, Thunder: 216,070
7. Tony Parker, Spurs 158,329
8. Damian Lillard, Blazers 105,880
9. Ricky Rubio, Wolves 81,829
10. Steve Nash, Lakers 81,377

1. Dwyane Wade, Miami: 565,455
2. Kyrie Irving, Cleveland: 524,000
3. Derrick Rose, Chicago: 299,950
4. John Wall, Washington: 210,988
5. Ray Allen, Miami: 143,714
6. Rajon Rondo, Boston: 111,335
7. Deron Williams, Brooklyn: 74,047
8. George Hill, Indiana: 66,030
9. Lance Stephenson, Indiana: 50,444
10. DeMar DeRozan, Toronto: 48,744

Frontcourt

1. Kevin Durant, Thunder: 850,728
2. Dwight Howard, Houston: 408,623
3. Blake Griffin, Clippers: 399,357
4. Kevin Love, Wolves: 377,941
5. Tim Duncan, Spurs: 312,809
6. LaMarcus Aldridge, Portland: 282,613
7. Anthony Davis, Pelicans: 188,589
8. Pau Gasol, Lakers: 177,883
9. Andre Iguodala, Warriors: 145,089
10. Dirk Nowitzki, Dallas: 126,025

1. LeBron James, Miami: 854,105
2. Paul George, Indiana: 712,808
3. Carmelo Anthony, New York 580,795
4. Roy Hibbert, Indiana 304,829
5. Chris Bosh, Miami 222,861
6. Kevin Garnett, Brooklyn 137,520
7. Joakim Noah, Chicago 101,308
8. Andre Drummond, Detroit 91,132
9. Jeff Green, Boston 78,693
10. Tyson Chandler, New York 77,496
The Ball brothers better put their heads down and focus on basketball, according to Billy...

Paul George returns to Indiana for the first time since his trade to the Thunder

Also, LeBron James' historic season continues, while Kevin Durant reminds us who he is
The Rockets are looking for 11 in a row

Indiana hasn't hosted the NBA's star-studded event since 1985

Is the hype fair, or are these three men really above their peers as the NBA's best sideline...