2014 Las Vegas Summer League: What to watch on Day 1
Taking a look at the match-ups from Las Vegas Summer League for Friday, July 11 and whom you should pay attention to.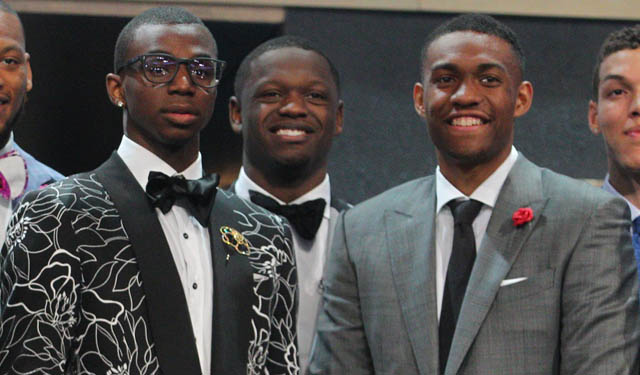 More Offseason Analysis: Coaching changes, news | Free Agency | Draft
The 2014 Las Vegas Summer League kicks off Friday afternoon as top rookies, undrafted free agents, and young NBA players try to prove their skill on the basketball courts inside Cox Pavilion and the Thomas & Mack Center at the University of Nevada Las Vegas. After such a star-studded draft just a couple weeks ago, the rookies get to start proving themselves against players trying to make the NBA and trying to show their coaches they deserve more minutes and usage after their short time in the league.
We have an action-packed six games on Day 1 of Las Vegas Summer League, including the marquee match-up of the first few days to really kick things off. Let's take a look at the teams playing today and the story lines those teams carry with them into the heat of Las Vegas. 
4 p.m. ET - New York Knicks vs. Dallas Mavericks
The Phil Jackson- Derek Fisher era begins in New York! Fisher will coach this Knicks' summer roster that is actually loaded with talent. Newly acquired Shane Larkin will get to do something he didn't have a chance to do last year, which is play in summer league. He broke his ankle before the Mavs left for Vegas and missed all of the action. He'll team up with guard  Tim Hardaway Jr. , who is coming off a promising rookie season in a storm of Knicks chaos, and second round pick Cleanthony Early, who had first round talent but was one of the casualties of a very deep draft. Thanasis Antetokounmpo is also a second round pick that found his way to the Knicks and will try to show his brother Giannis isn't the only one with talent in the family. Jeremy Tyler,  Cole Aldrich , and the return of Shannon Brown, who is trying to prove to the Knicks he's worth keeping around.
The Dallas Mavericks will show the Knicks' summer roster a ghost of Vegas past with Chris Smith , J.R. Smith 's brother and former Knick, on the squad. He'll be accompanied by Ricky Ledo , who proved to be a lot of fun in last year's games, and Gal Mekel , another guy who impressed some scouts and fans during the Vegas games. C.J. Fair out of Syracuse and Jackie Carmichael, who played with the Indiana Pacers ' summer team in Orlando as well, should provide some fun highlights and a lot of energy on the floor. The Mavs' squad also features two bruising big men in Bernard James and the return of Ivan Johnson. For those who don't quite remember Johnson, he was banned in the Korean Basketball League for giving the middle finger to a referee. He then came over to the Atlanta Hawks and was one of the more intimidating role players in the league. After abusing Kevin Love in a 2012 game, Johnson didn't seem impressed with himself by his big game. He told reporters he doesn't watch basketball so he doesn't know who anybody is. People will know who Ivan Johnson is after watching him.
6 p.m. ET - Toronto Raptors vs. Los Angeles Lakers
This Raptors summer team is absolutely filled with players who could make names for themselves. Scott Machado is a former summer league standout, earning himself a contract after being undrafted in 2012. Dwight Buycks went undrafted in 2011, but earned himself a contract with the Raptors after a great summer league showing in both Orlando and Vegas.  Doron Lamb , Malcolm Lee, and Hassan Whiteside will all be looking to prove to NBA teams they deserve a roster spot next season. John Shurna was a shooting standout in summer league last year but needs to prove he can do other things. DeAndre Daniels is a second round pick of the Raptors out of UCONN and he'll look to show his strong tournament showing in college wasn't the only reason he was drafted. The Raptors also have Lucas Nogueira, freshly acquired from the Hawks and the big man with the fun hair who was all over the place in Vegas summer league last year.
But the man of the two weeks for Toronto might be Bruno Caboclo. The "Brazilian Kevin Durant " is an actual unknown among NBA fans, but that didn't stop him from getting picked with the 20th selection in the 2014 draft. Masai Ujiri took a big risk drafting him so high when nobody else seemed to project him as a first round guy. This is the type of pick that could add to the legend of Masai's powers as an executive or it could be a big miss on a key draft pick for him. We'll all get to know his game quite a bit to see if the faith in him is justified.
Fans and pundits will also get to see just how key to the Lakers' success Julius Randle can be. We'll get our first glimpse of him in an NBA environment soon. He's not going to play right away because the Lakers haven't signed with him yet as they await their free agency fate (delaying signing him gives them a brief boost in cap room), but he is expected to play at some point. The rest of the team should be fun. The Lakers' squad is loaded with guard play, thanks to the inclusion of Kendall Marshall, Jordan Clarkson, DeAndre Kane, and the return of Rodrigue Beaubois. LaQuinton Ross went undrafted, but could provide some fun scoring as he proves he can make a team. Trevor Mbakwe is an imposing athlete at the forward position but he's already 25 years old.
8 p.m. ET - Cleveland Cavaliers vs. Milwaukee Bucks
No offense to Anthony Bennett (who didn't get to play last year), Carrick Felix (who made a name for himself with solid play here a year ago), Matthew Dellavedova , and second round pick Joe Harris. No offense to Giannis Antetokounmpo , Nate Wolters , second round pick Johnny O'Bryant, and the comeback attempt of JaJuan Johnson. Nobody cares about you guys today, unless you make an incredible play that shuts the building down. All of the attention will be on the match-up of the No. 1 pick in the draft Andrew Wiggins going against the No. 2 pick in the draft Jabari Parker. The hype was started last year when these two were the most talked about prospects in college basketball.
We'll get to see them square off on the first day, but with the news of LeBron James returning to Cleveland, you have to wonder if this is one of the only times we may see Wiggins in a Cavs' uniform of any kind. The rumors about the Cavs trading for Kevin Love are already starting and it's assumed the Wolves would demand Wiggins be included in any trade for their superstar. For now, we get to see the athletic freak try to prove he can play as well now as the polished scorer in Jabari Parker. Parker will try to dazzle the crowd with his scoring touch and prove he can be just as explosive as any other exciting rookie. We just have to find out if the LeBron signing takes this match-up away from us or not.
8:30 p.m. ET - Golden State Warriors vs. Charlotte Hornets
There's a smattering of NBA talent on this Warriors' summer roster, but it's nothing like we saw last year in Vegas when they won the entire tournament format. Nemanja Nedovic is their first round pick from a year ago and he'll be out there with Ognjen Kuzmic and Orlando Johnson as the NBA talent on this roster. James Michael McAdoo's stock took a huge dip at North Carolina, but he can start proving he's an NBA big man. Aaron Craft and Travis Bader could be interesting. Both players played in Orlando summer league this past week, with Bader's shooting and Craft's pesky defense showing some promise. These guys have to be much more than that to keep earning chances at roster spots in the NBA.
The Hornets' (hey that name sounds familiar!) roster is going to be fun if you like big men. No. 9 pick Noah Vonleh will join Cody Zeller to try to dominate the summer paint. Vonleh has a very interesting inside-out game similar to the style of Chris Bosh (just the style, not the talent) and it's always fascinating to watch big men in these guard-dominated environments. P.J. Hairston will get to show his talent after swapping cars with Josh Gordon and spending a season in the D-League. The other guy to watch is Jordan Bachynski out of Arizona State. He's a legitimate center but he needs to prove he's quick enough to be effective.
10 p.m. ET - Sacramento Kings vs. San Antonio Spurs
UNLEASH THE STAUSKAS! Nik Stauskas gets to show Kings fans why he was selected with the eighth pick when he starts launching pure 3-point shot after pure 3-point shot. He's joined by former No. 2 pick Derrick Williams , still trying to find a foothold in the NBA to unleash his talent. Ben McLemore and Ray McCallum return to the Kings' summer roster and will be backed up by MarShon Brooks and Jared Cunningham , both trying to show they belong. Josh Owens has been a successful D-League player as well. Quincy Acy is on the team as well. There are also two intriguing long shots. Nick Wiggins, the older brother of Andrew Wiggins, is on the team, as is 7'5", 360lbs. Sim Bhullar out of New Mexico State. We're going to need a bigger bench.
The 30th pick -- and my steal -- of the 2014 draft is Kyle Anderson. He'll headline the Spurs' summer squad along with Jeff Ayres and Austin Daye . Those two NBA champions will be asked to lead a Spurs' roster that includes former Lakers' guard Darius Morris and former summer league scorer Vander Blue, who shined at times during last summer in Vegas. Marcus Denmon and Deshaun Thomas are also former summer league guys who could really make a name for themselves with another strong showing. 
10:30 p.m. ET - D-League Select vs. New Orleans Pelicans
Josh Akognon, Devin Ebanks, and Tony Mitchell are going to be your most notable D-League Select players on this roster. The D-League Select team did a fantastic job of competing last year and could have a very similar showing this year. They don't have a lot of size outside of Travis Hyman, but the backcourt is boosted by Matt Bouldin and Terrel Harris, formerly of the  Miami Heat . 
Remember Josh Howard? He's on the Pelicans' summer league roster trying to receive the annual Rasual Butler award for veteran trying to stick around. Previous winner was Rasual Butler for about the last six years. Howard will lead a team with Patric Young, Jeff Withey , and Russ Smith. There are some legitimate NBA players on this squad. It also has Luke Babbitt of  Portland Trail Blazers fame. He once got a Sixth Man of the Year award vote, now he's going to be the outside threat for the Pelicans' attack. Samardo Samuels is also on the team, looking to find his way back into the NBA. 
The Blazers guard was a guest on the Sirius XM radio show 'Sway in the Morning'

L.A. reached a three-year jersey ad patch deal with Wish, a San Francisco-based e-commerce...

John Paxson doesn't intend to buy Wade out without some sort of compromise from the 3-time...
Lonzo's signature shoes have a sleek, all-black design and will be available in November

Durant recently apologized for tweets criticizing the Thunder and Billy Donovan

Jackson says he has 'no respect' for Durant after KD created fake Twitter pages