2014 Las Vegas Summer League: What to watch on Day 3
Taking a look at the match-ups from Las Vegas Summer League for Sunday, July 13 and whom you should pay attention to.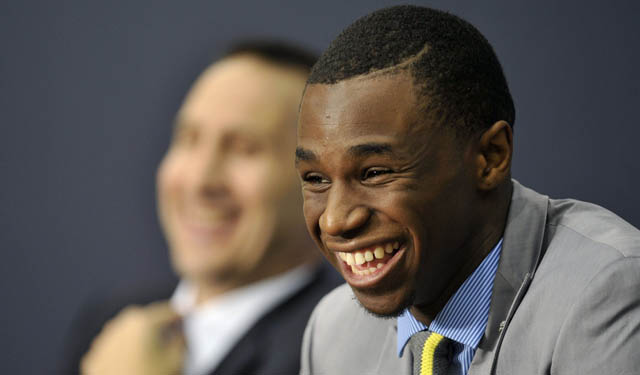 More Offseason Analysis: Coaching changes, news | Free Agency | Draft
We've now been introduced to almost everybody participating in Las Vegas Summer League and the two days have shown us we're in for a very good week-plus. The first day saw the highly anticipated match-up between the top two picks. Andrew Wiggins and Jabari Parker displayed a great set of skills and amped up the excitement with their play. The second day saw an unknown Australian kid rule the crowd and the energy in the building, even on plays that didn't end up working.
Dante Exum capped off a fun second day of LVSL with a modest 10 points and three assists, but poise on the court was electrifying What do we have in story for Day 3? Wiggins is back to dazzle us, the young players of the Kings are looking to have a big impact, Noah Vonleh is hoping to atone for a hideous first game, we'll get to see if Gary Harris is this scoring machine, and if Jabari Parker is ready to dominate in his second outing. Let's take a look at the players and stories to watch on Day 3:
4 p.m. ET - Cleveland Cavaliers vs. San Antonio Spurs
The Andrew Wiggins show continues with the Cavaliers tipping off the first game of the day. He had 18 points on 18 shots in the first game and was just 1-of-8 from 3-point range. He looked comfortable coming off curl screens and with his step-back jumper, but the spot-up jumpers wouldn't fall for him. It'll be interesting to see if he keeps trying to establish his jumper as a weapon in an environment that lets him try stuff without much consequence, other than perhaps a bad box score. Or will we see the athleticism that overwhelmed players at times on the first day?
Kyle Anderson is still the main story for the Spurs. He showed a very solid overall game in his first LVSL game. Six points don't blow you away, but six assists and four rebounds show you the type of stat-stuffing he can effortlessly do. It will be curious to see if he tries to be much of a scorer during his time or does his game the Spurs' indoctrination coupled with his natural game just make him a Spurs-type role player even in this environment. 
4:30 p.m. ET - Los Angeles Lakers vs. New Orleans Pelicans
Unless the Lakers get him under a contract before tip-off, it's doubtful Julius Randle will make his summer league debut today. But the second round pick the Lakers acquired on draft night, Jordan Clarkson, is a fun one to get to know. He had 21 points in his first summer league game, shot the ball extremely well, and was a pretty good playmaker. This is the type of playing environment he can dominate because he's so good with the ball in his hands. Kevin Murphy had a nice debut with the Lakers' summer team as well with 16 points. Considering even Ryan Kelly is on the roster, Murphy working his way to a roster spot or training camp invite can't be that improbable.
For the Pelicans, watch Russ Smith. He dominated in his first game with an impressive line of 20 points, nine rebounds, and five assists. He shot well, he was overwhelming on the court, and he found ways to contribute no matter who was on the court with him. Josh Howard had a nice game, which he should considering his experience, age, and pedigree, but his attempt to revive his career after tearing his ACL during the 2012-13 season. How much does he try to dominate and how much does he try to fit in as a good teammate to prove still belongs?
6 p.m. ET - Sacramento Kings vs. Charlotte Hornets
When will Derrick Williams put it together? Will Derrick Williams ever put it together? After watching him in his first game, the consensus on him is a little sad. He just doesn't look like he can differentiate his game or establish himself as a special player in this league. He's not the shooter people hoped he was in college. He's not capable of overwhelming players with his unreal athleticism. And his tweener status on both ends of the court seem to confuse him. On the bright side, Nik Stauskas is fun but he only took one 3-point shot in his first game. Let it fly. Also, let's put Sim Bhullar out there (reminder DeMarcus Cousins is a gigantic human being):
@talkhoops Sim called... pic.twitter.com/aaUfRd5Mty

— Jason Wise (@Jason_Wise) July 12, 2014
Noah Vonleh and P.J. Hairston were a mess in their first game. Summer league redemption happens today when Vonleh tries to make up for his 0-of-13 scoreless night and P.J. Hairston tries to be more accurate than 2-of-16 from the field. It should be a little easier to score against this Kings team because it's not exactly full of defenders. Vonleh should be able to establish his presence with Cody Zeller taking attention, and Hairston can get crazy hot from outside when he's in rhythm. The "Struggle Watch" ends today.
6:30 p.m. ET - Atlanta Hawks vs. D-League Select
This Hawks team was brutal in their first game but we got an extended look at Walter Tavares, who could end up being the best center in his draft class (granted, it's very early and a lot depends on the health of Joel Embiid). Tavares is impossibly big as a human being. He has pretty soft hands, but the coordination isn't quite there yet for catching passes. He had a very soft touch around the rim and was pretty good on the offensive boards in his time on the floor. He doesn't jump when trying to block shots because he's big enough not to. Could help big time with verticality later in his career, but he has to learn how to be vertical. He fouled a lot. 
Devin Ebanks, formerly of Lakers' fame, is trying to get back into the NBA and he was really solid in his first game of the summer. He had 15 points and 13 rebounds in his first game and looks to be the most comfortable, if not best, player on the roster for the D-League. Showing he can knock down shots, defend the perimeter, show effort on the boards, and make the extra pass will endear him to executives looking for an end of the roster steal.
8 p.m. ET - Chicago Bulls vs. Denver Nuggets
Doug McDermott didn't have a spectacular debut. He struggled to get space for his jumper and didn't shoot the ball well. It's not a huge concern he couldn't create the necessary space to let that feathery jumper fly with accuracy, but he's a scorer who needs to score to have a big impact. He did manage to rack up a few assists -- four to be exact -- which was a nice surprise to his game. He was never a big passer in college but that could give him a much-needed extra dimension to his game. Also, Tony Snell shot the ball extremely well. It's just one game but he looked really comfortable shooting.
Gary Harris: Scoring machine. He had 33 points in the first game, including 13 in the first quarter. He shot the ball well inside the arc, outside the arc, and he filled it up at the free throw line. He committed a lot of fouls, but that's fine for a guard in this environment. Another feather in the cap of Denver could be the play of Quincy Miller. He just hasn't been able to put it together, but he looked confident in the way he played. The big thing for Q was getting to the free throw line as much as he did. He got there for 11 attempts and when he's absorbing contact and still playing confidently, he can be an impact player. 
8:30 p.m. ET - Portland Trail Blazers vs. Houston Rockets
C.J. McCollum scored a lot of points but he struggled mightily from the field. Shot just 4-of-11 from the field, 1-of-4 from three, and 7-of-13 from the charity stripe. Thomas Robinson on the other hand looked as active as ever, and aside from an embarrassing missed reverse dunk attempt, he had a very good game. The turnovers in summer league are still a problem for him as he tries to be too much of a playmaker, but 19 points and seven rebounds while making 70 percent of his shots gives him the necessary confidence to keep having an impact.
The Isaiah Canaan show is legitimate. He can shoot the lights out and his control of the game in this environment provides a little bit of needed structure. He had 18 points and four assists, while knocking down threes. Four turnovers weren't great but you want him being an aggressive playmaker to open up space for his shooting. Maarty Leunen also did a nice job of hitting shots and getting loose from the defense. This team will let it fly so they should be very fun to watch in each game.
10 p.m. ET - Milwaukee Bucks vs. Phoenix Suns
The Jabari Parker show continues, as well. Parker struggled to get space when attacking against help defenders, but even when it was a crowded lane, his stellar footwork allowed him to remain balanced. Parker's strength and footwork will allow him to get good shots off even in tight spaces. I'd like to see him post up a bit more and maybe even be a ball handler in some pick-and-rolls to let his game breathe. His running mate Giannis Antetokounmpo was a big time playmaker as well. He blocked shots, made passes, knocked down threes, and he looks much bigger than last season.
If there were any questions about T.J. Warren as a scorer, they were 1) stupid and 2) answered in his summer league debut. He had 22 relatively effortless points while shooting the ball well, finishing around the hoop, and getting out in transition. Tyler Ennis made some nice plays, especially with floaters in the lane. Archie Goodwin continued his great summer league play from last year. Bad news though is Alex Len is out of the rest of the summer league with a broken finger.
10:30 p.m. ET - Washington Wizards vs. Minnesota Timberwolves
The duo of Otto Porter and Glen Rice Jr. was incredible. They combined for 47 of the 90 points the Wizards scored. We know Rice can fill it up from outside, but the comfort and poise Porter had in taking his jumper was a very encouraging sign for the Wizards' third pick last year. For Porter, he needs to use his length to create space on his jumper and he moved really well without the ball. Daniel Orton threw a couple of superb passes inside, but mostly looked out of shape. He doesn't look like an NBA player physically, but the skills look pretty solid if he can get into shape.
Flip Saunders wants Shabazz Muhammad to lose 15 lbs. but he at least knew how to use that extra weight in his first summer league game. He dominated the offensive boards and wasn't letting people rebound his misses inside. His jumper looked solid, but he's not trying to prove he's a passer like he did last year in Vegas. He wants points. Zach LaVine had some nice moments. They opened up the game with a lob play for him. Needs to make better decisions with the ball. Alexey Shved looked really good when he attacked the basket but couldn't hit his jumper, so it was just like his NBA game. The lack of defense on the court may cause Gorgui Dieng to go crazy.
The Suns firing Earl Watson three games into season is second-quickest firing in NBA histo...

Bledsoe tweeted, "I Dont wanna be here"

Giannis had his hand on McCollum's hip when he poked the ball away
Teodosic had to leave the Clippers' game Saturday night against the Suns

Irving said recently that he does not regret the profane outburst

Wade is having a rough start to his first season playing in Cleveland