2014 NBA All-Star: A preview guide for Sunday's All-Star Game
The 63rd NBA All-Star Game tips off at 8 p.m. ET Sunday, when we'll have one of the best celebrations of the sport of basketball.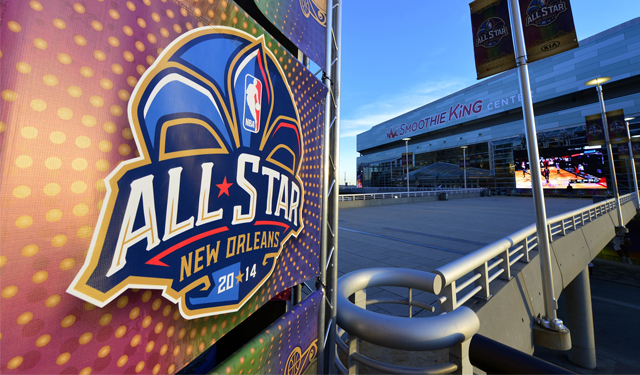 The 63rd NBA All-Star Game tips off at 8 p.m. ET Sunday, when we'll have one of the best celebrations of the sport of basketball. The playoffs and the NBA Finals are when the game is at its best, but there is always so much riding on the line, narratives being weaved and careers being defined that we don't truly get a chance to sit back and enjoy the spectacle of the sport.
That's what the All-Star Game is: It's a spectacle, a celebration of the game with the biggest stars on the court. There will be very little defense played, which probably is as it should be. A relaxed environment for the 24 All-Stars allows them to show off a particularly spectacular set of skills. If we're lucky enough, it will randomly be a close game when the final six minutes of the fourth quarter arrive and we'll get to see them ratchet up the intensity for a memorable finish.
As we prepare for the latest incarnation of the All-Star Game, let's take a look at some of the factoids surrounding this year's game, the games of the past and this edition's players.
NBA All-Star Game Factoids
• Seven of the past 10 All-Star Games have been decided by six points or fewer. The past four have been decided by a grand total of 15 points. This era of NBA players is giving us the close contests we hope for when the biggest, most relaxed celebration of basketball hits the stage.
• LeBron James needs 21 points to pass Oscar Robertson for fourth-most points in All-Star Game history. He needs 26 to pass Kareem Abdul-Jabbar for third most and 37 to pass Michael Jordan for No. 2. If he manages to drop 55 points, he'll pass Kobe Bryant and become the all-time leader in All-Star Game points.
• The All-Star Game scoring record is 42 points by Wilt Chamberlain, so LeBron would really have to set some history in this game to become the all-time scorer. Five players have scored at least 37 points. James had 36 points back in 2012 when Kevin Durant  also scored 36 to secure the All-Star Game MVP over James. Jordan at second place is certainly within reach for James.
• Durant needs 165 points to pass Bryant for No. 1 scorer in All-Star Game history. Considering the past month and a half he has had, he should have that by halftime. Durant has the highest scoring average at 28.8.
• Blake Griffin has the second-highest field goal percentage (75.9 percent) in ASG history. Brandon Roy (83.3 percent) has the highest percentage and now we're all sad about Roy.
• Chris Paul 62 All-Star assists are 12 away from leapfrogging Bryant (63), Jason Kidd (69), John Stockton (71) and Gary Payton (73) for fifth all-time. He would need 20 to pass Oscar Robertson for fourth all-time. Paul's career high for assists in an All-Star Game is 15.
• James has the most 3-point field goals made in ASG history with 23. He's a career 39.7 percent shooter from downtown in these games, which is good for eighth all-time.
• Tracy McGrady leads all All-Stars with passes to himself off the backboard in All-Star Games. There's nothing relevant about that stat now but it gives me a reason to embed this clip.
He has done it a few times, but it's time that Griffin joins in on the action. He's a good enough ball-handler to dribble up the court and deliver the lob off the glass to himself. Let's make it happen in traffic even.
• The battle for MVP could be as fierce as ever. James has two, Durant has one and Paul is the reigning MVP. James and Durant are starting to kick a little dirt on each other's shoes with Durant challenging James for league MVP this season while his historic play has given rise to the popular notion that Durant is challenging James as the world's best player. With Paul back in New Orleans, he could be looking to put on a show in his former city.
On top of that, Paul George is becoming a superstar. Griffin could very easily throw enough highlights and easy dunks in there to score a lot of points and steal the MVP. Carmelo Anthony has never won the award and could want to re-establish himself on the big stage. Kyrie Irving and John Wall will have the ball in their hands a lot while wanting to show they belong with the top players.
• We've had co-MVPs four times: Bob Petit and Elgin Baylor in 1959; John Stockton and Karl Malone in 1993;  Tim Duncan and Shaquille O'Neal in 2000; Shaq again with Kobe in 2009. Could this be the first year in which players from opposing teams share the award?
• The NBA put out its top 10 plays in All-Star Game history:
The East All-Stars
LeBron James, Miami Heat : James has had quite the decorated All-Star experience and is set to end up with some of the best numbers in NBA All-Star Game history. He'll be playing in and starting his 10th All-Star Game. While he has had many highlights, it would be great to see him go on one-on-one with Durant for an extended stretch and throw in something like this:
Paul George, Indiana Pacers : George is starting his first All-Star Game and participating in his second. Last year, he scored 17 points on 7-of-13 shooting off the bench. He also had four assists, three rebounds and two steals. This year, he's a bona fide superstar and could really put his imprint on the weekend after Saturday night's dunk performance. He rose to the moment last year in late moments to make sure it remained a good, close game.
Carmelo Anthony, New York Knicks : Anthony will be starting in his sixth All-Star Game and playing in his seventh. He had 26 points and 12 rebounds in last year's game and his career high in the exhibition is 27 points (2010). He may take this game as seriously as anybody out there, as proven by the fact that he played some pretty good defense once against Bryant in last year's game.
Dwyane Wade , Miami Heat: Wade is also playing in his 10th All-Star Game and starting his ninth straight. He was the MVP of the 2010 game when he racked up 28 points, 12 assists, six rebounds and five steals. His career field goal percentage (63.2 percent) in these games is almost as high as his free throw percentage (69.6 percent). Just make sure to stay clear of any swipedowns he may do if you drive against him. 
Kyrie Irving, Cleveland Cavaliers : This is Irving's second game and first start. In his first ASG last season, he had 15 points, four assists and three rebounds. With his handle and creative scoring ability, he's a prime candidate to steal the show for a few possessions and get jaws to drop in the crowd.
Chris Bosh , Miami Heat: This is the ninth All-Star selection for Bosh and the eighth game he has played in (selected but didn't play in 2009). His best game came as a member of the Raptors in 2010 when he had 23 points and 10 rebounds for the East. Considering he's coming off the adrenaline of winning a second straight Shooting Stars Competition, he should be pretty pumped. Let's just hope he protects the five-hole this time.
DeMar DeRozan , Toronto Raptors : This is his first All-Star selection. With career highs in points (22.4), rebounds (4.6), assists (3.8), steals (1.2) and 3-point percentage (31.8), the Raptors shooting guard earned his spot. The high-flyer could give us a pretty good highlight or two when he gets into the game.
Roy Hibbert , Indiana Pacers: This is Hibbert's second All-Star selection. He played in the 2012 game, scoring three points, grabbing three rebounds, and dishing out an assist. He has also never missed a free throw in the All-Star Game (1 of 1). He said that because he made one bucket and one free throw in his last ASG, his goal is to score two buckets in this appearance. It's great when an NBA player publicly states a goal and puts that kind of pressure on himself.
Joe Johnson , Brooklyn Nets : Seven-time All-Star Joe Johnson might still be finishing his round from the 3-point contest Saturday night. He was last selected in 2012 but didn't play in the game because of injury. He has broken double digits in three of his five appearances.
Paul Millsap , Atlanta Hawks : Amazingly, this is Millsap's first All-Star selection in any conference. Despite a pretty good career with the Utah Jazz, he never managed to crack the top 12 in any season. 
Joakim Noah , Chicago Bulls : Noah is making his second straight All-Star appearance after making the game for the first time in 2013. He had a pretty good run during his minutes too. He scored eight points, had 10 rebounds and three assists. He seemed to be the only one taking it seriously every second he was on the court.
John Wall, Washington Wizards : Wall is making his first All-Star appearance while putting together the best season of his young career. He has career highs in points (19.8), assists (8.5), steals (2.0), 3-point percentage (32.1) and free-throw percentage (83.6). In this type of exhibition environment, he has been known to put on quite the show. 
The West All-Stars
Kevin Durant, Oklahoma City Thunder : I mentioned above a few of the highlight moments of Durant's All-Star career. He'll be playing in his fifth game and starting his fourth. He has scored at least 30 points in each of his past three appearances. His 36-point MVP effort in 2012 is tied for fifth all-time.
Blake Griffin, Los Angeles Clippers : Griffin is pretty much built for this game. Making his fourth straight game and getting his third straight start, Griffin will be a human highlight reel. The "all he does is dunk" crowd should be hoping that this terribly outdated scouting report on him is true in New Orleans.
Kevin Love , Minnesota Timberwolves : This is Love's third All-Star Game and first time starting after being voted in by the fans. In 2012, he scored 17 points and grabbed seven rebounds to go with three steals. He missed last year's game because of his broken hand.
Stephen Curry , Golden State Warriors : This is Curry's first All-Star selection as he gets the start in the West. He's having the best season of his career with highs in points (24.6) and assists (9.0). He's also leading the league in 3-pointers made (171) after setting the record for makes in a season (272) in 2012-13.
James Harden , Houston Rockets : Harden made the All-Star team for the first time last season in Houston and scored 15 points in his appearance. Now that he's a regular starter and one of the best guards in the NBA, he should be a fixture in these games for years to come. He's a guy that could steal the show quickly if he's locked in.
Chris Paul, Los Angeles Clippers: Will the homecoming of sorts be enough for Paul to activate his awesomeness and go for game MVP? He has done it before but just coming off a shoulder injury, he could just be looking to relax Sunday. This is his sixth ASG, seventh selection, and he has had at least 12 assists in four of his five games. He has had 15 once and 14 twice.
LaMarcus Aldridge , Portland Trail Blazers : This is the third straight All-Star Game for Aldridge. He went scoreless in just over 11 minutes in last year's game, but did manage four rebounds and two blocks. He scored four points in his first All-Star appearance.
Anthony Davis , New Orleans Pelicans : In just his second year, Davis is making his first All-Star Game appearance as a replacement for the injured Kobe Bryant. It's much deserved too. Davis has been stellar as a sophomore in the NBA, averaging 20.5 points, 10.1 rebounds and 3.1 blocks (which lead the league).
Dwight Howard , Houston Rockets: This is the eighth straight All-Star Game for Howard but the first one he isn't starting since his first selection in 2007. His first game was also his best game, with 20 points and 12 rebounds. He has failed to crack double digits in the past three All-Star Games.
Damian Lillard , Portland Trail Blazers Lillard is also making his first appearance in just his second season. He's averaging an impressive 20.7 points and is shooting 40.4 percent from 3-point range. After participating in the Rising Stars Game, winning the Skills Challenge and trying his hand in the 3-point Shootout and Dunk Contest, Lillard will be capping off the busiest weekend in All-Star history.
Dirk Nowitzki , Dallas Mavericks : We probably won't see much from Nowitzki in this All-Star Game, but he has been a fixture here for a long time and one we'll definitely miss when he retires in a few years. This is his 12 All-Star Game in 13 years after not making the 2013 game. He had a career high of 22 points in the 2010 game.
Tony Parker , San Antonio Spurs : Parker makes his sixth All-Star Game to represent the Spurs. He's averaging 17.7 points and 6.2 assists on the fourth-best team in the NBA. He has cracked double digits in points (with a high of 14) twice in All-Star Games and his career high is 10 assists.
With 2K18 out everybody wants to know who has the 10 highest ratings in the game. Here's the...

Durant noted in an interview that all of the criticism in the immediate aftermath hit him...

Want the swagger of LaVar Ball? "NBA 2K18" lets you copy his absurd run from his WWE appea...
Durant apologized for a few tweets in which he criticized OKC and his former coach Billy D...

Lue does not expect the Cavs' big trade to affect the team's starting frontcourt ... at least...

Dwight Howard wants to be a farmer in his future and retire with his donkeys