2014 NBA All-Star Game sets records for lack of defense
It was a scoring and shooting fest at the 2014 All-Star Game.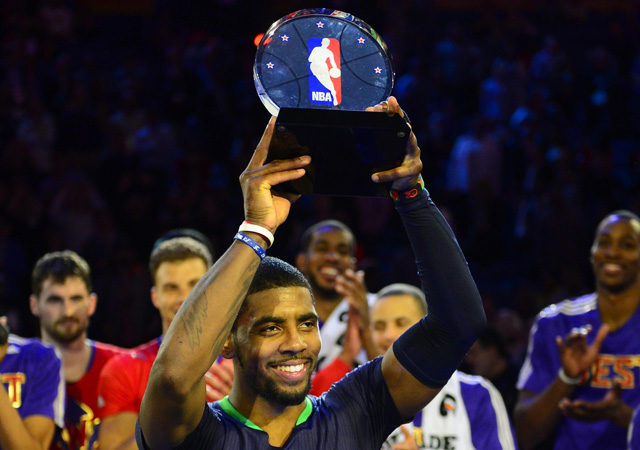 It was a night full of record breaking performances at the 2014 NBA All-Star Game. Here's a breakdown of what we saw:
• This was the most points scored in the NBA All-Star Game with a combined score of 318 points. The previous record was 303 in 1987. What's really impressive is how many points were scored despite the defense. Kidding. Just kidding. No defense was played. None, zilch, zero, nada. The East set a record for points with 16. (It was also the highest scoring half in the first half of course, with 165 points combined. That's a Bulls game.)
• Carmelo Anthony set a record with eight made 3-pointers. He scored 30 points ... and still didn't win MVP. But hey, most made 3s! Carmelo also set the record for "Most times he grimaced when having to talk about how his team's season is going at the All-Star break."
• Kyrie Irving tied a record for points in a single half with 24, tying Glen Rice in 1997. He was 11 of 13 in the second half. Let's hope that's an analogy for his season. He also broke the record for "most questions asked about his relationship with another All-Star" referring to LeBron.
•Blake Griffin nearly broke an NBA record for scoring, finishing with 38. The record was set by Wilt Chamberlain in 1962 with 42. He did set an NBA record for made field goals with 19. And no, not all of them were dunks.
• Kevin Durant set a record for most 3-point attempts with 17. That part's actually less shocking than him missing 13 of them. KD still finished with over 50 percent shooting because he's KD. He raised his record All-Star points per game to 28.8.
Kris Dunn somehow took a chunk of the Bulls court out with his teeth, but didn't lose any in...

The fallout from the Rockets-Clippers tussle continues; no Clippers were disciplined

DH12 is picked for free throws after a teammate gets ejected. He makes both, and lets Scott...
Bell was injured defending a Robin Lopez dunk and had to be taken off the floor in a wheel...

Trevor Ariza and Gerald Green are reportedly both suspended two games

We've got all the scores, highlights and news from Wednesday night