2014 NBA Draft: 76ers get a B for picking Joel Embiid at No. 3
With the third pick in the 2014 NBA Draft, the Philadelphia 76ers selected Joel Embiid out of Kansas.
More 2014 NBA Draft: Draft Tracker | Draft Trade Tracker | Mock Drafts
The Philadelphia 76ers selected Kansas center Joel Embiid with the No. 3 pick in the 2014 NBA Draft.
This is a big risk considering the multiple stress fractures that Embiid has suffered this year (both in his back and currently his foot), but considering the Sixers took Nerlens Noel with a lottery pick last year despite recovering from an ACL injury, they're clearly capable of being quite patient with the recovery process. Embiid was touted as the likely top pick in the draft before the latest foot injury.
CBSSports.com's Matt Moore is not thrilled with the risk the Sixers are taking here but the upside is there.
Philadelphia 76ers: Joel Embiid: B: A swing for the fences that means they've hit a home run or set themselves back. Bold pick.

— Matt Moore CBS (@MattMooreCBS) June 26, 2014
The 7-0, 250 pound Embiid averaged 11.2 points and 8.1 rebounds per game in his lone season with the Jayhawks, who finished who finished 25-10 and lost to Stanford in the NCAA Tournament's Round of 32.
A back injury prevented Embiid from playing in the NCAA Tournament, and he saw his draft stock fall further after he was forced to undergo surgery on his right foot the week before the Draft.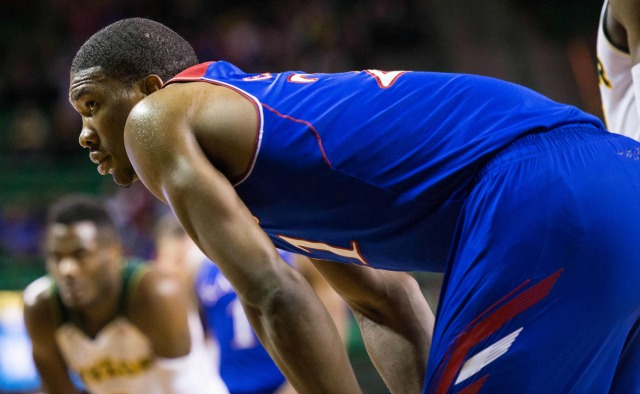 The Cavaliers won the much-anticipated matchup, 121-112

Two of the league's most interesting teams will meet on national TV on Friday night

A mic on the court evidently picked up what the Cavs superstar had to say to the Lakers ro...
The idea was to bring Bell along slowly, but he's making it harder and harder to keep him on...

Donovan Mitchell kept the top spot in the rankings, but there was plenty of shuffling below...

Stephen Oh is 23-7 picking Rockets and Spurs games and just locked in a play for Friday