2014 NBA Draft: A league full of point guards getting crowded
There has been a wave of great point guards finding their way to the NBA over the past few years, so how does a new crop fit into a crowded field?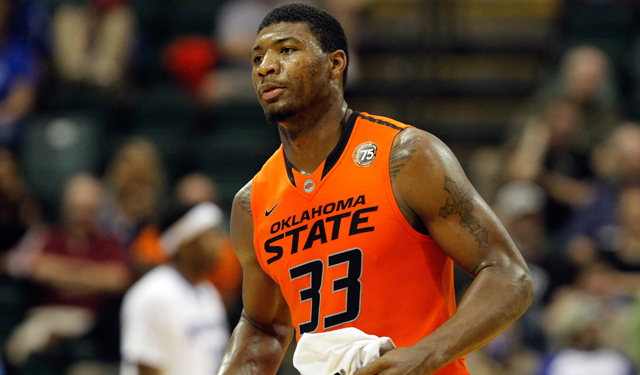 Talk to most people in the NBA and they'll tell you right now that it's a point guard's league. The talent we have at the position may be at its highest in league history and with so much of the attack in today's game based on pick-and-roll and perimeter-oriented systems, having a good point guard seems like a basic prerequisite for success. 
When everybody is healthy (which has been tough to accomplish the past couple years), the top 10 list of players in the NBA is full of point guards. Chris Paul , Derrick Rose , Russell Westbrook , Tony Parker , and Deron Williams have been fixtures there when healthy. Guys like  Rajon Rondo , Kyrie Irving , and Stephen Curry have been dying to break through to the next level of play. Then you have Damian Lillard , John Wall , Ty Lawson , and other young point guards bursting onto the scene constantly. 
It's hard to look at a starting point guard around the league and think that NBA team needs a significant upgrade. Even with the teams that are "expected" to tank this season for a more prosperous draft position, the Utah Jazz have Trey Burke (ninth pick in 2013), the  Philadelphia 76ers have been delighted with the play of Michael Carter-Williams (11th pick in 2013), and the Sacramento Kings are in love with what Isaiah Thomas brings to the table.
For the incoming crop of rookie point guards in the 2014 NBA Draft, finding a home outside of the Milwaukee Bucks or Orlando Magic could be a tough spot. And even then if the Bucks and Magic find a way to secure top 5 picks, would they be willing to pass up on a Julius Randle or Joel Embiid in order to put someone like Marcus Smart or Dante Exum as the spearhead of their attack?
There are potentially six point guards in the expected 2014 crop of players that could break into the first round of selections. Dante Exum from Australia (although he may be more of a combo guard), Marcus Smart of Oklahoma State, Jahii Carson of Arizona State, Andrew Harrison of Kentucky (assuming he declares after a disappointing season so far), Semaj Christon of Xavier, and Russ Smith of Louisville are the top lead guards right now. However, there may not even be a handful of starting point guard jobs available with the projected lottery teams. So where does that leave these guards?
There are two benefits to these young point guards joining the current state of the NBA. 
First, the guard position has become so undefined in many offensive attacks. There is often a designated lead guard who will bring the ball up and initiate the offense, but so often you're seeing smaller guard lineups throughout a basketball game try to change the pace. The reason for this is that pace of play and perimeter ball handling are at a premium in the NBA. Better teams want to push the pace and the worse teams want to get better so they can move the ball up the floor quicker.
You rarely see teams that want to bog things down at all times, although the Chicago Bulls and Memphis Grizzlies find a way to make that a successful strategy. We've seen a decline in talent and capable play at the shooting guard position over the years as well. Instead of putting stiffs out there at the 2-guard position, teams are finding creative ways to survive defensively while playing with smaller, more capable lineups. 
For Exum and Smart, they may find their way onto teams earlier in the draft not just for their talent but also for their versatility. At 6'4" and roughly 200 lbs., Smart is big enough to play either guard position and not only survive, but thrive on the floor. Exum being 6'6" and still filling out means we could easily see him running the point on one end and defending the scoring guard on the other. But these guys are talented enough that they'll likely be top picks no matter what.
Finding an advantageous spot for guys like Harrison, Carson, Christon, and Smith is where the second benefit comes in.
The point guard position in the NBA takes a bit of a learning curve when you're running a team. We've seen guys like Rose, Irving, and Lillard make instant names for themselves because they could score the basketball with ease and make highlights. Guys like Curry, Wall, and Westbrook took a little longer to gain national acceptance because they were figuring out how to direct/lead teams on the floor as much as they were putting up scoring numbers.
Finding your way into the mid-lottery or the second half of the first round in the 2014 draft could be a boon for the rest of these top-ranked point guards. Harrison's preseason hype going to Kentucky could still be realized with a good month of well-placed basketball. If that happens, we'll see him as a sure-fire lottery pick, likely for a good Western Conference team that just missed the playoffs. The rest of these guys could help fill out the first round and provide a backup point guard role for a really good team that eventually grooms them to take over.
This could position someone like Christon, Carson, or Smith to model their path in the NBA to be more like what George Hill was able to do with the San Antonio Spurs and Indiana Pacers. Christon's game is that of a playmaker and someone who doesn't really present a threat from the perimeter. As a backup point guard for a good team, he'll have the chance to really improve upon that deficiency in his game a lot easier because of the environment. The same goes for Smith, who will come from Louisville ready to handle the pressure of leading a lineup on the floor.
Carson's drawbacks have much more to do with size than anything talent or production related. Some team in the middle of the first round will likely select him, put him on a playoff team, and possibly get production like what the Kings got out of Thomas his first couple years as a backup. It isn't a direct path to running an NBA team but the path is there for these top prospects.
With so much talent in the post and at the forward positions in the 2014 NBA Draft, the spotlight and focus will be elsewhere than the point guard position, which is chock-full of talent already. However, the position has wiggle room for growth if an organization recognizes the talent and has the versatility and patience to get that talent on the floor. The path for this crop of point guards may not be defined, but they should be able to direct their way through the field.
It's what they do.
Steve Kerr opens up about his back issues and more

OJ Mayo, banned from the NBA for positive drug test, is considering playing overseas

The King? 'LeBron, it turns out, is Aquaman,' or so the account via Dwyane Wade's wife goe...
From Penny to Thunder Dan to Pistol Pete to Agent Zero, guys who would be better in 2017

Griffin said recently he thinks it's more likely that LeBron James goes to New York than L...

Mayo was suspended for two years last summer for violating the league's anti-drug program