2014 NBA Draft: Cavs get an A+ for picking Andrew Wiggins at No. 1
With the first pick in the 2014 NBA Draft, the Cleveland Cavaliers selected Andrew Wiggins out of Kansas.
More 2014 NBA Draft: Draft Tracker | Draft Trade Tracker | Mock Drafts
The Cleveland Cavaliers selected Kansas forward Andrew Wiggins with the No. 1 pick in the 2014 NBA Draft.
With their third No. 1 pick in four years, the Cavaliers are hoping to add a second star to the roster with Kyrie Irving. They failed to add a star with Anthony Bennett last season, although it's questionable whether there was a star actually available in such a weak draft. Wiggins has been hyped as a top prospect in this draft since his high school days when he became a YouTube and prep sensation.
CBSSports.com's Matt Moore loves the pick for the Cavs:
Cavs: Andrew Wiggins: A+. The best overall prospect and they don't need him with the ball early with Irving and Waiters. The future is now.

— Matt Moore CBS (@MattMooreCBS) June 26, 2014
The 6-8, 200-pound Wiggins averaged 17.1 points and 5.9 rebounds per game in his lone season with the Jayhawks, who finished 25-10 and lost to Stanford in the NCAA Tournament's Round of 32.
Wiggins is the son of former NBA guard Mitchell Wiggins, who played parts of six NBA seasons with the Bulls, Rockets and Sixers from 1984-92.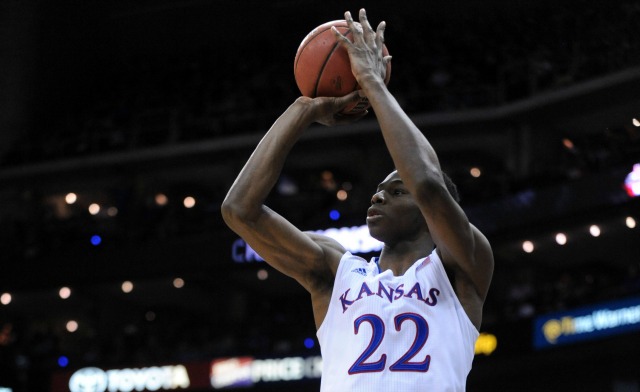 Griffin was traded to the Pistons in a blockbuster deal ahead of the trade deadline

Billups, who starred for the Pistons from 2002-08, currently works for ESPN

Adam Thompson has his finger on the pulse of the NBA and just locked in a play for Tuesday
The four-time All-Star has his eye on playoff success and doesn't mind rubbing people the wrong...

Forced to show off his new tattoos in Lithuania, the 19-year-old Ball feels the wrath of L...

Luckily for Gerald Green, his teammate Chris Paul offered to pay the hefty fine