2014 NBA Draft: Eastern Conference team grades
Grading out the Eastern Conference teams and how they did in the 2014 NBA Draft.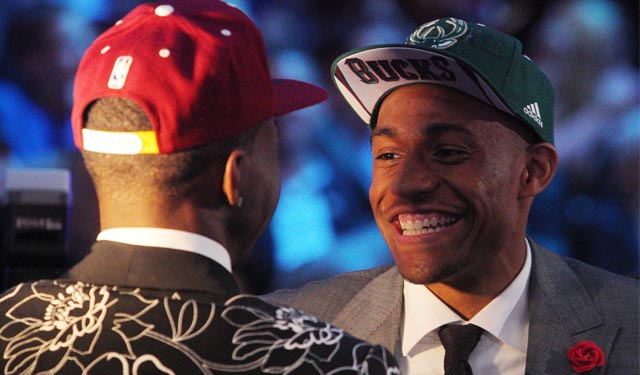 More Offseason Analysis: Coaching changes, news | Free Agency | Draft
The 2014 NBA Draft is in the books and it's time to start picking apart how each team did Thursday night. Who graded out the best and which teams needed some help with their selections? Let's check the report card for each team in the East.
Also: Western Conference Draft Grades
Players acquired: Adreian Payne (15th), Walter Tavares (43rd), Lamar Patterson (48th)
Grade: A
The Atlanta Hawks added an immediate rotation player in Adreian Payne at a position of need. They have Al Horford and Paul Millsap in place and then there aren't any definite big men on the roster for next year. Payne is instantly their third big man, even if they add players. He can shoot from outside, keeping with the team's identity of stretching the floor. They also picked up a draft-and-stash big man, much like they did last year with Lucas Nogueira, in Walter Tavares. Tavares is one of the better international prospects in the draft. They also traded for Lamar Patterson in the second round. He was a standout 3-point shooter at Pittsburgh on the wing.
Players acquired: Marcus Smart (6th), James Young (17th)
Grade: A-
It'll be interesting to see how the selection of Marcus Smart impact where the rest of the roster goes. Will they now trade Rajon Rondo if they can't acquire another star? Do they plan on playing Smart off the ball and now don't have pressure to re-sign Avery Bradley? Does the acquisition of James Young mean Jeff Green can be headed out of town this summer? The Celtics added talent, but you have to wonder if passing on Julius Randle or Noah Vonleh was the right decision. Regardless, they added good, young assets in the draft and that's what they should be doing.
Players acquired: Markel Brown (44th), Xavier Thames (59th), Corey Jefferson (60th)
Grade: A
When the draft started, the Brooklyn Nets didn't have a single draft pick. By the end of the draft, they had purchased three second round picks. Markel Brown is an athletic combo guard who gives them a little bit of depth in the backcourt. Xavier Thames could fight for a roster spot and try to be one of the backup point guard options. Corey Jefferson is a great value pickup at the 60th pick when he was projected to go anywhere in the 40's and 50's.  
Players acquired: Noah Vonleh (9th), P.J. Hairston (26th), Alonzo Gee
Grade: A+
I'm not sure this draft could have gone better for the Hornets. Vonleh with the ninth pick might be the best value in the lottery. He could have gone as high as 3 or 4, and now he's paired next to Al Jefferson to provide an incredibly versatile attack on offense. Both players can play inside and both have the ability to face up. P.J. Hairston was the outside shooter they were looking for before the draft started too. The Hornets traded Brendan Haywood and Dwight Powell to the Cavs for Alonzo Gee. Gee is some proper depth at the small forward position. He can defend and is a high-flyer.
Players acquired: Doug McDermott (11th), Cameron Bairstow (49th), Anthony Randolph
Grade: B-
The Bulls' draft is a bit curious. If you believe Doug McDermott is destined to be a good scorer in the NBA (relative to his role) then this is a great pickup for the Bulls. McDermott can spread the floor and provide outside shooting to a team that needs it. If the thinking was move up in the draft to avoid paying multiple first round picks so you're maximizing cap flexibility then great. However, picking up Anthony Randolph's deal in the trade negates that thinking and he's not any good. Did they really get two better players with McDermott and Randolph than they would have with 16 and 19? Cameron Bairstow has a chance to make the team but he may just be another Erik Murphy.
Players acquired: Andrew Wiggins (1st), Joe Harris (33rd), Dwight Powell (45th), Brendan Haywood
Grade: B+
Some people will pick nits with the decision of Andrew Wiggins with the No. 1 pick, but I just don't think the Cavs could have screwed that up. Wiggins is a potential star in this league and he'll immediately help transform a franchise direction being led by David Griffin and David Blatt. They could have gone Jabari Parker but Wiggins is a fantastic decision too. What keeps them out of the A's is the Joe Harris pick in the second round. He's not a bad pick. He can shoot the lights out and he makes the right play a lot of times. I just feel like they missed a chance to add another definite rotation guy early in the second round. It's still a great draft for Cleveland. The trade for Dwight Powell and Brendan Haywood gives them some more interior depth. Powell could be a nice fourth big man some day.
Players acquired: Spencer Dinwiddie (38th)
Grade: A
Considering the Pistons had to wait 37 picks until they got to take a turn, ending up with Spencer Dinwiddie at 38 was a great draft for them. Had he not blown out his knee during the college season, he would have been a definite first round pick and maybe even sneaks into the top 20. He can play both guard positions, had a great touch on his jumper, and he's a fantastic playmaker. Stan Van Gundy will love him.
Players acquired: None
Grade: Incomplete
The Pacers sold their late second round pick to the New York Knicks, absolving themselves of any obligations with signing picks or having the draft rights to players who may be overseas.
Players acquired: Shabazz Napier (24th)
Grade: B+
The Heat needed to do two things in this draft: 1) Address a need at either the point guard or center position, and 2) Find a way to make LeBron James happy with a first round pick. James loves Shabazz Napier's game and the run he had in the NCAA Tournament. If even a small part of James is actually happy with the Heat delivering Napier then it was a good pick. That is assuming LeBron re-signs with the team. Yes, everything is about LeBron re-signing with the team for now.
Players acquired: Jabari Parker (2nd), Damien Inglis (31st), Johnny O'Bryant (36th)
Grade: A
The Bucks were always going to take whomever the Cavs didn't take out of Wiggins and Parker. Ending up with Parker is a big time moment for this Milwaukee franchise. Under new management and looking to make a splash, they have a potentially great scorer and a likeable/marketable star. Grabbing Damien Inglis to start out the second round is a bit of a reach, considering he'll be stashed for a couple years, but his talent is great and it could end up being a huge move for their roster. Grabbing size with Johnny O'Bryant to push the other big men around isn't bad either. Great start to a new era in Milwaukee.
Players acquired: Cleanthony Early (34th), Thanasis Antetokounmpo (51st), Louis Labeyrie (57th)
Grade: A-
The Knicks moved into this draft in the past day when they decided to trade away both Tyson Chandler and Raymond Felton. They ended up with a couple of small forwards in Cleanthony Early and Thanasis Antetokounmpo. Early was projected by some as a first round pick, so getting him at 34 is a great value. Antetokounmpo is a project they can throw in the D-League and try to develop over the next year or two. Labeyrie may never come over, but they have a stashed international player.
Players acquired: Aaron Gordon (4th), Elfrid Payton (10th), Roy Devyn Marble (56th)
Grade: B-
The Orlando Magic certainly have a type. With Dante Exum on the board, the Magic took Aaron Gordon before eventually trading for Elfrid Payton too. Vonleh and Randle were also on the board at the time of the Gordon pick. What is it specifically they were doing with this roster when selecting these two? They got more defensive and more athletic. They have a point guard next to Victor Oladipo now for the future. They also added two non-shooters, which is confusing. Acquiring Marble at the end of the second round was a nice pickup for value. I know the Magic roster is still a work in progress but these moves were a little confusing, based on what we thought they wanted. It's not a bad draft, but you kind of want to see the end result before you start lumping on praise.
Players acquired: Joel Embiid (3rd), Dario Saric (12th), K.J. McDaniels (32nd), Jeremi Grant (39th), Vasilije Micic (52nd), Jordan McRae (58th)
Grade: C-
You have to ask yourself, "What were the Sixers trying to accomplish?" When they couldn't trade up to the top spot, they seemingly decided they were OK being terrible for another year. A year of tanking got them a potential franchise center who will likely miss this entire season with a stress fracture in his foot. It also got them a forward who won't be on the team for at least two years. The McDaniels and Grant picks in the second round, along with getting a Euro guard in Micic are great value picks. But nothing helps the team now and we're going to do this all again in the same way next year. Maybe that was the point...
Players acquired: Bruno Caboclo (20th), DeAndre Daniels (37th)
Grade: D
I'll be totally honest here: I have very little idea who Bruno Caboclo is. I hadn't heard the name before the draft and then all of a sudden Masai Ujiri is taking him with the 20th pick of the first round. He's called the Brazilian Kevin Durant but that doesn't mean anything. He looks athletic and he can attack the rim. We have no idea how he'll be against top level competition, although he played very well in Basketball Without Borders games. The DeAndre Daniels pick in the second round was very nice. He's versatile, provides great length, and he can shoot it. I'll be harsh on the Caboclo pick here, fully aware Ujiri likely knows more than we ever will.
Players acquired: None
Grade: Incomplete
They drafted Jordan Clarkson with the 46th pick and then sent him to the
Lakers
for cash considerations. 
Porzingis is questionable for Carmelo Anthony's return to MSG on Saturday

The Spurs and Rockets will renew their in-state rivalry on Friday night

Anthony will play at Madison Square Garden on Saturday for the first time since being trad...
SportsLine's Mike McClure, a DFS pro with more than $1M in winnings, gives optimal lineup...

The Cavaliers won the much-anticipated matchup, 121-112

Two of the league's most interesting teams will meet on national TV on Friday night