2014 NBA Draft: Future All-Star Saturday night participants
We're often scouting for which players will add the most to the NBA team that picks them, but what about adding to the spectacle of All-Star Saturday night?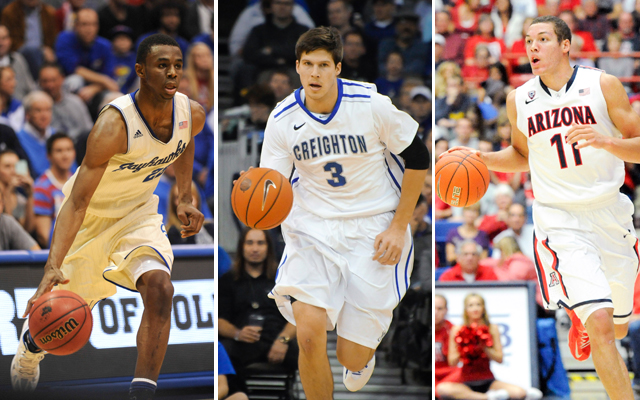 The NBA Draft is all about finding that next franchise changer, the next missing piece to round out your future, or the next player that could save a general manager's job. We're often looking to how these players project as individual talents and team contributors. Their entertainment value can go deeper than that though.
With the All-Star weekend upon us, we should start scouting for those players who could be asked to participate in the All-Star festivities on Saturday night. We know a few players will end up in the Rising Stars game their first two years in the league and maybe a couple will be good enough to be perennial participants in the All-Star Game. But which players will be showing off their skills, 3-point shooting and dunks on Saturday night?
Let's take a look at some of the potential Saturday night stars from this upcoming class:
Skills Challenge
Tyler Ennis, Syracuse: 
Tyler Ennis' freshman season at Syracuse has been a pretty big hit, to say the least. Ennis' leadership coupled with clutch play have kept the Orange undefeated this season. His point guard skills seem legit as he shoots up mock drafts everywhere with each consecutive win. He's a good ball handler, a really good passer, and he can knock down jumpers. Would he be fast enough to get through the Skills Challenge course? As long as you can make the jumper from the top of the key and make the bounce passes, you're usually golden.
Dante Exum, Australia:
The enigma that is Dante Exum continues. We've had a few of the bigger guards (like Dwyane Wade and Deron Williams) do the competition and Giannis Antetokounmpo's participation in the 2014 Skills Challenge breaks the mold completely for what type of player can get in on this. Exum's handle and passing are likely good enough and he's probably a good enough shooter to do well in it. That's the problem with Exum though; we don't know a ton about what type of player he is. Long strides and quickness can dominate this competition though and he has that.
Zach LaVine, UCLA:
Another bigger guard like Zach LaVine seems likely to put his name in the hat to try the Skills Challenge. We know LaVine can shoot the ball and he has a good handle. He's a big point guard/combo guard prospect heading into the 2014 Draft but he's probably a good enough passer to excel in each passing station. LaVine won't be the impact NBA player we've seen with Damian Lillard but he could very well end up participating in all of the pre-Sunday competitions to show off his skills.
Jahii Carson, Arizona State:
The handles, the passing, the jumper, and the quickness are all there for Jahii Carson. He'd be a great participant in the Skills Challenge. He's very small for an NBA guard prospect but all of the skills and athletic features you want are there. Throwing a small guard in there could get the crowd behind him and then he lets his skills take over. Carson should be forced to do this at least once.
3-Point Shootout
Rodney Hood, Duke:
As a freshman at Mississippi State, Rodney Hood showed a decent shooting stroke at 36.4 percent on 4.0 3-point attempts per game. After sitting out a season in his transfer to Duke, Hood has shown that his shooting stroke is even more legitimate with a slightly increased frequency of letting it fly. Hood has hit on 50 of his 111 attempts (45.0 percent) from downtown and seems extremely confident on the perimeter. His shooting stroke is incredibly smooth and he's more likely to shoot like his Duke attempts than his Mississippi State attempts in the NBA.
P.J. Hairston, Texas Legends:
The former North Carolina Tar Heel has transitioned nicely into the D-League as he tries to show he's worthy of a first round selection. His sophomore season he improved his 3-point shooting to 39.5 percent on 6.7 attempts per game. Since joining the Texas Legends of the D-League, Hairston has shown a pretty good shot from the longer distance. He's taking a lot of shots from deep (7.8 per game) so the 37.2 percent with such a high volume is very encouraging. He has a very comfortable shooting motion.
Nik Stauskas, Michigan:
It's hard to say that anybody in this draft class or most draft classes are able to shoot with Nik Stauskas. The Michigan Wolverine is lethal from downtown. While he's more of a scorer this year than just a specialist shooter, his big calling card in the NBA will certainly be outside shooting. He's made 135 of his 305 (44.3 percent) career 3-point shots in two seasons and that's with defenses knowing he's going to be getting the ball. Moving the line back with the NBA distance probably won't make much of a difference. He makes it rain in the rain!
Doug McDermott, Creighton:
This is the guy. This is absolutely the guy. He's going to crack 3,000 points in his college career, so the defense clearly knows he's the guy getting the rock. And yet they can't defend the 3-point shots he takes at a clip better than 45.6 percent. He's an assassin from outside and one of the best shooters that scores in high volume that we've seen in college basketball. Only 12 players in college basketball history have scored at least 1,500 points in their career while shooting at least 45.0 percent from downtown. Only two players have cracked 2,500 points with that kind of 3-point accuracy. And only Doug McDermott has cracked 2,800 points with that long-range accuracy. 
Dunk Contest
Chris Walker, Florida:
Since having his suspension at Florida lifted, Chris Walker has only played in three games for a total of 16 minutes. But this guy can fly and throw down on opponents. He's been quite the show when it comes to high school dunk contests and has competed with some of the best young dunkers in the country. Walker won't have a great chance to show it the rest of the season but he'll certainly dazzle us once he hits the NBA circuit. 
Zach LaVine, UCLA:
LaVine makes his second appearance of this post and really could be considered for future 3-point contests as well. He's long, he's lanky, and he jumps like he has trampolines under his feet at all times. There isn't a lot of selling to do with LaVine. Watch any dunk mix on YouTube and you'll quickly know why he'll show up in at least one dunk contest in his NBA career. 
Andrew Wiggins, Kansas and Aaron Gordon, Arizona:
Why did I put Andrew Wiggins and Aaron Gordon together here? Because when it comes to dunk contests, this is exactly where they should be: side-by-side. Wiggins and Gordon have defied gravity and logic with their leaping abilities during AAU and high school dunk contests for a couple years now. They're the Magic Johnson-Larry Bird duo of dunk competitions. If there is a dunk god out there, we'll have these two trying to outdo each other in multiple NBA dunk contests. 
KCP can't leave California for 25 days due to the terms of his pleading guilty to a misdemeanor...

Keep it right here for all of the news, notes, scores and highlights from around the leagu...

LeBron tried to keep what he said a secret, but one mic on the court picked it up
SportsLine's Mike McClure, a DFS pro with more than $1M in winnings, gives optimal lineup...

'It's not just about me, it's for the next crew as well,' LeBron said

Kobe the rookie had no fear facing off against Michael Jordan the legend. Then he gave up a...