2014 NBA Draft: Nuggets get a B for picking Gary Harris at No. 19
With the 19th pick in the 2014 NBA Draft, the Denver Nuggets selected Gary Harris out of Michigan State.
More 2014 NBA Draft: Draft Tracker | Draft Trade Tracker | Mock Drafts
The Denver Nuggets selected Michigan State guard Gary Harris with the No. 19 pick in the 2014 NBA Draft.
This was part of the trade with the Bulls that sent Doug McDermott to Chicago in exchange for the 16th and 19th picks in the first round. The selection of Harris joins Jusuf Nurkic as Denver's selections to complete this trade.
Harris was a fantastic scorer in his two years at Michigan State. He shot the lights out his freshman year and dropped to just 35 percent from downtown as a sophomore. He still was the top scoring option for the Spartans and that was on a loaded team that featured fellow first round pick Adreian Payne.
The Nuggets are bringing back Arron Afflalo, who is likely to be the starting shooting guard for this team, unless he's on the move again this summer.
CBSSports.com's Matt Moore doesn't think this is a slam dunk of a pick for the Nuggets but it's very solid.
Nuggets: B: They need more shooting, and Harris provides that. Small, but he's behind a bigger Arron Afflalo. He will make them better.

— Matt Moore CBS (@MattMooreCBS) June 27, 2014
The 6-4, 210-pound Harris averaged 16.7 points and 4.0 rebounds per game as a sophomore in 2013-14 for the Spartans, who finished 29-9 and lost to eventual champion UConn in the Elite Eight.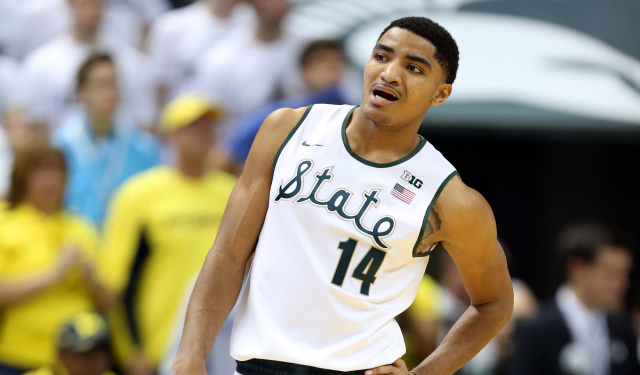 Chris Bosh answered on the spot about the LeBron James and Kyrie Irving situation

LeBron James is pitching free agents on Cleveland but the Cavs can't even reach Kyrie Irving...

Thanks to the Rockets, the Nets might be open to selling a controlling stake
Stephen Curry likes what he sees in this fan

How the Cavs star would fit with the Wolves, Knicks, Clippers, Spurs and other teams linked...

The Pistons put out a long list of details regarding their new uniforms