2014 NBA Draft: Philadelphia 76ers get a D- for picking Elfrid Payton at No. 10
With the No. 10 pick in the 2014 NBA Draft, the Philadelphia 76ers selected Elfrid Payton out of Louisiana-Lafayette.
• 1 min read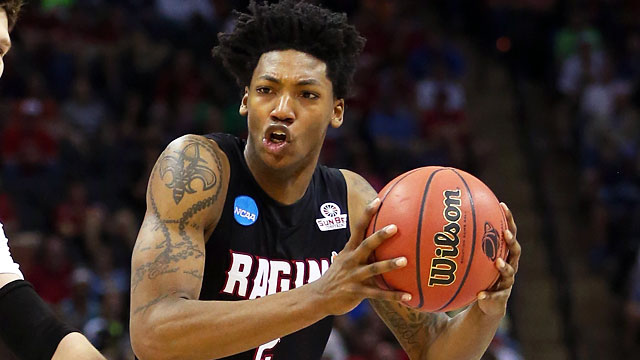 The Philadelphia 76ers selected Louisiana-Lafayette guard Elfrid Payton with the No. 10 pick in the 2014 NBA Draft.
The 6-3, 180-pound guard averaged 19.0 points and 5.9 assists per game in 2013-14 for the Ragin' Cajuns, who finished 23-12 and lost to Creighton in the NCAA Round of 64.
76ers: Elfrid Payton: D-: Neither MCW nor Payton can shoot. Rocketed up w/ great passing ability. But SOMEONE HAS TO MAKE A SHOT.

— Matt Moore CBS (@MattMooreCBS) June 27, 2014
Payton has a very questionable jump shot, but has impressed with every other part of his game throughout the workout process. His stock has soared in the past few weeks, as he has shown he can get to the basket easily and guard dynamic point guards.
Ken Berger of CBSSports.com reported that the Kings considered him with the No. 8 pick. He could be traded, according to Yahoo Sports' Adrian Wojnarowski.
With 2K18 out everybody wants to know who has the 10 highest ratings in the game. Here's the...

Durant noted in an interview that all of the criticism in the immediate aftermath hit him...

Want the swagger of LaVar Ball? "NBA 2K18" lets you copy his absurd run from his WWE appea...
Durant apologized for a few tweets in which he criticized OKC and his former coach Billy D...

Lue does not expect the Cavs' big trade to affect the team's starting frontcourt ... at least...

Dwight Howard wants to be a farmer in his future and retire with his donkeys